Rain Design mBar pro, mBar pro+, mBar laptop computer portable stands
mBar pro
$50 U.S.
mBar pro+
$60 U.S.
mBar
$40 U.S.
All three are available in space gray or silver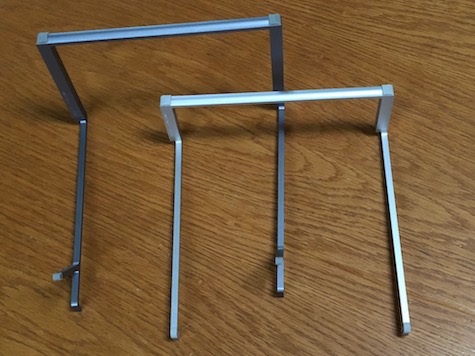 mBar pro and mBar pro+ are folding stands to elevate your laptop computer for improved ventilation and viewing position. The mBar pro is shorter and it can be used without an external keyboard or mouse. I'm typing on a MacBook Air now using this lower height mBar pro, and it is a joy. My body position is improved, my typing angle is efficient, and my viewing is better for my eyes, head, and neck. See the first photo below.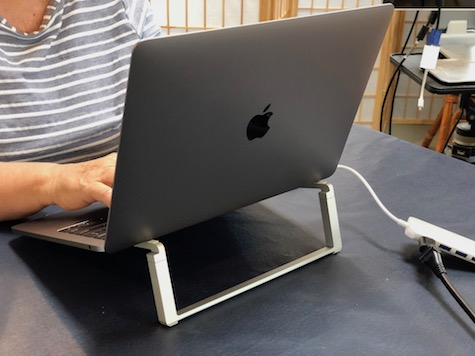 The taller mBar pro+ raises the computer higher, and it's optimized for use with an external keyboard and mouse. Both of these units are cleverly designed, impressively engineered and constructed, and tremendously useful. Below is a photo of the mBar pro+ in action.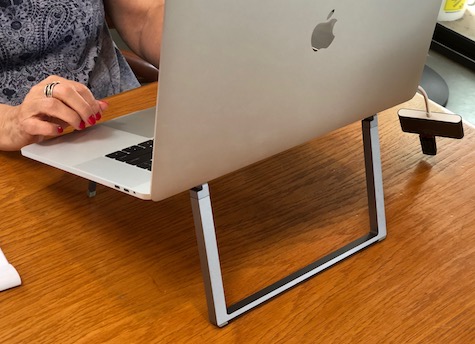 All three mBars are built to last for years, and are very affordable. Rain Design is a leader and innovator in stylish, rugged, and world class computer accessories; their booth was an eye-opener at the Macworld Conference and Expo in San Francisco year after year.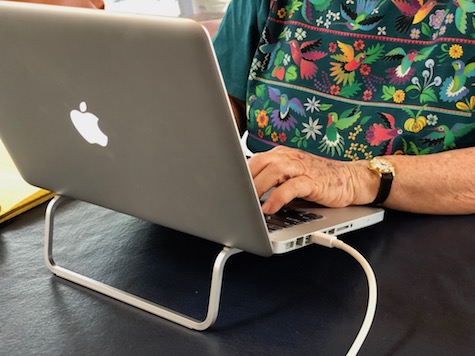 Guest commentary by Sandy A.
The mBar by Rain Design is a simply designed metal support that raises the bottom of your laptop screen about three and a half inches above the surface on which the laptop sits. The display height is now at approximately eye level, eliminating the need to look down. I find this to be a comfortable position from which to read the screen. My MacBook Pro keyboard angles down to the level of the supporting surface. The hand position while typing is a little different because of the keyboard slant.  This may require a bit of adjustment, but I found it easy to adapt to the change.
This basic mBar is constructed to be rigid in a single position and does not fold flat for convenient carrying. For that the mBar pro is required. Since I primarily use my laptop at home in one location, the inability to fold flat isn't a drawback. To keep your back straight while typing or reading, the mBar is a helpful accessory.
Below are more photos to help you see how Rain Design has accomplished the almost impossible: beautiful products, nearly weightless, super strong, value priced, indispensable: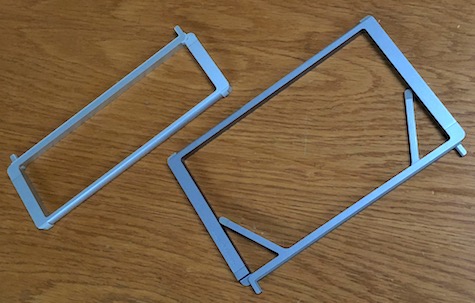 mBar pro and pro+ fold up to be extremely portable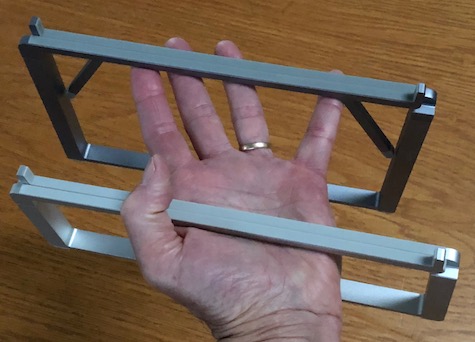 Bottom areas that touch your desk or table have crucial cushioning to avoid scratches
I asked the members of my regular MacNemo Basics workshop to help evaluate these three mBars from Rain Design. The consensus is the shorter mBar pro receives a rare MyMac Review Rating perfect 10 out of 10. The tall mBar pro+ gets a 9 out of 10 score, and the non-folding basic mBar an 8 out of 10.
Whichever mBar you choose you will be satisfied. Your friends, colleagues, and family members will be jealous. You can count on that also. All three mBars are ultralight precision aluminum, and the two pro models include a custom carrying sleeve.