MX Sound Speakers
Manufacturer: Logitech
Retail: $99.99
The sound quality from Logitech's new MX Speakers for your Mac or iPhone competes with speakers that cost much more. They are members of Logitech's premium family—a collection of design-coordinated computing products including keyboards, mice and now, speakers. They provide 24 Watt Peak (12 Watt RMS) power for room-filling sound.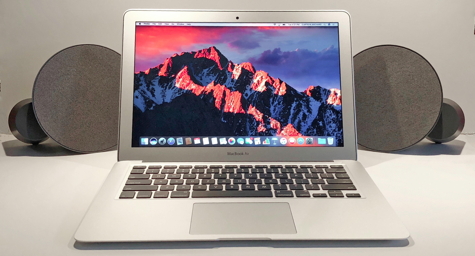 First, the shape. Mickey's ears? Round speakers are typically enclosed in square boxes. The MX Sound enclosures are round like the speakers they contain. I like the look. Rear-facing bass ports are built into the outer edges. Stability is provided by skid-proof rubber feet.
Multi-source input is provided: A 3.5mm socket accepts sound from your Mac while other sources use an AUX input. The speakers are equipped with Bluetooth 4.1 so that your iOS devices connect wirelessly from a distance that is twice that of previous versions. A 3.5mm headphone jack is also provided.
Logitech's Easy-Switch feature automatically responds to whatever paired sound source you happen to be using. Be careful though, you have to disconnect your iOS device or the speakers will start playing sounds whenever they in range, even if you are in another room.  It's easy enough to do—your iOS Bluetooth settings panel displays two choices: Disconnect and Forget This Device. Choose Disconnect and the speakers will be silenced but will remain paired.
It's unusual to open a product to find no manual. However, setting up these speakers is so straightforward that a few Ikea-like diagrams inside the lid provide most of the information you need. Of course, a PDF manual is available on Logitech's site, but chances are you won't need it.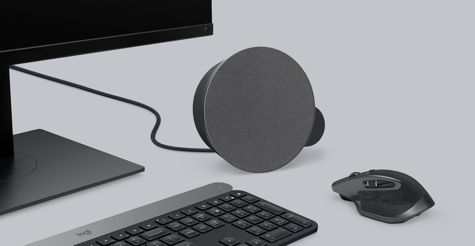 Bring your fingers within a few inches of the right-hand speaker and three motion-activated indicators illuminate behind the grille cloth: Volume Up/Down and a Bluetooth pairing light. A gentle touch makes adjustments. You won't need to do this often as Bluetooth pairing only needs to be done once per device. The same is true for your preferred volume setting as those levels are usually adjusted from your iOS device or Mac.
The sound quality is crisp and accurate with solid lows from the bass ports. The speakers are tilted back ten degrees so they aim directly at you. There is no On/Off switch, the speakers awake instantly as soon as an input is detected and they sleep after twenty minutes of inactivity. A 5.9 foot (1.8m) cable connects the two speakers providing ample separation.
These well-designed speakers provide good sound that works with your Mac, your iPhone, or iPad. Music sounds impressive, as it should, but with these MX Speakers, you can also sit back and enjoy a movie, YouTube videos, or a podcast.
MyMac Review rating is 9 out of 10