USB-C Dual-HDMI Mini Dock
ATEN
$ 110 U.S.
ATEN USB-C Dual-HDMI Mini Dock is a portable USB-C dock that adds a USB 3.1 and two HDMI ports to one USB C port. It supports dual monitors at 1920 x 1080 or one monitor at 4K. The dock is Mac or Windows compatible, plug and play and comes in black.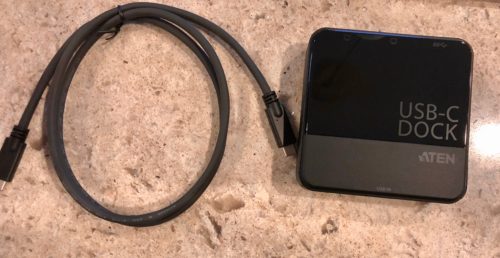 Packaging for the dock is neat and well designed. The package comes with the hub, USB-C cable and instructions. Setup of the hub is easy: connect the USB-C cable to the hub and the other end of the cable into the USB-C port of your computer. No drivers are needed for Mac OS or Windows computers. The hub looks great. It's glossy black and has a blue light to indicate power. The included USB-C cable is strong and well made.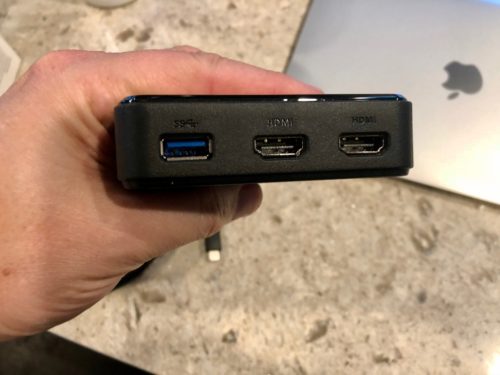 The first test was on a 2017 MacBook Pro with Touch Bar. Unfortunately I only have one HDMI monitor available, but plugging it in and getting the display working went well. Plugging in a USB external drive worked fine as well. Running both the built in display and the external monitor worked perfectly and the resolution looked great. The next test was on a MacBook 12 Retina. Again, no issues and the hub worked as expected. The last test was running Boot Camp and Windows 10 on both laptops. Windows automatically installed the drivers and the dock was recognized and worked. The hub looks good, is built well and does exactly what it's meant to do. The one complaint I have is that it doesn't have a USB C power passthrough, so it's not possible to charge the 12 inch MacBook while using the hub.
The specifications on the ATEN website does indicate that in order to use dual displays, the computer needs to have MST technology. A little research tells me that MST means Multi-Stream Transport. ATEN's website notes that Macs do not support MST, however a knowledge base article (https://support.apple.com/en-us/HT206587) from Apple disagrees and says that MacBook Pros from 2015 on, Mac Pro 2013, iMac Retina 5K 27inch 2014 or later and the new iMac Pro do support MST. So while not all Mac's will work, the later models should work with two displays connected at once.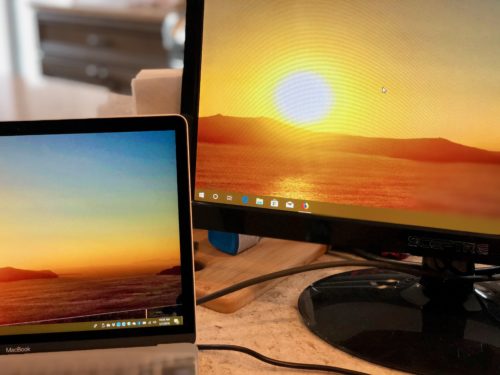 MyMac Review Rating is 8 out of 10. An attractive, well built, and functional USB-C travel dock for connecting two monitors. A USB C power passthrough would make it perfect.