A5+ Wireless Speakers — premium bookshelf wireless/wired sound system
Audioengine
$499 to $569 U.S.
Free U.S. ground shipping with 30-day audition when purchased from the company directly
Audioengine is our favorite company for compact powered stereo speakers. Their new 2018 A5+ Wireless Speakers are modest in size with a big and muscular, full-frontal sonic presence. Three different finishes are available; we received Hi-Gloss White. The Black Satin is more subtle and unobtrusive, and Solid Natural Bamboo is a gorgeous upgrade. They all sound the same, with the speaker cabinets hand built of wood.
There is no front grille cover. The dark speakers are exposed, with a round woofer consuming 60 percent of the bottom area and an oval tweeter above it. The left speaker distributes power, volume, and Bluetooth audio to both speakers, and it is much heavier than the right speaker. There is a massive heat management unit protruding from the rear of lefty. Both speakers have narrow bass air vents on the upper rear that reach across the width of the cabinets.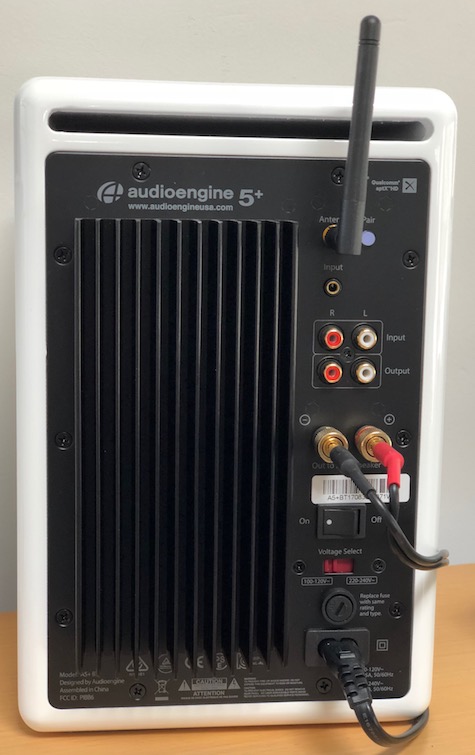 Bluetooth wireless connectivity to your source iPhone, iPad, or other device is strong, consistent, and has an extremely long range: between 50 and 100 feet, depending upon walls and line of sight. Wired AUX/RCA audio cable playback from a computer or television is also possible, and there is no quality difference between music listening wired versus wireless.
The company recommends the main power switch be on always and the remote control unit be used to put the speakers to sleep when they are not in use. This remote is brushed aluminum with sharp rectangular edges, making it much easier to locate than the typical black on black teensy remotes that speaker manufacturers often provide. Four highly-visible buttons allow for volume up, volume down, mute, and sleep, but there is no play/pause or track forward/reverse, which is a disappointment.
A-series speakers from Audioengine exhibit a signature analog sound different from other companies' competing products and from their own HD-series, which is why the 30 day home trial is so important. The midrange and treble are precise and punchy and are anchored by an accurate bass that never overwhelms. Stereo presence is organic and moderate, not excessive or artificial. Track playback exhibits the good or bad of the original recordings without any sweetening or coloration, so don't be disappointed when your legacy tunes that have not been remastered have snap, crackle, and pop from their origin.
The company claims that A5+ are primed to play with peak performance out of the box. I tried that and noticed that the sound warmed and filled in any acoustic gaps during the first twenty hours of listening, so be a little patient.
Placement of the left and right speakers is crucial for optimum sound and the company offers general advice on this matter. All necessary cables are included as is that handy remote control unit that instantly becomes indispensable. The rear of the left speaker has an AUX 3.5mm input, a set of four RCA in/out ports, and banana plug ports for connecting the speakers. Bonus is a switch to choose either 110 or 220 volt power  source.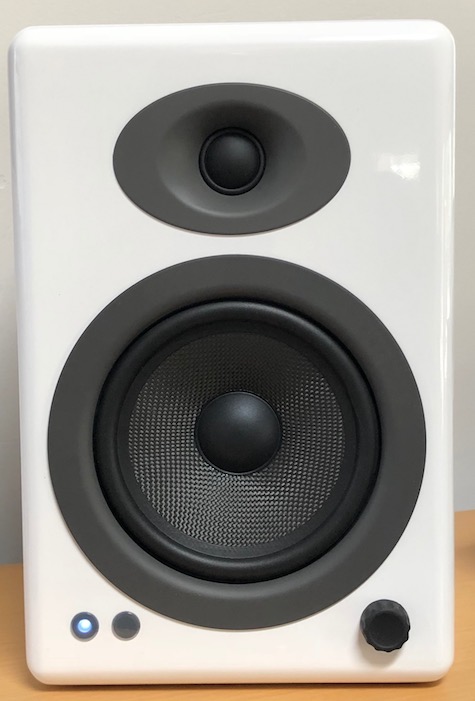 Advice to husbands: don't get the white speakers unless your wife is a whiteness freak. To quote Mrs. Nemo after I secretly swapped A5+ for my smaller, wooden, HD3 speakers on either side of the television in our living room: "These are too WHITE and too BIG. You could have snuck them in if they had been black or wood. And covered up those black hole speakers." Nuff said.
Once your A5+ are in place wherever they do reside you are in for a treat. The sound is so frontally immersive that you must pay attention to it. Musical output is intense and dynamic and immediate. Set the volume knob more or less where you want it on the left speaker and control the actual sound from your iPhone, iPad, computer, or other sound source with the help of the aluminum remote.
If a song has a strong bass, it envelopes the room and surrounds your listening psyche with a deep and welcoming blanket of low frequencies. The midrange and treble blend into the bass and push their way into your skull with the immediacy of being in the recording studio. It's almost a frontal wall-of-sound effect except that every corner and space in your room gets the music even when you are on the side or behind these enveloping speakers. There is no escape, music lovers, from the output of A5+.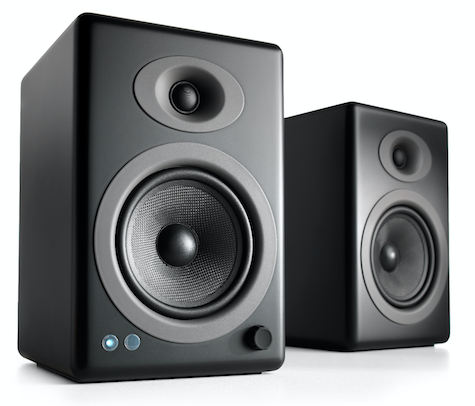 It's not just their reasonable $500 price tag and soft to loud presence. These speakers are built to last and outlast every other comparable set in your life. You will have your A5+ forever until you bequeath them to your favorite nephew or grand daughter. Your former collection of mid-priced speakers will gather dust and be neglected until you feel sorry for them and donate them to your favorite charity sooner than you expect. The crisp percussion alone makes these speakers a strong recommendation, not to mention the naturalistic vocals.
The more you listen to Audioengine's new 2018 A5+ Wireless Speakers the more you want to listen and the more their sound becomes the definitive bookshelf or workshop or computer or lab or classroom or dorm or person-cave speaker sound.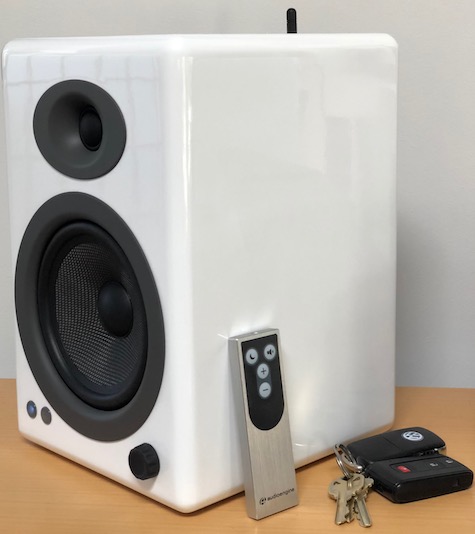 All the product's features are at this link.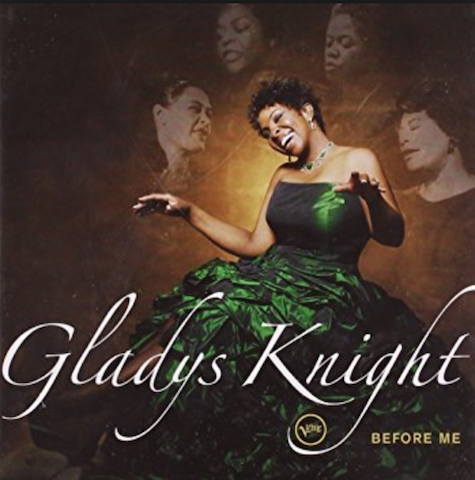 A good example of a song that shows off the sonic sense of 2018 A5+ is Stormy Weather by Gladys Knight from her album, Before Me. The recording begins with strong entries from drums and horns. Then the acoustic stand-up bass rolls in like a musical truck at midnight, underneath sparkling piano, brushed drums, light horns, and Gladys' swinging and lively opening verses. The arrangement gets a lift during the B-section, and we are pulled into the fully-soulful modern rendition of an American standard that was old when your grandparents were young. Dynamic rises and dips in the instrumentation make this an adventurous listening experience from start to finish. When the horns and piano take over halfway through the track in a brief instrumental break, you are hooked. The last B-section brings all the players and the singer into action. You forget you're testing speakers and get up and start dancing around the room, just as a lone electric guitar appears out of nowhere, leading a horn blast conclusion. Wow, you think; these speakers are really good, and so are you and your band, Gladys.
Let's go hear some more music now, after we award our MyMac 9 out of 10 rating to A5+ Wireless Speakers from Audioengine.