Slope
Company: Wiplabs
$39.99 US
Slope is a universal tablet stand. It uses micro-suction pads to hold a tablet from 9.4 inches to 10.5 inches. It features the a brushed metal finish similar to a iMac or MacBook. The tablet sticks to micro-suction pads which are washable and can be replaced for $9.99 if needed.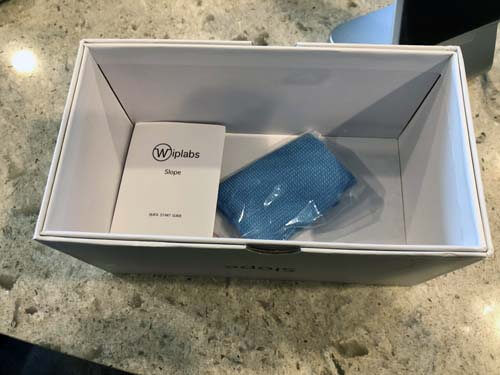 The Slope comes with the tablet stand, instructions and a very nice screen cleaner cloth. The stand is very nice looking with the brushed metal look of other Apple products and feels solid. There is one micro-suction pad that holds the tablet and another pad on the bottom to attach to a smooth surface. There is protective film that you need to remove first on the pads. Then just stick the tablet on the stand and optionally attach it to a surface.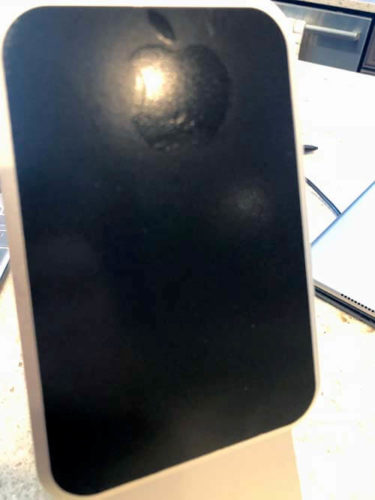 Attaching and reattaching an iPad Pro 10.5 multiple times to the stand worked flawlessly. The iPad stuck on with no signs of weakening to the stand. I didn't elect to attach the bottom of the stand to a surface and the iPad showed no signs of toppling over. The Apple Smart Keyboard has no problems when either closed or flipped around. However, its obviously impossible to type on the keyboard while its on the stand. The lightning cable plugs in with no problem when attached to the Slope.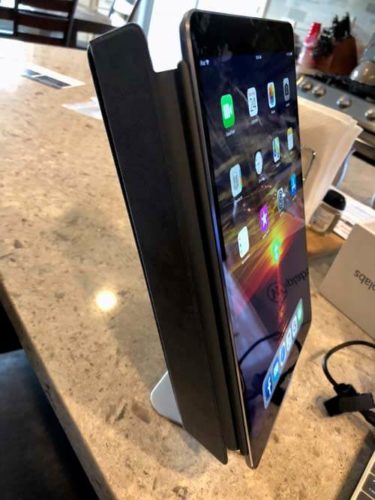 I am going to file this under "things I never though I wanted but now wonder how I lived without it". After you find out that it works and holds the tablet up, you then find uses for your iPad that you never though about before. Watching videos, reading recipes even using as a second screen with an application like Duet Display all work better then it did before. I really never thought I wanted a tablet stand, now Im thinking about what else I can put on it.
MyMac Review Rating is 10 out of 10. The tablet magically sticks to the stand. The design of the stand it perfect and everything works. Price is right too for the quality.