Powered 7-Port USB 3.0 Hub
Manufactirer: Qicent
Sold through Amazon: $29.99 (at time of writing)
USB hubs aren't new or sexy, but they are essential when you need several devices connected to your computer and there are only one or two available ports. Qicent has a capable seven port powered hub with some useful features. Each port has a small blue LED that indicates a stable connection.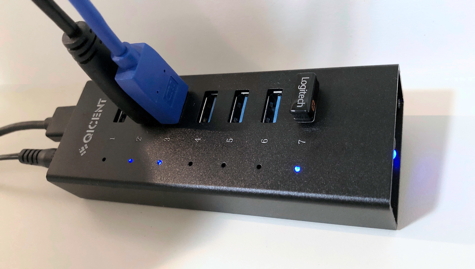 There is no cheap plastic here; the substantial matte black case is solid aluminum. At 12.3CM in length, it's just shy of five inches. Lined up on the top of the hub are seven ports that support BC 1.2 quick-charging protocol. This permits simultaneous data transfer and charging; 2.0A for charging or 1.5A if charging and syncing data at the same time. USB 3.0 provides transfer rates of up to 5GB per second for seven devices simultaneously. The unit is also compatible with USB 2.0, 1.1, and 1.0.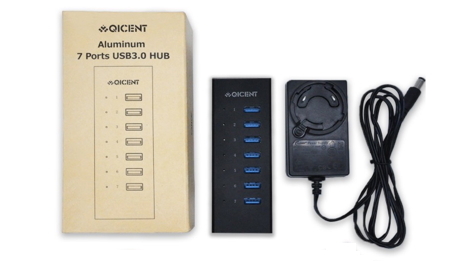 Included with the hub is a 12V, 2A power supply with a four-foot (1.2M) cable. A USB 3-to-USB 3 cable is also included. Qicent states that there is built-in surge protection; a reassuring additional feature that, fortunately, I have not yet had occasion to test. The hub can be used for on-the-go (OTG) data transfer between devices connected to it. There is the USB 3 input socket and a power plug at one end. At the other, is a power button with a bright blue on/off indicator LED.
If you need a powered hub, and most of us do, this is an excellent choice. It performs well, is priced competitively, and is built to last.
MyMac Reviews rating is 9 out of 10.