1MORE Dual Driver ANC Lightning In-Ear Headphones
$150 U.S.
1MORE.com
1MORE continues to innovate and expand its in-ear headphone lineup, to everyone's advantage. The new 1MORE Dual Driver ANC Lightning In-Ear Headphones introduce active noise cancelling, or ANC, to their expanding family of mid-priced and high quality premium earphones. The company's versatile 5-in-1 controller is excellent, and must be used to be appreciated. Keep reading to learn about the sound.

Lightning port headphones, called LTNG by 1MORE, include an impressive DAC, or digital-analog converter. These $150 buds, which I will abbreviate as ANC-Dual-LTNG, have a more muscular sound than the standard 3.5 mm audio plug versions of 1MORE's Dual and Triple Driver In-Ear Headphones, priced at $70 and $100 U.S., respectively, due to a larger 13.3mm dynamic driver. It's easy to recommend ANC-Dual-LTNG over both of these conventional-port siblings, regardless of price.
The LTNG edition of this company's Triple-Driver In-Ear Headphones, priced the same as ANC-Dual-LTNG at $150 U.S., do not have ANC. For now only our review ANC-Dual-LTNG have active noise cancellation. Which should you purchase and use, given the choice?
You will take great care with your 1MORE $150 earbuds and you will use them a lot. When subtle and nuanced audio performance is your primary concern the 1MORE Triple Driver Lightning In-Ear Headphones are first choice. But wait, there's more.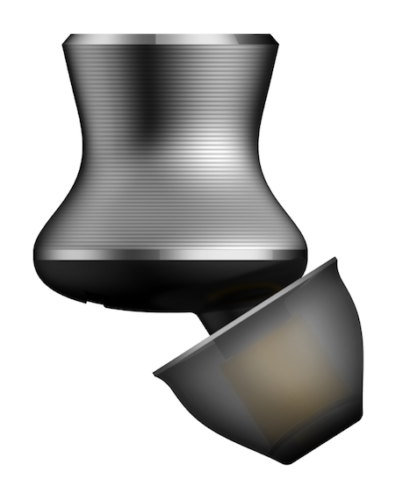 The ANC-Dual-LTNG are darn good. For casual and recreational listening to most music they are enjoyable, with moderate sonic coloration and a good (but not great) sound spectrum. Where they excel is when the active noise reduction switch is engaged. When managing outside noise is as important as grooving to your tracks, go for ANC-Dual-LTNG.
For the record, 1MORE's astonishing $200 audiophile Quad Driver In-Ear Headphones, with a 3.5 mm plug and no ANC, remain in a class by themselves. Which is why the combination of Lightning tip, active noise cancellation, and 5-in-1 controller place ANC-Dual-LTNG in a virtual tie with the Triple Driver LTNG when your precious $150 is concerned, depending upon your requirement for the sound reduction.
Once you pay for your premium buds and begin using ANC-Dual-LTNG, you will appreciate everything about them, and forget everything else. Robust build, great company, zillions of ear tips, powerful audio, handy-dandy controller, and not much outside noise garbage add up to stellar value for solid sound.
I Like 1MORE Products. I use them every day. They have one more winner now with their 1MORE Dual Driver ANC Lightning In-Ear Headphones.
Sam Negri adds the following:
Nemo passed along this headset because he knew I was looking for an above average set of earbuds. He also knows I listen mostly to classical music. I'm not sure he was aware that I also listen to movie scores, folk music, especially of the Celtic variety, and opera.
My gut and my experience tell me that most headsets are tuned to the larger market of people listening to pop music, rap and more contemporary genres. But then these 1MORE premium buds fell into my lap and I thought I had struck gold — until I inserted the earbuds!
Nemo had been using them without the rubberized wings that slide onto the speaker housings and help to lock the earbuds in place in the ear. Since I often listen to my music on bike rides, the wings that keep the earphones in place are indispensable. I wouldn't leave home with the buds just tucked into my ears unsecured. Bike riding involves bumps and jostling, and without some precautions, in-ear monitors slip out of my ears when I start to sweat.
My problem with the earbuds was a big embarrassment, partly due to my ignorance and, I would say, partly due to the company's laziness. In short, not knowing I had installed the security wings improperly, I was treated to anemic volume and coarseness that made me wonder at the nerve of anybody who would ask $150 for this product.
Then Nemo sent me a draft of his glowing review of 1MORE Dual Driver ANC Lightning In-Ear Headphones and I thought that either I am deaf or living on another planet. Or maybe something is horribly wrong. As an experiment, I removed the rubber wings and just listened to the buds the way I knew Nemo had, without the ear secure wings. Bingo! Everything came to life.
This reminded me of an old joke about a guy who returns a chainsaw to the hardware store because he'd been told he could easily cut four cords of wood a day with it and he complained he could only cut two.
 "Let me see the saw," the salesman says. He reaches down and grabs the starter cord and pulls. The saw rumbles loudly to life and the customer, in shock, screams, "What's that!"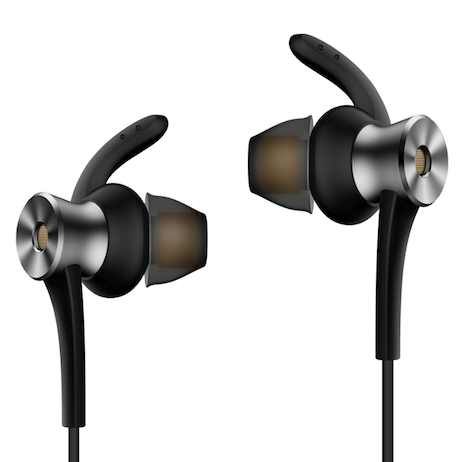 Well, I was not quite that dense, but at least I then realized the audio was there and quite impressive, so I reinstalled the wings and played with the fit until the bud was at the mouth of the ear canal and then twisted the wing lock slightly until it was snug.
I confess I have been listening to everything from Handel to Ella Fitzgerald all day, with great pleasure. But be forewarned. Nothing in the documentation that 1MORE provides shows you how the ear secure wings are supposed to be installed on the speakers, or how to orient them for a good fit in the ear. I found that omission annoying but was happy I kept tinkering with the fit until I got a good seal.
Our combined MyMac Review Rating is 8 out of 10.
REFERENCE REVIEWS:
Two
Review: 1MORE Dual Driver LTNG Noise-Canceling In-Ear Headphones
TRIPLE LTNG