Logitech Craft Wireless Keyboard
Manufacturer: Logitech
MSRP: $199.99
Logitech's new Craft Keyboard is a superb piece of engineering and design. It is hefty (just over two lbs. or 960g), rock solid, and built for durability. It matches Apple's Space Gray finish and has black laptop-style chiclet keys. A wireless connection is made using either Bluetooth Low Energy technology or Logitech's handy unifying receiver that employs 2.4GHz wireless technology. This small USB dongle plugs into your Mac and lets you wirelessly control a variety of the company's devices such as additional mice or keyboards simultaneously.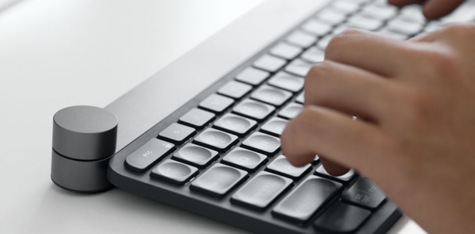 The nicely dished keys are backlit and a proximity sensor fades out the backlighting when your hands move away. The keys illuminate again to welcome you back when you return to your desk. Universal key labeling shows both Mac and Windows functions—cmd/alt and opt/start, for instance. I'm not a big fan of black keyboards; light-colored ones are easier to see, but this isn't a deal-breaker. The Craft keyboard has a built-in battery that will supply power for about a week with backlighting on. Keep the backlighting turned off and that time increases to nearly a month according to Logitech. There is a USB-C socket on the back of the keyboard allowing connection without having to look at the plug's orientation. A USB-3 to USB-C charging cable is included.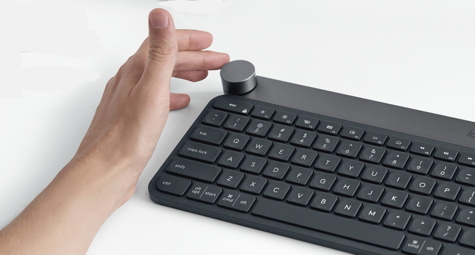 A multi-function knob on the upper left side of the keyboard is what differentiates this from other keyboards in both utility and price. This knob controls many of the frequently-used tools in whatever application you are using. It responds to touch, presses, and rotation. For instance, it becomes a zoom adjustment in Photoshop CC and if you have a brush selected, the knob will adjust size, hardness, opacity, or flow. The keyboard and knob respond uniquely to Adobe Photoshop CC, Adobe Illustrator CC, and Adobe Premiere Pro (2017 and above) for Mac and Windows. It responds to Microsoft Word, Microsoft PowerPoint, Microsoft Excel 2010, 2013, and 2016 for Windows only. Logitech Options downloads are available for each application. Logitech says that other applications will eventually join these.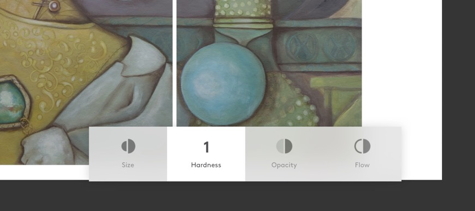 This keyboard is sure to be a hit with creative professionals who spend major portions of their workdays deep in Photoshop or Illustrator. Years worth of muscle memory and keyboard shortcut habits will be difficult to overcome but the resulting control is fluid and precise. For the more casual user, this may not be a reasonable choice because of price and the amount of work experience that needs to be acquired to make the controls become second nature.
MyMac Reviews rating is 8 out of 10 for casual users but I can hear creative pros enthusiastically cheering in the background.