JAM Rhythm Wi-Fi Speaker
Manufacturer: Jam Audio
MSRP: $119.99 (Internet promo prices often as low as $50.00)
Jam Audio's Rhythm Wi-Fi speaker is worth a serious look and listen. It connects to your Wi-Fi network instead of depending on an often-sketchy Bluetooth link. Bluetooth speakers are plentifully available at every pricepoint, but Wi-Fi speakers typically occupy a high-end niche market.
Power-up the Rhythm speaker, download the Jam Wi-Fi app (App Store or Google Play), and you're up and running easily. Simply pressing a button on the back of the speaker connects it to your Wi-Fi network. On the Jam Wi-Fi app's home screen you'll see only a few services—iHeart Radio, Spotify, Tidal, TuneIn, Napster, and Amazon's Alexa. Because Sonos offers dozens of music services, I was disappointed with Jam's meager selection and even though there is a My Music Library button, my iTunes library didn't play. However, I discovered the speaker is DLNA-compliant (Digital Living Network Alliance) so the app allows streaming via Airplay. Once you grant permission for Airplay streaming in the iOS Control Center, you can close the app and your iTunes Library, music from additional services such as Pandora, and many other audio sources will play through the speaker. Jam's instructions need to make a big statement about using AirPlay, it's a game changer.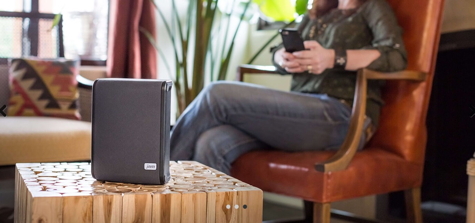 Since the popular Sonos speakers also operate via Wi-Fi networks, comparisons are in order. The Sonos app contains dozens of streaming services, but Jam only offers a few. However, when Airplay is enabled you don't need the app at all since almost anything audible will play. You can even listen to podcasts and the soundtracks from YouTube and Netflix. Sonos allows left and right separation if you have two of their units. So does the Jam Rhythm. The Sonos app lets you individually control speakers that are located in various rooms of your home. The Jam app lets you control up to eight of their speakers from your iPhone or iPad.
Jam includes a couple of features that Sonos does not. Amazon's Alexa is available so you can ask questions or speak commands from your phone. There is a one-way intercom feature that could be useful in a busy home or office. You can speak from your phone to the speaker but not the other way around. The Sonos speakers and the Jam Rhythm go idle when not in use, so there is no need to turn them on or off. Both speakers reconnect if there is a power outage or you choose to move them to another room.
The Jam Rhythm has sturdy rubber rims on the narrow and the long sides allowing you to place it vertically or horizontally. If the speaker is placed horizontally, the sound is stereo; stand on its end and it plays in mono. A standard 3.5mm Aux-in socket is built-in so external audio sources can also be connected.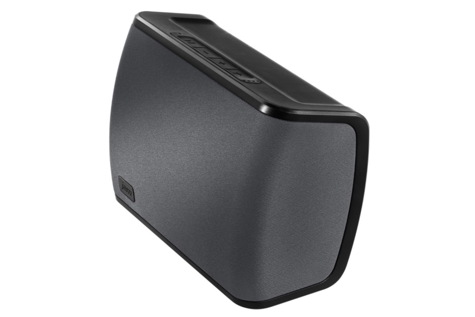 The speaker contains a powerful 3.5 inch (9 CM) driver, dual tweeters, and a rear-facing bass port. The sound is rich and adequately fills a medium-sized room. I performed a side-by-side comparison with a Sonos Play:1 and it competes favorably. The Sonos wins overall, but the Rhythm certainly holds its own. The speaker weighs a solid six pounds (2.7kg) and the sound is virtually distortion-free even when cranked up loud.
Amazon's Alexa functions well when you ask questions. Requesting specific music tracks doesn't work correctly because most of your music library is on your devices or in the cloud. Alexa cannot search those areas. I usually get an oh-so helpful response saying the song can't be found but it is available on Amazon Music and would I like to learn more about the service.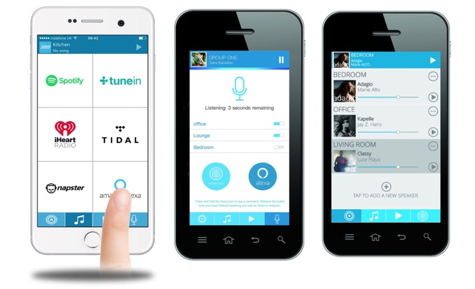 Bluetooth can be fuzzy and intermittent but a Wi-Fi connection is solid and sounds noticeably better. Jam's Rhythm sounds great and is priced well. Amazon runs promotions on this speaker frequently in the $50 to $75 range. At these prices you can have a pair playing stereo or put them in several rooms and spend less than you would on competitive speakers.
MyMac Review rating is and enthusiastic 9 out of 10 with a warning to other manufacturers to watch their backs as competing products like this are catching up fast.