Curve – Desktop Stand for MacBook
Manufacturer: Twelve South
Price: $49.99
Do you use an external monitor as a second screen with your MacBook? Twelve South has a solution for that. The Curve MacBook Stand securely holds your Macbook at a convenient height next to your monitor. It works well and it looks great.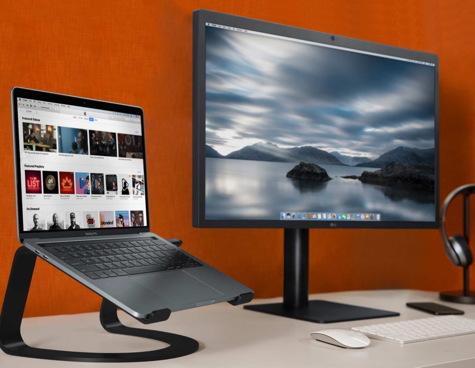 Twelve South is one of the few manufacturers who understands and respects Apple's aesthetic. The design of the Curve is carefully considered. Instead of the usual anodized silver color of the Mac, the Curve is satin black so that it does its job without drawing attention. It's one continuous piece of heavy duty aluminum with soft grippy rubber pads protecting the finish of your MacBook while holding it solidly.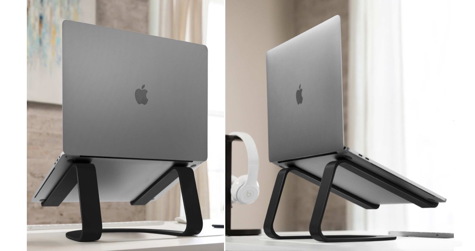 The curvy shape holds the MacBook from the rear so that the space underneath is accessible for sliding a keyboard out of the way when it's not in use. The Curve accepts all MacBooks from the small 11" model up the the 15" model. In addition, the stand elevates your MacBook to a comfortable viewing height so that it is perfect for desktop use by itself with an external keyboard. Because the Curve only covers a portion of the MacBook's underside, there is plenty of room for air to circulate to keep things cool.
MyMac Review rating is 10 out of 10 because this is one those rare instances where a need is filled with simplicity, elegance, and involves no moving parts.