Free at the Apple App Store
MyScript
Nebo is not just another one of those note taking applications that I have added to my iPad collection. I have been using this application for several months now and have found it to be quite useful and very powerful. I am not a proficient typist so I love when I can my Apple pencil to take my notes in longhand on my iPad Pro.
With Nebo, I can do this extremely well and this application interprets my scribbling handwriting and quickly converts it to readable text.
Nebo does this conversion literally on the fly. Figure 1 illustrates this interpretation process by displaying the text conversion of my printed handwriting at the top.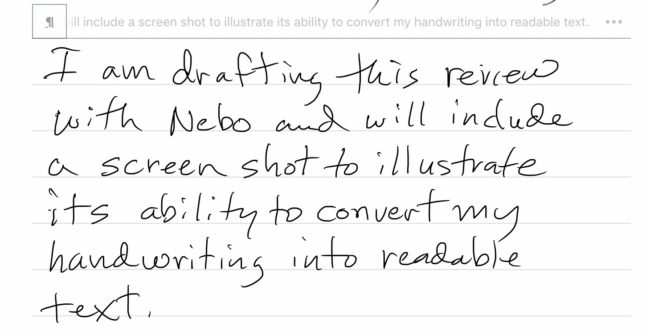 Figure 1
Like most note taking application, you can use several different sizes of pens (0.15 to 1.0) and choose any color of pen you desire as shown in Figures 2 and 3.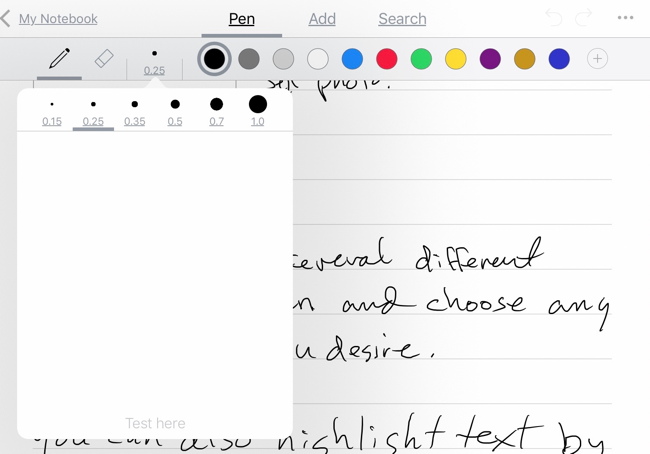 Figure 2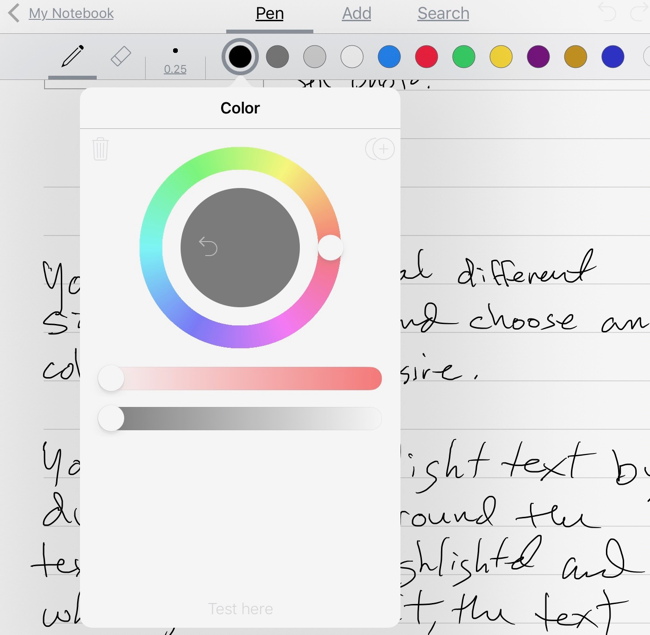 Figure 3
There are several special pen strokes that are available to assist in editing but there is a learning curve one needs to go through to become proficient. A double underline stroke creates a heading, bullets are created by starting with a dash stroke. A down stroke adds a space, an upstroke removes a space between words. Scribble through your mistake and it erases. Finger gestures allow you to move and resize text, figures, and illustrations. You can also highlight text by drawing a box around the text you want highlight. and when you convert it, the text in the box will be highlighted as shown in figure 4.

Figure 4
It is easy to insert a photo from my photo album or just use the built in camera. Here, in Figure 5, I used my iPad camera to insert a self photo.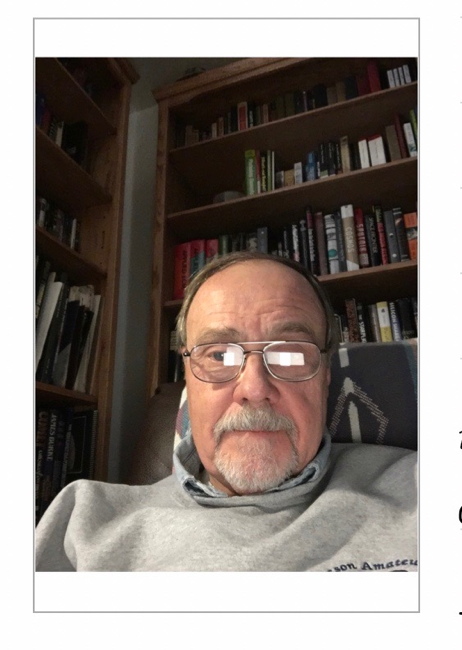 Figure 5
Another feature is the ability to simply add your own sketches. Here I illustrate this with my simple sketch of a rocket in figure 6.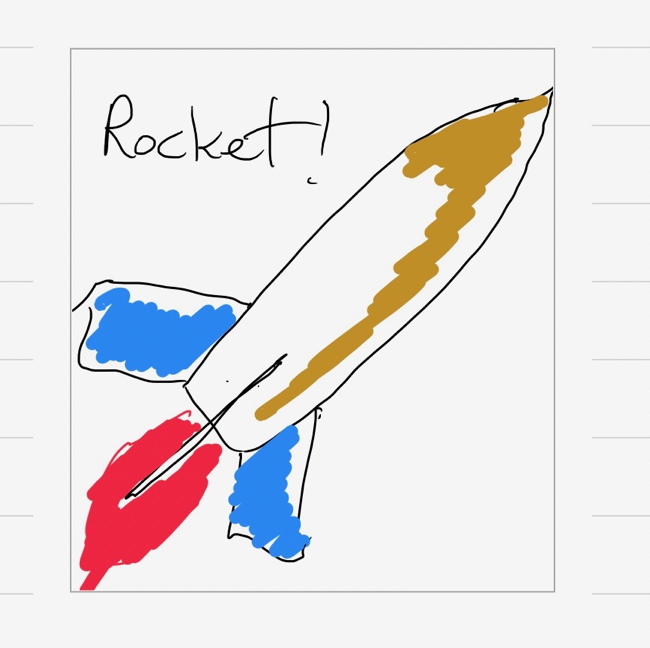 Figure 6
You can even do math within this note taking application, including some very high level equations. Here is a very simple example of math that I did to illustrate this in figure 7.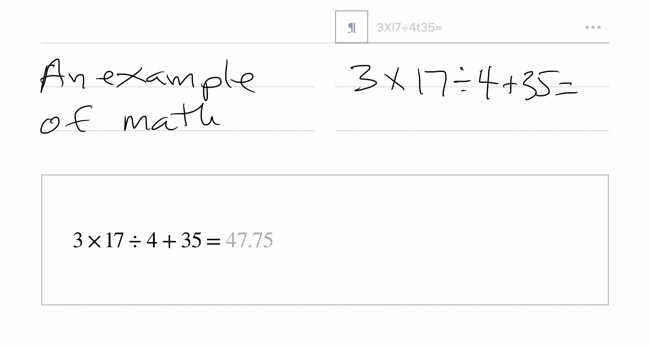 Figure 7
Under the setting choice the user is provided with preview option and some math choices This is located by tapping on the three dots in the upper right of the screen as shown in figure 8.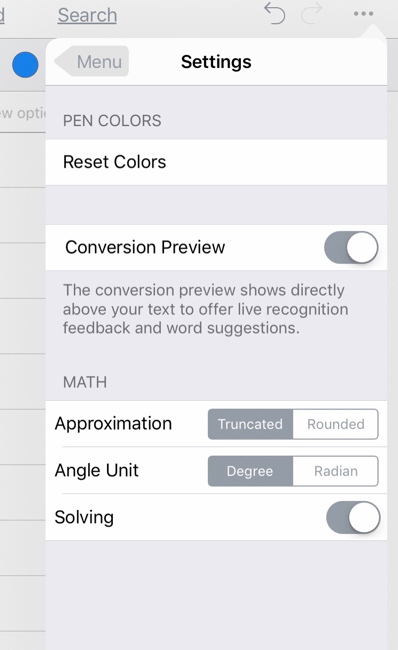 Figure 8
Selecting the menu, as illustrated in figure 9, gives you the export selections, an excellent tutorial, and help. You can share your notes in a Message, Mail, Twitter, Notes, Facebook and more depending what applications support Nebo and if you allow. Exporting as HTML preserves your handwritten form of notes, PDF converts your handwriting into text as does exporting to Word and Pages.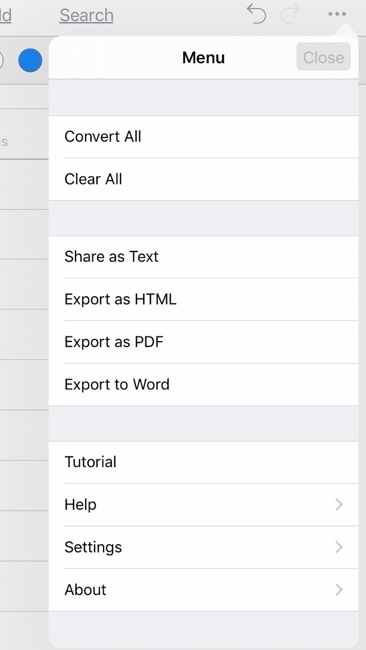 Figure 9
Now let me try using my sloppy handwriting to see how good the app does changing it to text! Figure 10 shows how well Nebo is able to interpret my handwriting and covert the results very accurately.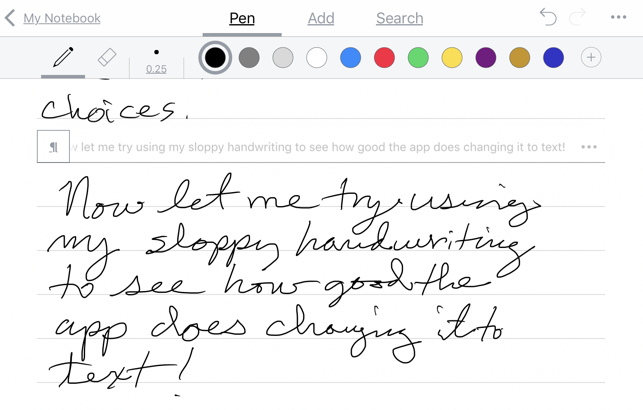 Figure 10
Another feature Nebo offers is the ability to support diagrams. Figures 11 and 12 illustrate my simple diagram sketch converted to a finished diagram.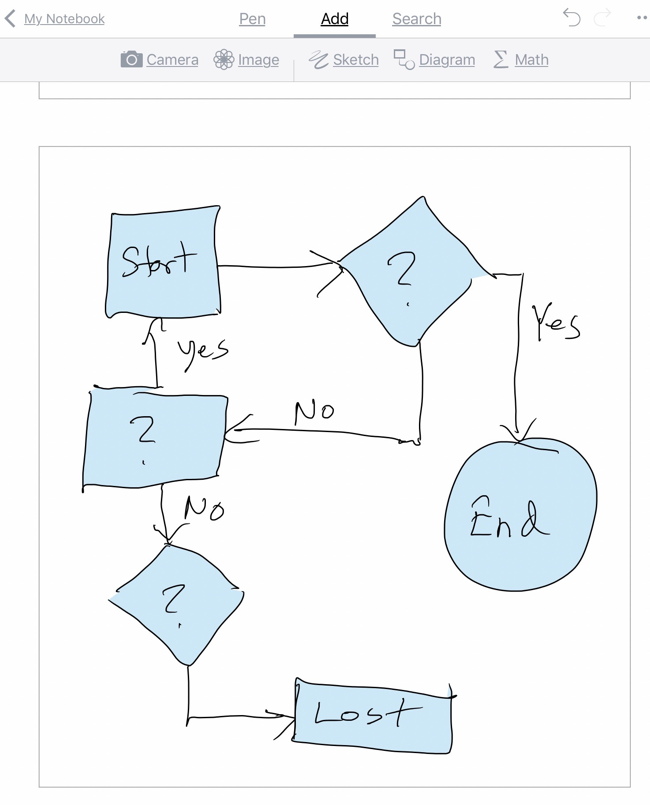 Figure 11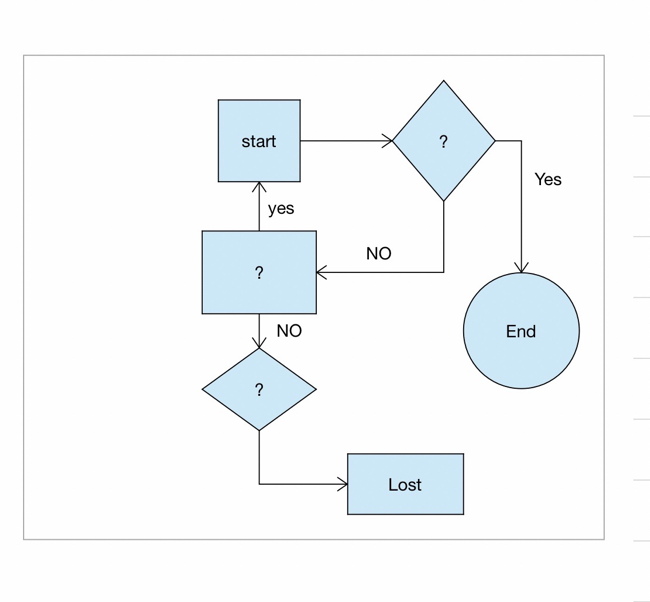 Figure 12
I would highly recommend visiting the MyScript website and view the Nebo videos they offer which dynamically illustrate the many powerful features this note taking application offers. There are also several good Nebo videos on YouTube. Something I was not able to illustrate in the review is the various dynamic editing features available in this application. The videos and tutorial do a good job illustrating these features.
Although not perfect, Nebo has may features that work well for me. There is a learning curve I am still climbing but the more I use Nebo the more I appreciate the power it provides for note taking. One feature I hope they will add in the future is a sync to iCloud so I could share or hand off my handwritten notes from my large iPad Pro to my iPad Pro 9.7" so I could continue from one device to another. The Nebo team is planning on implementing syncing in a future update, so maybe this will satisfy my desire. Nebo is also available for Windows platforms that use an interactive stylus.
All in all, I do think this is an excellent note taking application and I give it a MyMac 9 out of 10.