SurfacePad case for 9.7 inch iPad Pro
Manufacturer: TwelveSouth
Retail price: $79.99
Here's a case that is genuinely thin. No bulky, heavy plastic frame surrounding your iPad. TwelveSouth's secret is a special repositionable adhesive inside the Napa leather back. The case becomes part of your iPad. The front cover is lined with soft microfiber so there is no chance of scratching your screen.
Even with its elegant thinness, embedded magnets wake up your iPad when you lift the cover and puts it to sleep when you close it. This cover/case's name indicates that it is for the 9.7 inch iPad Pro but it also fits the iPad Air and the Air 2. The Napa leather cover supports the iPad in two viewing positions—60 and 70 degrees. There is a small flap inside the case that acts as a kickstand. It props your iPad up at a comfortable typing angle.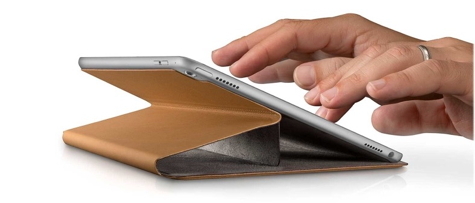 TwelveSouth states that the adhesive that secures the case to the back of your iPad is removable without leaving any residue. So far, I have to agree. I've had to install and remove the case several times because I often use a separate keyboard case that needs access to the Smart Connector pins. Twelve South includes a plastic sheet that covers the adhesive when the case is not being used. If you are finicky or concerned about sticking this case to your iPad, you're going to be uncomfortable. It works, but I completely understand.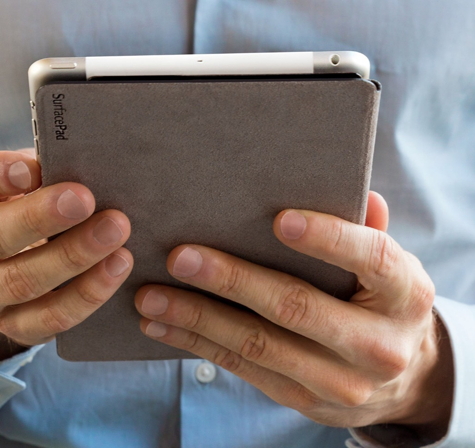 The left side of the 9.7 inch iPad Pro features the new three-pin Smart Connector. The SurfacePad case leaves this area exposed so it will connect smoothly to Apple's Smart Keyboard. The sides and corners of your iPad are exposed. Risky if it is dropped.
If you are nervous or apprehensive about having a case physically adhered to your iPad, you probably should choose something else. However, if you'd like one of the thinnest, luxury leather iPad cases around, this one's for you.
MyMac Review rating is 8 out of 10.