Etymotic Studio Reference Earphones
Model: ER-4SR
MSRP: US$349
For decades Etymotic's ER-4 in-ear earphones have been a gold standard against which others are measured. The bar has just been raised again with two new updated models: ER-4SR and ER-4XR. The best just got better.
Etymotic pioneered the noise-excluding in-ear earphone. The ER-4 led the field for twenty-five years. They are favorites of audio engineers, audiologists, and particularly, musicians. The reason for their audiophile following is that the earphones are produced, individually tuned, and channel-balanced to within 1 dB in Etymotic's labs in the US. Included with every ER·4SR is a compliance graph signed by the Etymotic engineer who custom-tuned them.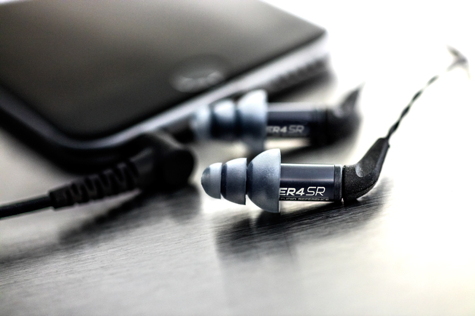 The term noise-excluding refers to the way the earphones fit your ear canal. The ER-4s fit deeply in each ear canal and the soft tips conform to their shape. This creates a tight, but comfortable seal that isolates you from outside noise. No noise cancellation circuitry that might effect the sonics is required.
The new ER-4SR has gray anodized aluminum bodies with laser etching. They only weigh one ounce (28.4g). The large zippered case contains the earphones, two pairs of large 8-13mm 3-flange eartips, two pairs of smaller 7-11mm 3-flange eartips, and two pairs of compressible/expandable foam tips. In addition, five tiny replaceable filters are included that smooth frequency response and prevent ear wax from entering the tips. Etymotic includes a small tool for replacing these filters.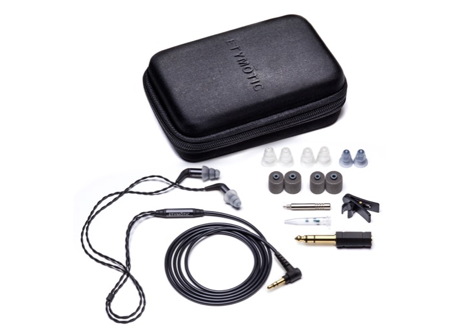 Earphone cables and particularly in-ear models tend to produce noise when they scrub against your clothing. Etymotic recognizes this and has provided three solutions to this microphonic noise. First, the cable is comprised of two parts: the usual tubular lower cable and a soft upper twisted pair cable that is thinner and less likely to cause rubbing noise. In addition, they include a clothing clip to attach to your shirt to limit the movement of the cable. As if those aren't enough, there is a slider on the upper cables so you can cinch them under your chin if you tend to be restless.
These are not casual earphones that you shove quickly in your ears. For the best experience, you have to suit-up. Etymotic has produced a video showing how to insert them properly. The process involves pulling your ear back and upward with one hand while inserting and twisting each earphone securely with the other. This takes some practice but it allows you to obtain a good, tight seal. Any looseness deteriorates bass response and allows outside noise in.

I have never heard as much clarity and faithful, clean reproduction with in-ear earphones. I'm tempted to say that this even applies to my over-the-ear headphone experience. The Etymotic ER-4SR is really that good. It's tough to write about how good these sound, as Elvis Costello once said, "Writing about music is as pointless as dancing about architecture." Let me just say that these are the best sounding phones I've listened to and I've listened to lots of them. Here are where these earphones shine: immersion, separation, accuracy, a wide soundstage, nearly unlimited dynamic range, spacious ambience, great bass response without artificial boosting, and truly exceptional clarity.
I have a lengthy playlist that I often use when listening to new speakers and headphones. Comments on a few for reference are below.
Someday (Eric Clapton and Mark Knopfler) – Two musicians, two voices, two guitars. Great separation and presence.
Knee Deep (Zak Brown Band) – Foot stompin' stuff with crisp, clean sonics.
Rock You Gently (Jennifer Warnes) – A old track with astonishing bass notes at the beginning. The ER-4SR handles them with exceptional deep response.
Something I Dreamed Last Night (Miles Davis) and Traveling' Light – (Diane Schuur & Count Basie) – Listening to a live performance with these earphones puts you right in the audience. You almost want to lean over and whisper to the person sitting next to you.
Blue Moon of Kentucky (John Fogerty) – An old Bill Monroe song. The track starts with Monroe's scratchy 78 recording then dissolves into Fogerty's infectious updated version.
Handel's Keyboard Suite HWV452 (Keith Jarrett) – The piano sparkles and room size is clearly defined here.
Etymotic translates as "true to the ear." That's certainly the case with the new, ER-4 earphone updates—virtual reality for your ears. These things are terrific.
MyMac Rating is an enthusiastic 10 out of 10.