WiFi and home networking have plagued mankind since the dawn of time. Or at least since WiFi was invented. My setup was no exception. I have a narrow but long house. For years I used an Airport Extreme hooked up to my modem in the front of the house. An Airport Express extended the signal at the back of my house. This arrangement worked reasonably well, but still, there were dead spots, or weak signals throughout the house. I'd heard of other routers and extenders that had good reputations; however, I was a little afraid to change what I knew.
Then I heard about eero. eero isn't a router; rather each unit connects together to create a single wireless mesh network throughout your home. This means users get WiFi anywhere in their home—seamlessly. Could it be true? For my size home I would need a 3 pack, costing $499. A little steep, yet if it works as advertised well worth the money. Since eero offers a 30 day money back guarantee, what did I have to lose?
I ordered the eero on September 13. FedEx delivered my package on September 16. The next day at noon was setup time. From unwrapping to installation, the entire process took 30 minutes, which included taking notes and trying to find a decent place to put a unit upstairs near a power outlet. I have a very old house and very few outlets.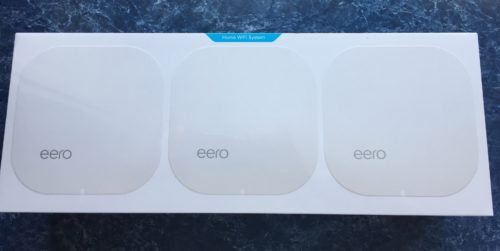 First download the eero app for iOS or Android. Then choose the device on the far left in the box that says start. Open the eero app, enter your name, mobile number, and email. eero will send you a text verification code to confirm your number. Then it's time for setup.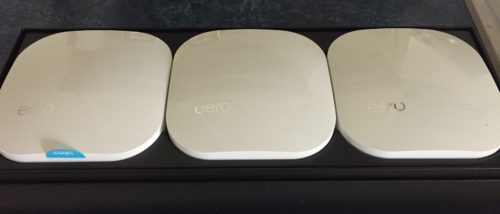 Follow the onscreen prompts for placement of each unit, which take just a few minutes.
I'm online! But then, I wasn't upstairs. The bedroom unit fell off the network, again due to having an old house. How did I know? The eero app shows how many units are connected. It only listed the living room and family room. I moved the eero to a different bedroom, and after a lot of coaxing, the main eero found it and added it to the network.
The most difficulty I had was getting our Smart TV to see the network. I knew I shouldn't have bought a Smart TV, but that's a story for another day. Eventually it connected. Still hate the TV, though!
There are a few other reasons why I wanted to try eero other than dead spots in the house. Our swimming pool is about 30 feet away from the house. I like to bring my iPhone and Amazon Tap to the pool and listen to music streamed through Amazon Prime or Pandora. The WiFi made it out there sometimes, with no consistency.
A major reason I needed better WiFi is to watch MLB TV. The MLB TV app works great on iDevices, but horribly on TV, whether it's Apple TV, Roku, or Amazon FireStick. This is mostly the fault of MLB (see all the negative reviews of the app.) I felt better WiFi would be helpful. So, how did the eero do in solving these problems?
The pool is closed now with summer over so I walked in the backyard with my iPhone along side of the pool. Signal strength was solid, and apps that I set to only open in WiFi opened quickly. MLB TV, while still a little slow to load, performs much better, with little of the buffering I was used to.
Nothing is perfect; there were a few bumps in the road. Even though the eero app recognized my wireless printer and noted it was online, nothing would print. After much finagling I deleted the printer from the network and reinstalled. That did the trick. As for my Western Digital My Cloud NAS, that's another device that took extra work to be seen on the network. Unplugging the NAS, waiting a moment, then plugging it back in to power helped eero see it. (Note: when having difficulty with hardware and networking, unplugging and plugging in devices, as well as rebooting, may solve many computer/device issues. Try that first before wasting a lot of time like I did with the printer.)
It's been over a week with eero, and so far everything has been running smoothly. During my trip to Florida for a few days last week I received no panic phone calls from my husband about losing WiFi. eero pushes updates to its system without users needing to do a thing, keeping the network secure. While it's true I'm still in the "honeymoon" stage of using eero, I'm very happy I made the switch. eero is available individually, or in sets of two or three. Click here for more information.