FlexiHub
Flexihub
Price: $6.59/month Basic; $16.59/month Professional.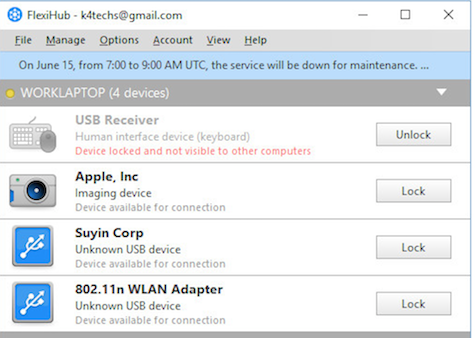 Where has FlexiHub been all my life? This service is what has been missing from Windows forever: The ability to share between two USB or serial devices with three PCs, Macs, or Linux boxes (basic) and 10 devices and 20 nodes (professional).
Sharing my wife's printer between my PC (Windows 7) and hers (windows 8.1) has been dreadful. I am not sure if this is everyone's experience but it sure was mine. Using the printer for work I would just hook it directly to my PC and print paperwork from there. After moving houses, I have switched to my laptop for most of my work and also have upgraded to Windows 10 on the laptop and my wife's PC. Even though everything looks okay, such as same network and same workgroup, I am still having problems reaching this printer.
Well no longer. All I have to do is have FlexiHub running on both PCs and voila — instant shared printer. I have not tried to attach any serial devices due to this being 2016 and neither of the PCs involved have any legacy ports.
I have used this to print from school to home and from my kitchen to my wife's PC in the study area. Without hesitation I would continue to use this product and share USB ports across the Internet. The only minor criticism is you do need to subscribe and pay monthly but I can still award FlexiHub a 9 out of 10 MyMac.com review rating.