Remote Controlled Panorama Pan Head
Manufacturer: Polaroid
MSRP: $50
This cute pan head allows you to pan 360º continuously in either direction, sweep a 75º pan left and right, or take photos in 5º increments every 10 seconds. It can be mounted on a tripod or its three legs fold outward like the wings of a beetle so it will stand on its own. The unit is about the diameter of a billiard ball. Polaroid's engineers and designers had fun with this. Not only does it look great, it performs well too.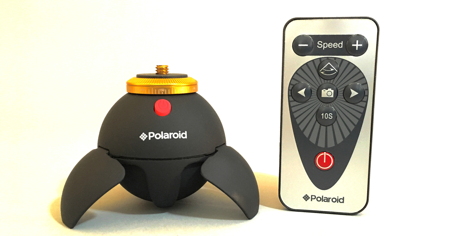 The motorized pan head's rotation can be controlled line-of-sight via an included IR remote. It also packs Bluetooth capability so your iPhone's shutter can be fired remotely from a greater distance. I noticed a second or two lag when firing the shutter but that isn't a problem for most panoramas. The unit is rechargeable with an included micro-USB cable and any standard charger. It will run about three hours on a charge. For safe portability, a velvet draw-string carry bag in included.

The kit includes two mounting brackets with standard tripod mounting screw threads, one for a Go-Pro camera and an adjustable one for an iPhone or other smartphone. With the included gear, you can take photos with a lightweight point-and-shoot, a Go-Pro, or almost any phone. If the pan head is mounted on a sturdy tripod, it will accommodate a DSLR. The mounting pad on top of the unit is only about an inch across so balancing a heavy camera with a big lens is not recommended.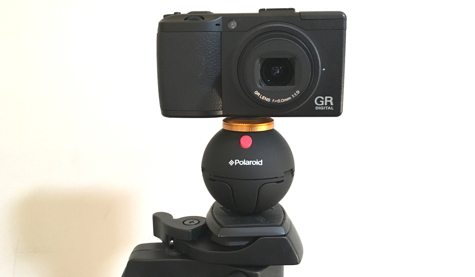 The remote has a number of settings and features. The Left and Right buttons cause rotation in either direction. The Speed buttons change the rotation speed from two to five revolutions per minute. This means that photos taken with the iPhone's Panorama setting work well if the speed control is set at the slowest speed. The triangular button will start the head panning back and forth in a 75º arc. If you are taking a series of photos with a camera that you will later stitch together in Photoshop, there is a ten-second button. This smoothly revolves the head 5º then pauses for 10 seconds giving you time to take each photo.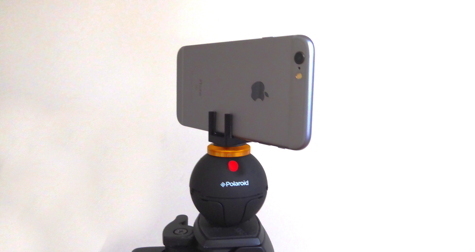 This pan head is ideal for video. It only rotates horizontally. The panning is smooth and quiet. I tried a few video panoramas then played them back with the volume turned up. I could not detect motor noise. I assume the rubber pad on the mounting plate provides sufficient sound damping.
This motorized pan head serves a niche purpose and isn't for everyone but if you routinely shoot landscape panoramas or use a Go-Pro, you'll appreciate its usefulness and clever design. It packs away easily in your camera gear bag.
MyMac Review rating is 9 out of 10.