Kensington Expert Mouse Wireless Trackball
Company: Kensington
Price: $99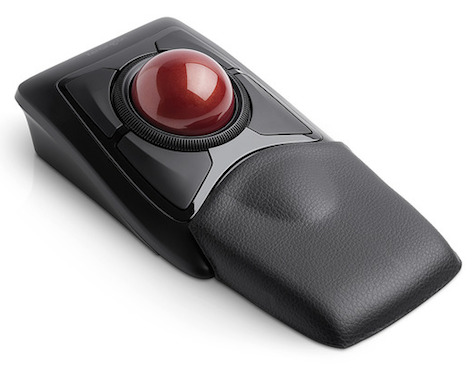 First off a confession. I hate Apple's Mice. They have come in all shapes and sizes over the years and they give you one for free with almost (except the Mac Mini) every desktop computer they sell. I look at them with contempt. I know there are those misguided people that like, love, or endure them, but they end up in a dusty drawer that I view with loathing each time I think about them. So what do I use instead? Trackballs. I prefer the precision of them and the fact that I don't have to jerk my hand all over my workspace each time I need to use it. I typically use the Logitech M570Â for my day to day use, but there are some things that it just isn't capable of. Enter Kensington's Expert Mouse Wireless Trackball, which is like a trackball on steroids. A really BIG trackball on steroids in fact.
So what do you actually get with the Kensington Expert Mouse Wireless Trackball (which I'll refer to as the Expert for the rest of the review)? Besides the trackball itself, it also comes with a Bluetooth 4.0 dongle if your Mac or PC does not have that natively. Insert into any USB port (including USB hubs) and the Expert is ready to go…or nearly so. To get the most out of this product, you need to first download (free) Kensington's TrackballWorks software which adds a System Preferences pane for more functionality. Something to remember is after installing the software (OS X 10.8 Mountain Lion and up), you'll need to restart the computer. More about this software is coming up later. You can also just use it in the 2.4GHz range, but the advanced features only work when using Bluetooth 4.0 and the TrackballWorks software.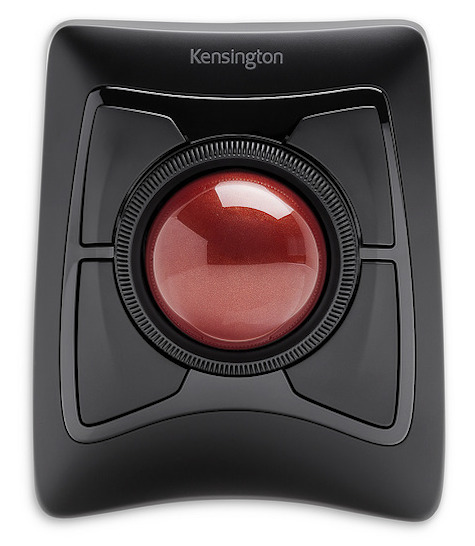 The Expert trackball itself has a center-based ball with an array of four buttons located to either side top and bottom. The scroll ring around the ball is used for scrolling either up or down whatever page or active window you select. It's grooved as well which makes scrolling  a snap. Scrolling speed is adjustable in which direction you prefer through the TrackballWorks software.
Also included is a cushioned pad to support your wrist. It connects to the bottom front of the Expert is is cushioned well enough to support your wrist without being too soft or too hard. If you're the kind of person that will use something like this for 4-8 hours a day, you'll appreciate that it's included.
Also on the ergonomic front, one thing that Kensington points out is something I rarely think of is that the Expert's design makes it as easy to use for a left-handed person as a right-handed person. My wife is a lefty and every time I have to do something with her computer, the difficulties of using a peripheral set up for someone of a different persuasion in handedness is brought home to me. That's not a problem for the Expert as each and every button and control on it is programable and its center-centric design means that handiness is not an issue.
Where the Expert really shines is the programmable buttons. Kensington calls these "Hot Keys". You'll need to download the TrackballWorks software from Kensington and restart your Mac, but this software opens up a world of possibilities for users in functionality. Not only can you program the four buttons individually, you can also program two-button combinations. So beyond just the basic four buttons, you can also select functions to happen with two buttons are depressed in any combination. Assign them to text snippets, controlling media, set up macros for certain programs, launchers for apps, even how fast the icon scrolls based on what program you're using. These combinations can even be different depending on what application you're using. Some of the user reviews I've read have been less than kind to the Trackball Works software, but for the basic things I tried it with it worked flawlessly.
I'm not a CAD or drawing person, but the kinds of precise control the Expert can give you should entice you to give it a look.
The Expert is really big and will take up a significant portion of your desktop (especially with the wrist rest). I would love to see a product like this about 3/4's of its size, with a significantly smaller trackball. Trying to maneuver the trackball while simultaneously hitting buttons (or combinations of buttons) can be difficult if you have smaller hands. Hot key combinations are cool, but it's big enough that they could have fit a few less used function keys across the top.
MyMac rating: 8 out of 10