EZQuest Adobe Photoshop Shortcuts Keyboard Cover
Manufacturer: EZQuest
MSRP: $29.95
Keyboard shortcuts are a proven productivity enhancement technique. The more work accomplished without lifting ones hands from the keyboard, the faster the job will be finished. EZQuest Adobe Photoshop Keyboard Cover is ready to help the Photoshop user learn how to use keyboard shortcuts to their best advantage.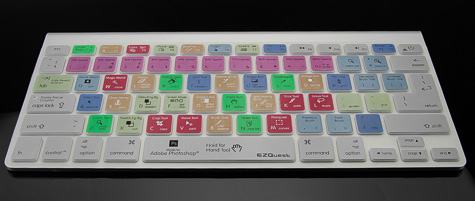 The EZQuest keyboard covers promise more than just a good way to improve your Adobe Photoshop efficiency. They also provide spill protection. This is something that I could use as evidenced by the coffee stain on my control key. Luckily, my slip didn't cause shorting out of my keyboard and Mac. If I were to spill on my keyboard now, it would just be a matter of pulling the keyboard cover off, rinsing it in the sink and letting it dry.
The keyboard covers are thin, light weight, and do not hinder the touch typist. EZQuest advertises the fact that they also serve to quiet the noise of typing. The current Apple keyboards are nearly silent, so this is not a big feature for me.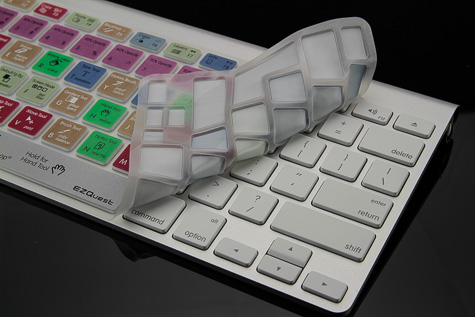 If you don't need the prompting of the Photoshop keycaps the covers are also available in clear, various fun colors and with shortcuts illustrated for other highly complex applications such as Final Cut, Illustrator, and Logic Pro, among others.
Conclusions
The EZQuest Adobe Photoshop Keyboard Cover will be a valuable tool for those Adobe Photoshop CC artists who are not at the extremes of the learning curve. If all that the cover did for you is stop an event of the Pepsi Syndrome* it would be well worth the investment.
MyMac.com Review Rating: 9 out of 10