Audio-Technica ATH-MSR7NC SonicPro High-Resolution Headphones with Active Noise Cancellation
User Report Review
Audio-Technica
$300 U.S.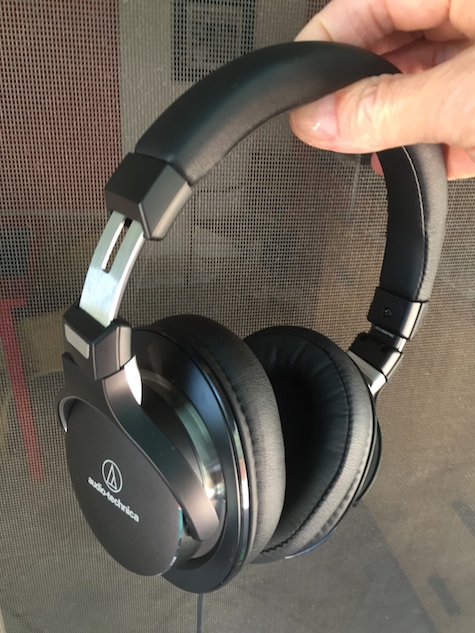 These new headphones add active noise cancellation to an outstanding and award-winning over-ear model from Audio-Technica. The sound is exceptional in the midrange through the treble, with a tight and accurate bass that supports the primary frequencies above. Comfort, weight, and build quality are very good, with decent passive sound isolation when active external sound abatement isn't necessary.
Audio delivery is identical when cancellation is off and on. Hooray! A rechargeable internal battery powers the very subtle noise cancellation system. Because the active effect is so minimal, there are no perceptual auditory black hole or deep tunnel effects, unlike some competitors' products.
The sound experience is immersive and intense. You can use these headphones for casual listening, but you are immediately taken inside the music and held its captive. These are comfortable closed-back over-ear headphones with very little to no sound leakage into a quiet room.
Cables are provided to charge the battery using your own USB source, such as an iPhone power AC mini-brick; for generic audio listening; and for play/pause/advance music tracks with an iPhone-compatible microphone for voice calls. Voice quality is excellent for both people on a phone call. A two-prong airline adapter and a leatherette tote sack are included, as is a helpful multi-language printed user manual. The entire package is first rate.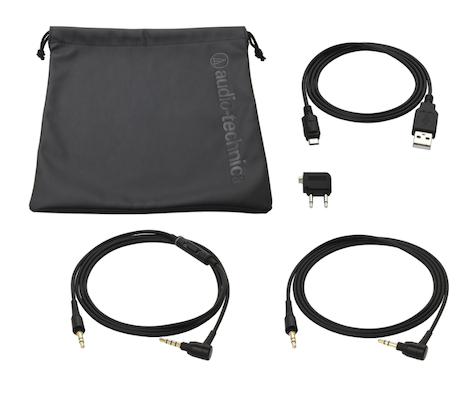 ---
Listen to When Will I Be Loved by the Everly Brothers from their album 40 Hits 1960-1964. Within seconds your eyes will be closed and your feet will be tapping as you revisit your misspent youth, or that of your grandpa. You'll hear guitar parts and drum rolls you never knew were there. The analog experience from the good old days of vacuum tubes is alive and kicking once again, with a rocking stereo remix.
Then play Mercury Blues by Jackson Browne and David Lindley from their Love Is Strange album, especially for the instrumental breaks and overall superlative live performance clarity.
Emily Smith's Sweet Lover of Mine from her Traiveller's Joy album has the clearest vocal delivery I've ever heard. The experience feels like she is singing inside my head. When she sings over the instruments, each one of them has specific presence that is unmatched.
The funky stereo mix on Roy Orbison's Mean Woman Blues from The Soul of Rock and Roll has both saxophone and backup vocals on the right channel. When the guitar solo kicks in at 0:53 seconds, hold onto your chair! The backup singers do some vocal gymnastics that I've never noticed previously.
---
ATH-MSR7NC are wired headphones. The company makes Bluetooth wireless headphones with different specifications.
This is a brand new product. Check the Internet this summer for more audiophile and consumer reviews to be published. The foundation ATH-MSR7 headphones from last year are the basis for these new ones, and the original model has many favorable reviews. Active noise cancellation is the only difference between the two models, along with a slight price increase.
If you are a frequent airline passenger or person who needs external noise negated on a regular basis, compare these ATH-MSR7NC SonicPro High-Resolution Headphones to competing products to determine your optimum fit, sound, and noise-reduction. I predict these gems from Audio-Technica will be high on your list with their stellar sound and fabulous feel, including wearing with most eyeglasses.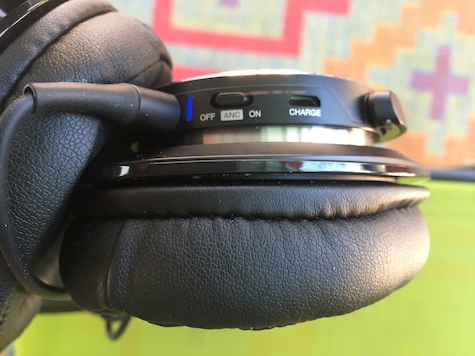 The blue light comes on when you are in noise canceling mode.
The physical product looks classy and classic, without screaming steal me. The ample ear cups pivot sideways to fit into the tote sack and pack flat for travel. The on/off switch for noise cancellation is conveniently placed at the five o'clock position on the left ear cup. I have never previously used noise reduction technology for cell phone calling, and it really helps.
---
Audio-Technica ATH-MSR7NC SonicPro are excellent headphones that you will enjoy using for years and years. Strong 9 out of 10 MyMac Review Rating.