CHANGEdesk portable standing-sitting computer desk
Uncaged Ergonomics
Price: $250 U.S.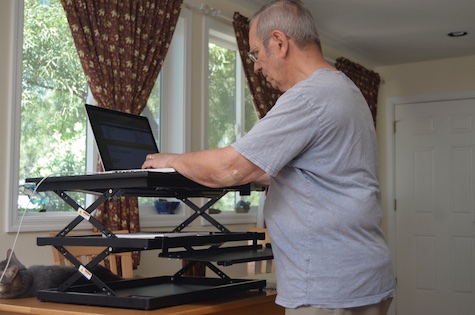 To stand or to sit, that is the question. Most office furniture allows you to do one or the other but not both. Uncaged Ergonomics thinks you have a choice so they've come up with the CHANGEdesk. Three metal shelves expand and contract like an accordion. If you're tired of typing standing up, lift the lever on the right  and push down on the desktop.
The CHANGEdesk smoothly moves between a height of 21" down to 4" and automatically locks in place at five positions as you raise or lower it. The top shelf is designed to hold a monitor, up to 30 pounds.
Theoretically, the user has a choice. Sit and type for a while as though at a conventional desk, then push your chair out of the way and raise the CHANGEdesk so that the display is at eye level when you stand up. There's only one problem with this picture. When changing positions, you can leave a monitor on the top shelf but the company says you must remove anything in the middle and bottom shelves.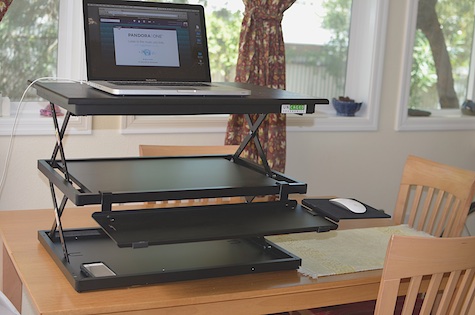 This requirement detracts from the unit's portability. Often you have a speaker or some books stacked in the middle shelf. Are you going to want to move them every time you change positions? My guess is that most users will decide how they want to use this desk and leave it in that position indefinitely. The flexibility is a nice selling point but it's impractical if the user always has to move equipment off the lower shelves.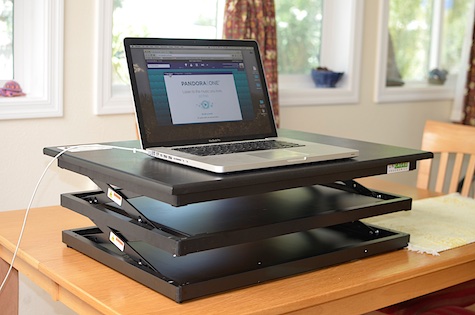 Note that the CHANGEdesk rests on a desk or table. It does not stand on the floor. Generally, it requires no assembly and can be used out of the box. But if you want to use the included keyboard tray, you'll have to attach the brackets with four screws and hang it into the slots on the middle shelf. This is easily done. There's also a shelf for a mouse that attaches to the side of the tray.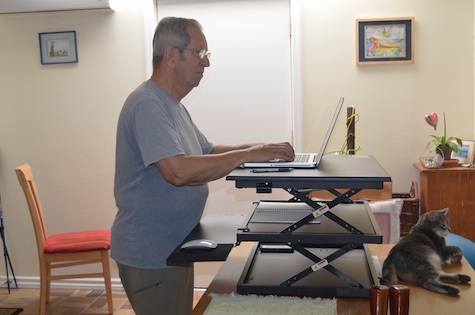 Cat not included with product
The CHANGEdesk feels sturdy and will not tip or bend. It moves easily between its five fixed positions and locks in place securely.
Its top panel is 27.5″x19.5", which is plenty of space for a large monitor and perhaps a modem and router. It's easy to move the desk from one location to another. Just depress the handle and lower it to the table and cart it away. It's a good product but with limited flexibility.
MyMac review rating is 7 out of 10.