JS12 Jump Starter Heavy Duty Battery+ — Nemo Memo
Weego Portable Power
$130 current price on company web site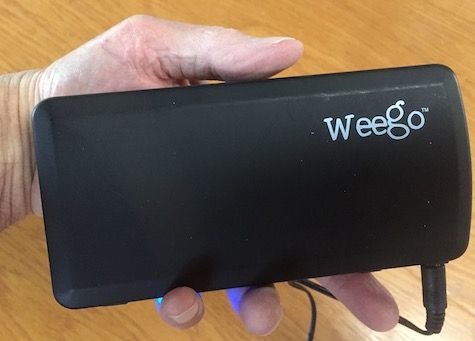 Going camping? Taking a long or short driving trip? Traveling at night? Have an unreliable car battery? Heading out with your iPad or iPhone? Wherever you go, take a Weego. It's a compact, pocket-sized, durable power pack with car jumper cables and a combo cable for charging your iOS and other portable equipment, plus an LED flashlight. JS12 will pay for itself the first time you use it.
I gave a demo presentation on this product at a recent meeting of the Tucson Mac User Group. One member raised his hand with a testimonial. "My battery died while I was up in Phoenix last week. I was getting ready to call the motor club when this guy walked up to me and offered a jump start. Ten seconds later he pulled out this very same product, Nemo, connected the included cables, and I was on my way. Unbelievable. I ordered one as soon as I got home to Tucson."
The number 12 in the product name refers to the capacity of its rechargeable lithium polymer battery. Its 12000 mAh can possibly charge both an iPad and an iPhone from dead to full power. Depending on the iPad and iPhone, your results will vary. This model is recommended for gas engines that are up to 6.4L (and up to 3.2L diesel engines). Very little of the juice is required to boost an automobile battery or use the flashlight and strobe. The battery shuts itself off when not being used, to conserve its stored power. Thorough written instructions are included. Two other models are available from the company.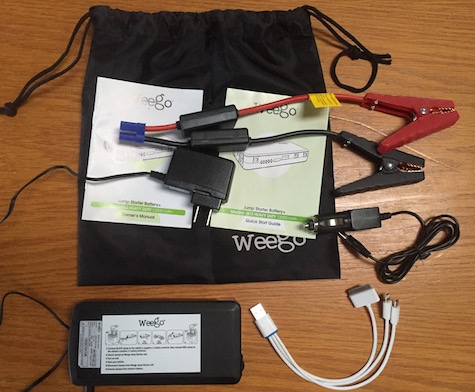 Three suggestions to improve this fine product. Change its outer case color from black to a different color that is bright and reflective. Ditto for the black tote sack. On a dark night when you are stalled on the side of the road the black gear and bag are impossible to see or work with. At least provide some segments of reflective tape, Weego. And allow charging J12 via USB when no 12 volt automobile socket is handy or the AC power source is back at home.
I just returned from a wildflower adventure road trip in Death Valley. I was on some extremely remote and desolate roads. I didn't need JS12 Jump Starter Heavy Duty Battery+ to jump my battery (whew!) but I used JS12 daily to power boost my iPhone, iPad, and portable speaker, plus the flashlight to locate items within my car at night.