iHome Split Portable Bluetooth Speaker System
Model: iBT11BC
Manufacturer: iHome
Retail: $100.00 (Internet $80.00)
iHome's Split Bluetooth Speaker has a dual personality. The two halves can be placed apart for good stereo separation or click them together to sit neatly on the included base. The base also charges the built-in batteries.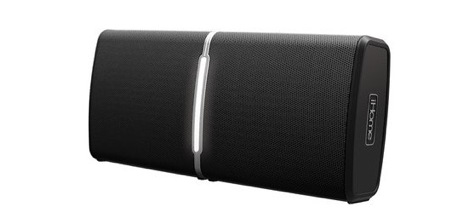 Bluetooth technology has come a long way from the early days when pairing was awkward and the sound was sketchy. The new Split wirelessly keeps the left and right channels separate even when the speakers are placed apart. iHome's True-Wireless circuitry separates the left and right channels and sends the signals to the appropriate speaker. This is a great way to watch streaming TV or movies from the sofa with your iPad propped on the coffee table. Place the two Split speakers on either side and enjoy good wireless stereo sound.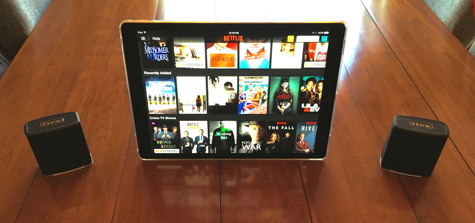 There is some wizardry going on here. First, the two speakers are held together magnetically and when placed on the included base, they charge wirelessly. No USB cables. The speakers provide up to eight hours of use per charge. When they are used separately, each has identical controls: On/Off, Bluetooth connectivity, and Volume Up/Down. The left speaker is considered the Master and the right is the Slave when used together. When separated, each has its own individual controls. With buttons on the left speaker, you can answer and complete an incoming phone call while the unit pauses your music.
The two speakers together, measure 6.5" (16.5CM) by 3" (7.6CM). Speaker technology has improved so much in the past couple of years that I can honestly say that these sound good and solid. When the speakers are placed on either side of a room, the surprising fullness and stereo separation is very good. No three-inch speakers can thump out bone-rattling bass but these do a pretty fair job. Instruments without deep bass such as pianos sound excellent as does voice. I listen to many podcasts and voice clarity is super with these.

Included with the iHome Split is a 110-220V charger and cable. It plugs into the back of the base and is the only cable really required. The unit's flexibility is impressive. If you are using the two speakers individually or sharing one with a friend, iHome has included a pair of 2-in-1 cables allowing you to recharge each speaker with a standard USB phone charger instead of placing them on the base. These cables also have standard 3.5mm audio plugs so that you can connect to any audio source without using Bluetooth.
Initially, the iHome Split seemed a bit pricey to me but it includes two Bluetooth speaker units. Taking this and the advanced technology involved into consideration, I now think the price is more reasonable. This isn't audiophile stereo but it produces remarkably satisfying sound.
MyMac Review rating is 9 out of 10.