MediaDevil Artisanphonics EB-01 luxury wood earphones with built-in microphone 
MediaDevil.Com / Amazon
Price: £29.97 (UK), $39.97 (US)
I've had reasonable luck with iPhone headphones. For the most part they last a fair while and sound okay, not really giving me much reason to look for alternatives. Until recently that is, where another cable catching on a door handle proved just too much damage, leaving me with audio in only one ear.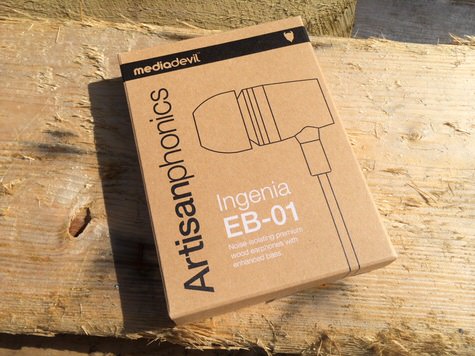 Finding headphones is one thing, finding a set with volume controls and an inline microphone at a fair price point is another. So when I spotted the MediaDevil Artisanphonics EB-01 luxury wood earphones with built-in microphone from a British company, out came the credit card and the rest is history.
MediaDevil certainly like to embody feeling good and being eco friendly with these headphones. A couple of chewy sweets (Maoams) are included along with a nice introductory note about the company and product.
Packaging & First Impressions
"No expense spent!" would be the best way to summarise the packaging, but not in a bad way. The outer cardboard box is made from recycled cardboard. The inside cardboard holding the headphones themselves is made from recycled corrugated cardboard.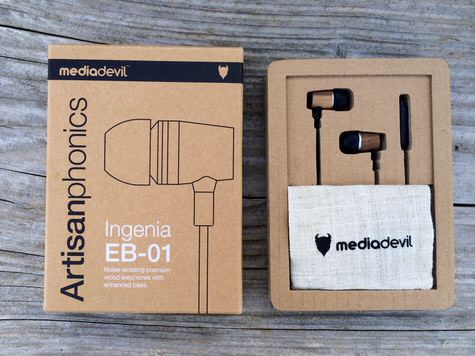 This means that all the packaging is fully recyclable and effectively harmless to the environment. It is good to see a small company with such a large presence on the Internet proving that environmentally responsible packaging can be viable even in this age of plastic packaging for almost everything.
Specifications.
Powering the Artisanphonics EB-01 earphones is a set of 8mm drivers with a frequency response range of 18Hz – 22KH, compared to the iPhone's 5Hz – 21KH. Yet as I've learnt from talking to the MyMac community specifications don't always translate into how things sound.
From jack plug to the cable junction where it separates into individual ear lines you have 1.3m of Kevlar-reinforced and 'tangle-proof' cable. It will still tangle in reality, but not as much as an iPhone's annoying cable does.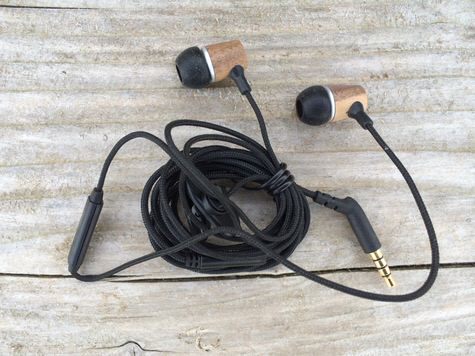 Specification wise that's all there is available from the MediaDevil website on the technical side of things. One of the main points though is of course that the earpiece bodies housing the technical parts are constructed from reclaimed and recycled wood.
This means that no two earbuds are going look the same. On my review set one bud is lighter than the other. Handy to know what one is left from right and really emphasises the individual experience of ownership and how they will sound to you personally.
Usage and Comfort.
For those for whom in-line volume controls are essential then these headphones aren't going to be suitable. They do however have the inline microphone and this can be used for a variety of basic functions:
1 Click: i) Pause/Play music track, ii) Answer incoming phone call iii) End phone call
2 Clicks: Skip to next music track.
3 Clicks: Start current music track again / Play previous track
However if you can live with that trade-off you are in for a treat. These are a set of nice sounding, reasonably well balanced, wooden bodied earphones which I found to be incredibly comfortable. Being super lightweight at just 15 grams I've ended up wearing these in my ears for lengths of time that could probably be considered unhealthy.
How They Sound
Specifications are one thing, but how they sound can be completely different. Being wood definitely adds some dynamic to the sound, somehow making audio performance less harsh, with a tinge of warmth.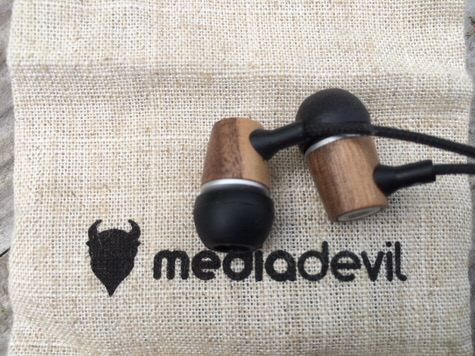 As always with my headphone test  tracks I have to go to songs at the same bitrate of 320kbps and saved as MP3. Blues Brothers – Sweet Home Chicago, Iron Maiden – The Trooper and Pink Floyd – Wish You Were Here being some of my chosen specimen pieces. I think that when you hear songs you already know well again on new equipment there is a familiarity that helps you to know what you are listening for and to notice what's new to this experience.
I don't review headphones until they have had at least 24 hours of audio usage, I even have a tendency to leave them plugged into to my Mac all day with audio playing to get them conditioned.
Using these familiar demo tracks, and some other songs, everything was an enjoyable experience with a nice sense of clarity throughout. There appears to be just enough treble, bass and midrange, with nothing being overwhelming or lacking. Vocal reproduction is best described as 'nice'. It feels like it's coming from a softer wooden environment (as opposed to the tinny sound some cheap earbuds can produce). If you listen to Podcasts these work really well with that medium in my opinion.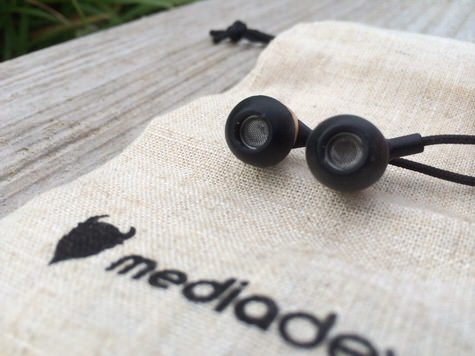 Granted these may not sound overly compelling reasons to choose these headphones, but it's the sum of the parts which makes up the end result, and that is highly satisfactory.
Overall
There is a lot to like about these earbuds. A very friendly shopping experience can often mask a poor product but not in this case. Well made with sound quality that not only doesn't disappoint but feels like it came from a more expensive price point.
Take into account the price and performance and you're looking at a set of headphones that easily match or even outperform rival makers' headphones up to even the £100 / $100 price bracket
The only real decision to make is can you do without the inline volume controls?
I give the MediaDevil Artisanphonics EB-01 Luxury Wood Earphones a MyMac.com Review Rating of 8 out of 10.