DP100 Ultra Portable Bluetooth 4.0 Speaker
EasyAcc
Price: $19.95 U.S. — A lot of speaker for the cost!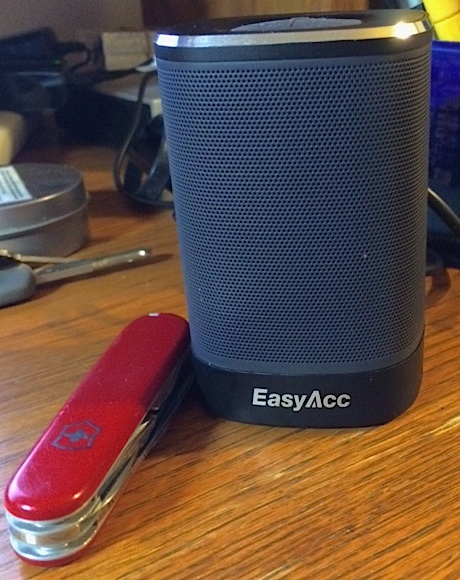 The EasyAcc-DP100 is a small Bluetooth speaker that provides clear room-filling audio in a stylish design. It's a mere 2.6 x 2.6 x 3.8 inches in size and weighs about as much as an iPhone. Toss it in your backpack or handbag and you'll hardly know it's there.
It has a substantial feel. You may not find the depth of sound and nuance you'd find in Creative Labs or Bose speakers, but for $20 it's hard to imagine coming up with sound as powerful and pleasing. It's certainly not tinny, and there is minimal distortion at top volume.
The speaker comes with a charger and an auxiliary 3.5mm audio cable. If you're listening through a device that does not have Bluetooth, such as my old iPod Classic, you can plug it into the DP-100 Aux port and enjoy your music all day. If you have a BT enabled device, such as an iPhone or iPad (or other tablet), simply turn on the device and it will quickly pair with the source. You'll hear a small beep to let you know you're connected.
The EasyAcc-DP100 looks like a diminutive black silo with silver trim. At the top there's a rubberized plus and minus sign for increasing or decreasing the volume. You hold the buttons down longer to control volume; if you merely press them, you either advance or go back to a previous track. At the top of the unit there's a larger button that you press to receive incoming calls. At the bottom it has a DC In port for recharging as well as the Aux port for audio from an iPod or MacBook. The output through this speaker is far superior to Apple's built-in audio in the MacBook.
This unit has a built-in 2,200 mAh rechargeable battery that the company says provides 
up to 25 hours of playback time and a built-in microphone for handsfree phone calls. In 
my tests I found the BT signal held strong for at least 30 feet and the phone quality was acceptable.
The EasyAcc-DP100 is a terrific value. Buy a handful and give them as holiday gifts.
Mymac Review Rating is 9 out of 10.