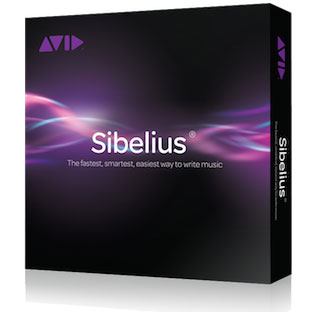 Sibelius 8
Perpetual license: $599
Annual subscription (new users): $239
Upgrade from all previous versions (1 to 7.5) of Sibelius, including one year's upgrades: $89 per annum
Switch from Finale, Notion, Encore, Mosaic: $199
Full licensing details
Jean Sibelius, the 150th anniversary of whose birth we celebrate this year (he lived from 1865 to 1957), officially composed only seven symphonies. Certainly only seven were published. Yet fragments of an 8th do exist; and indeed were performed in 2011… barely three minutes long, though. Sibelius certainly withdrew and tried to suppress his 8th.
So Avid, who have owned the iconic score-writing software, Sibelius, since 2006, were faced with a something of a quandary when naming the latest release, which followed less than a year and a half after Version 7.5. Particularly with regard to since the short musical extract which plays over the program's splash screen on loading: it's traditionally been taken from the corresponding symphony number. (As version 8 loads we hear a few swelling bars from the first movement of the Sixth.)
MyMac reviewed Sibelius 7.5 a year ago, and put the continued development of the product in the context of then recent changes at Avid. Happily, the software and company have held their own. They continue to provide an excellent environment in which to compose music – many orders of magnitude above what the likes of GarageBand offers. Indeed, the hundreds of third party plugins, ancillary tools and score scanning and capturing software make Sibelius still the richest option for serious composers. Some of this comes bundled with Sibelius (8) in 'lite' versions – see the end of this review.
Version 8 itself, though, offers fewer new features than other upgrade versions have done. The only major new innovation – but one that will be very useful to many who work this way – is the addition of integrated control and data input via other devices that the keyboard… Annotations and gestures on a tablet etc. The other major change is in Avid's pricing structure and policy.
Annotations
Sibelius has long supported notes – as in written comments in English or a localized language, as well as crotchets/quarter notes and quavers/eighth notes. Such additions – usually above the staff – can help you find your way around, act as reminders, or prompts: "this needs to be completed next session…",  "discuss tempo with players at first rehearsal", "change back to arco", or "return to this passage and transpose after orchestration".
Sibelius version 8's new Annotate feature allows you greater flexibility in drawing directly onto the score with the appropriate input device – mouse, trackpad, USB tablet, (Surface Pro 3) pen etc.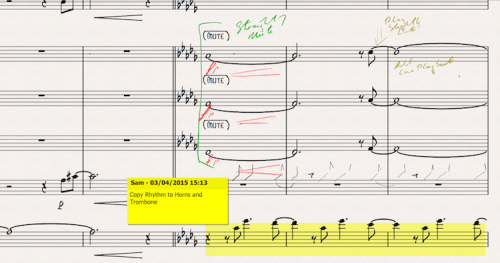 You can now circle items, write (or type) well-formatted comments or instructions for arrangers, players or students, for instance. They're part of the score. And you add them using a pen – with the appropriate hardware environment – or a mouse/finger (though this isn't really practical). Annotations are intelligently grouped: make a few annotations within a sufficiently short time – even lifting the pen off your (tablet's) surface – and they'll be bound together. And handled in such a way that they're fixed to the bar in question. You can control the color and pen width.
Annotations can be toggled on/off (Review > Annotations > Annotate) – for final printing, for example; and can be cut/copied and pasted.
Tablet
If your workflow emulates – or if you prefer to use – pen-and-paper techniques, then there's another new feature in Sibelius 8: the program now works with touch screens and tablets on which it's installed. Optimized for the Microsoft Surface Pro 3 tablet, it allows note input and navigation through the score with the fingers, gestures, swipes and a device's onscreen keyboard and fretboard.
Musical notes can now be input by tapping with the pen as you would click with a mouse pointer. A pen will also erase. To move around your score, touch a blank area and move your fingers. Intuitive. You can also pinch and zoom.
Think long and hard about this before jumping to Version 8 on the strength of just this, though: Sibelius is such a rich environment that you can only ever do basic operations this way… you're always going to need a full QWERTY keyboard.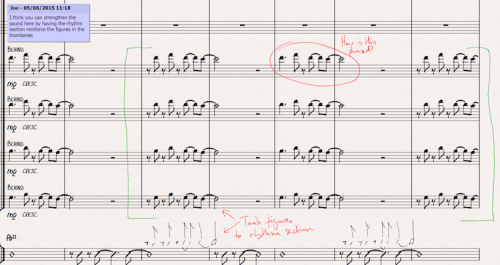 Pricing
So it's probably the new pricing model which is the biggest change for Avid and Sibelius' many users: while bearing firmly in mind that it's still arguably the most sophisticated, feature-rich and easiest-to-use notation suite available, the yearly $89 upgrade cost will seem high to many when the absence of major new functionality is considered.
At the same time, it's to be noted that all licenses now include support which previously cost an extra $29. This means unlimited online cases, and one phone call per month as well as all software upgrades released during the term of the license. This applies until the end of June next year. Then you'll have a choice between a new perpetual license at the full-price of $599, or the renewable subscription starting at $9.99 a month (see this page), which would equate to almost six years' payments, by which time things are sure to have changed again.
In the meantime, there's all the more reason to stay with Sibelius and upgrade to version 8 if you believe that it's usually beneficial to have the latest version of a piece of software that you rely on, and if you also  think that Avid will have stiff competition in Steinberg's product, whose development is led by former Sibelius Product Manager, Daniel Spreadbury and so accept what Sam Butler (his successor) has said… that Avid has "a strong plan for the next few years… We're aiming for a steady release of features for Sibelius itself, including some much needed technical work under the hood as well as some attention to the notation and user experience side of the application."
The full pricing structure (there are various combinations and options) can be found here; the usual 30-day trial period is also available.
Activation
Along with the new pricing models comes a revamp of the license activation procedure… you now activate Sibelius on any computer by signing in to your Avid Master Account; not by user IDs and serial numbers etc. This account offers access to support, downloads and other resources.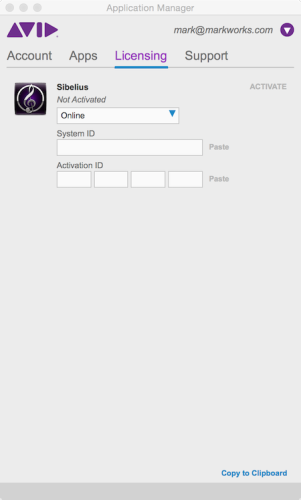 Given the complexity of such a change, this worked really well in the upgrade performed – independently of Avid's support team – for this review. As said, the same is true of the other features – new and existing – in Sibelius 8.
File Compatibility
If there are no Annotations in your Sibelius 8 file, it can be opened directly in version 7.5. The ability to File > Export > Previous Version still works; and files can be saved to share or make available to users with versions all the way back to Sibelius 2. Avid does suggest that this apparent interchangeability between versions 8 and 7.5 is not to be relied on in future releases.
Sibelius 8 needs Mavericks (OS X 10.9) or higher. The Sibelius 8 installer does an excellent job of transferring resources, files, and folders from previous versions.
Like everything else covered in this review, it worked flawlessly.
But the Sibelius forums and user groups online are always alive with those who – for one reason or another – prefer to stay with earlier versions, often 6, which was the last one before the hotly-debated ribbon was introduced. When MyMac looked at version 7 almost four years ago, though, and evaluated the ribbon, it was found perfectly usable; an improvement on 6 even. So an upgrade really is advisable. And preferably to Version 8 now.
Scan and Transcribe
Also bundled with Sibelius version 8 (though not for the first time) are two other ways to input musical data. PhotoScore & NotateMe Lite  has a pretty good record of reading sheet music, PDFs, and even handwritten scores. You might want to base a set of variations of your own on an established theme, for example; or study Liszt's implied piano technique.
Neutron's AudioScore Lite is for transcribing music from a CD, or and audio source – such as  singing/playing an instrument through a microphone. The Sibelius + Ultimate Bundle has the non-'Lite' versions of these.
Conclusions: If you make your living from, or are a dedicated user of Sibelius, although $89 doesn't get you a great deal more than was part of Sibelius 7.5, it's worth the price… there are certainly bug fixes and 'invisible' enhancements in Sibelius 8 that are well worth paying for. If you're cautious, you do still have almost a year to decide on your future strategy. Subscription-based pricing is certainly a trend on the increase; it does have advantages. Many users will also feel they're more likely to get better support as a result, and need not worry about having to pay for upgrades.
Pros: still the most flexible, fully-featured and reliable score notation available for OS X – particularly in terms of its ability to work with third party virtual instruments
Cons: Version 8 has only one significant new feature; so it will be expensive for some users who perhaps do not use alternative input devices or gestures.
System Requirements:
Mac OS X 10.9 or 10.10
1 GB or more RAM
1 GB hard disk space for Sibelius software only
4 GB or more RAM recommended for the Sibelius Sounds library (technically an optional installation, but one which most users will want)
36 GB (SSD preferred) additional hard disk space recommended for the Sibelius Sounds library
Optical drive (for installation from the optional Media Pack DVDs)
internet connection for software download and activation
MyMac Review Rating: 9 out of 10