Partly out of necessity and partly out of curiosity, I seem to be addicted to YesterTech. That's what I call previous versions of everything, including the AirPort Express router I just spent a week monkeying with.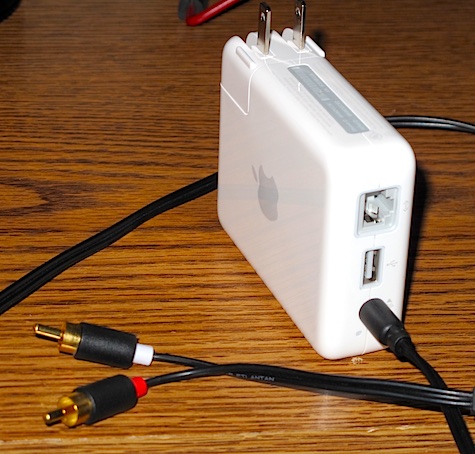 My guess is that most people who buy an AirPort Express router know more about it than I did. A lot of what I learned by poking around on the Internet probably is obvious to someone more attuned to the technology. I wanted to accomplish just one thing I had seen work at a friend's house. I wanted to stream music from my computer or iPhone to my non-AirPlay living room speakers, using an Apple product called AirPort Express. I didn't realize I was climbing into a big dark hole.
I had an older Express unit, the A1084, which could not find my wireless network no matter what I did. Then a friend gave me a newer model, the A1264, and that worked. But I had to jump through many hoops to make it work because it has to be configured using Apple's AirPort Utility software. The software under Yosemite does not work with this unit, but there's a work-around and that's the beginning of a dizzying saga.
You need to get the older version, AirPort Utility 5.6., but even that gets complicated. If you download and launch 5.6, you get a message saying it won't run under OS 10.10.3 Yosemite (or 10.10.4, I assume). But, using Google, I found a developer named Corey Mahler who wrote a launcher app for 5.6 that does open it in Yosemite. Then you have to use a paperclip to reset the Express unit itself to factory defaults and get it to talk to your existing wireless network.
In order to reset it, I had to run an Ethernet cable from my AirPort Express unit to my router/modem, then launch AirPort Utility 5.6 with Corey's free app, available here. Once the software sees the AirPort Express, the rest is pretty straightforward. Either add it to your existing wireless network or create a new one. When the unit has been configured, you can disconnect the Ethernet cable and  move the AirPort Express to your living room and run RCA  audio cables from it to your receiver.
If all works as it's supposed to, you can then start iTunes on your desktop computer and see an AirPlay icon next to the audio slider in your Menu Bar. Sometimes it takes a while for iTunes to find the AirPlay connection. It took about ten minutes this morning. But once you see the AirPlay icon in iTunes, you can send tunes wirelessly from your desktop to the speakers in your living room. You can also see the AirPlay icon on your iPhone's audio settings and control playback with your iPhone. I listen to Internet radio using my iPhone and living room speakers.
My first unit, the older one, would never see my wireless network no matter what I did but I'm going to try once more and see what happens. I plugged it in this morning, ran an Ethernet cable from the Express to my router and launched Airport Utility 5.6. Then I used a clip to press the reset button on the unit. The software was able to find the Express but, again, could not find my wireless network. The newer one (A1264) still can't be seen by Yosemite's AirPort Utility, but if you crank up 5.6 with Corey's learn about Corey's free app at this link.
It took a lot of patience and determination to get through this because I had no help other than what I could find on Google. Apple support was useless, as you will see if you start reading the posts from people who had similar problems.