Perhaps one of the most fascinating characteristics of iPhone, for most of the users, is its continuously increasing camera performance. Though iPhone gets things which cannot do compared with SLR cameras, many people enjoy the convenience it has brought to daily photography. Light, quick, and multi-filtered, and qualified, iPhone cameras caught many customers' eyes.
Concomitant to the appeal, however, there are also risks people may suffer from losing important photos in the iPhone album. It may even frustrate you if you cannot get the important photos back. The author herself has also experienced the unlucky stuff, and fortunately, iPhone Data Recovery (for Mac) saves her. It helps her restore all the pictures she wants to get back, and in the following, the author would like to introduce the effective iPhone photo recovery software to you, and show you why it is a top data recovery software you could buy.
4 Reasons Why iPhone Data Recovery (for Mac) is the Best
First, it ensures 100% data recovery. It provides users three modes for photo recovery: directly from iPhone, iTunes backup and iCloud backup. If you unfortunately lost you iPhone,, you can easily get the photos back through iTunes or iCloud. If you do have your iPhone sync with iCloud and iTune, you can always get the lost photos back from the iPhone directly.
Second, easy and effective use. It is rather easy and fast to install the software. You can easily finish it by following the instructions on the installing interface. After the installation, you can begin the scanning, and it only takes few minutes to list all the lost photos you may want to retrieve. Through all the process, the running of the software is rather steady.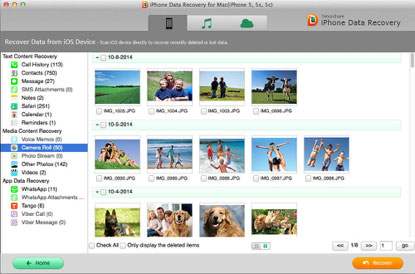 Third, wide compatibility. The software can support a wide range of apple devices, form iPhone 6, 6 Plus to the old devices like iPhone 5s, 5c, 5 and 4s. It is also fully compatible with iTunes 12.1 and iOS 8.3 or higher.
Fourth, recover the photos in preferred format. The software provides diversified ways for photo recovery. For example, you can double click the pictures and see the bigger image; you can choose to print the photos directly if you want to the paper-version restore; or you can also arrange the photo chronologically. This may help you further target the photos you want to get back.
One of the biggest selling points of the software is that it provides not only photo recovery, but also anther more than 20 types of iPhone files recovery, including Contacts, Message, Notes, Reminders, etc.
Besides, the product also has the Windows version for users. And through this, you can also recover the lost iPhone photos from the Windows systems as well.  You can get more information from the website: http://www.any-data-recovery.com/