MindShift Gear rotation180° Panorama 
Price: $199.99
Company: MindShift Gear
MindShift Gear is the branch of Think Tank Photo that specializes in outdoor gear for photographers. In this review I will look at the rotation180° Panorama camera backpack.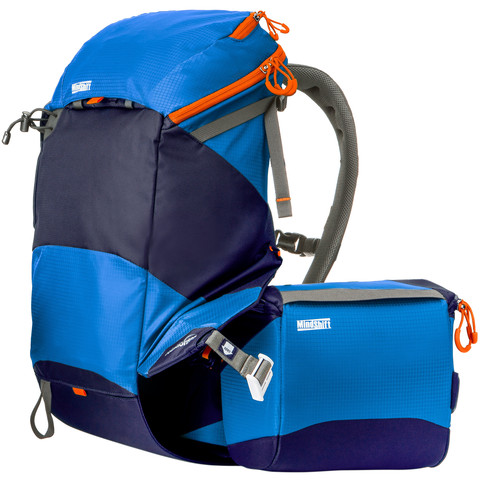 The rotation180° Panorama is designed for people taking long walks in the wild with their camera. The camera compartment sits at the bottom of the bag and can be swiveled to the front. Simply detach the magnetic lock on your right rear and pull the camera compartment to your belly in a matter of seconds. Once you're done shooting, put your camera in place and push the compartment to your back.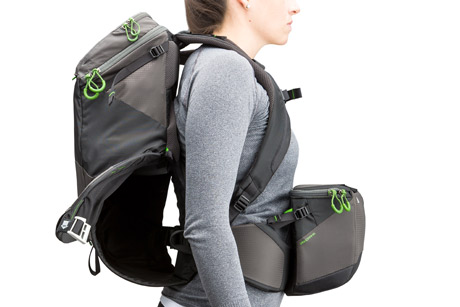 The camera compartment can accommodate a small DSLR with a few lenses. As for a full frame DSLR, such as my Nikon D800, the company says it can fit with a 24-70 lens attached to it. That's true, but I have to remove the camera battery grip and even without it, it is very tight. A full size iPad fits in a frontal pocket and the cover has a mesh net to store smaller items such as your phone, extra batteries, or memory cards.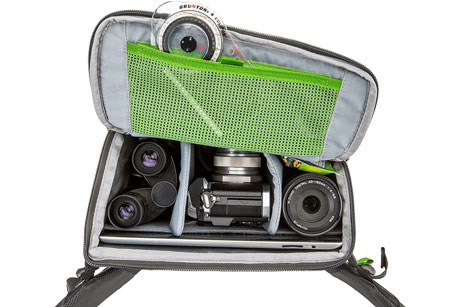 A compartment located on the side of the backpack allows you to install a three liter hydration reservoir. Those containers have a hose you can bring to your mouth to drink directly from the reservoir. This permits you to continue your walk without having to remove the bag from your back to drink. You can buy one at Amazon at a price that varies between $20 to $30.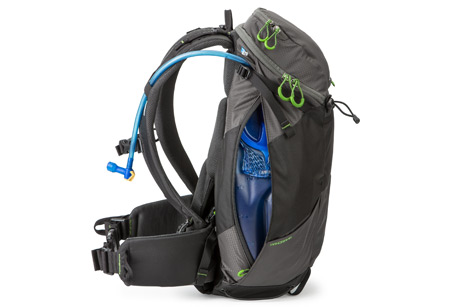 The top load compartment is large enough for extra clothing, or a lunch if you walk for a while. You can also buy an optional Photo Insert ($44.99) if you prefer to carry more photo gear. Above the top compartment cover, you have a pocket to put energy bars or other small items for your hikes.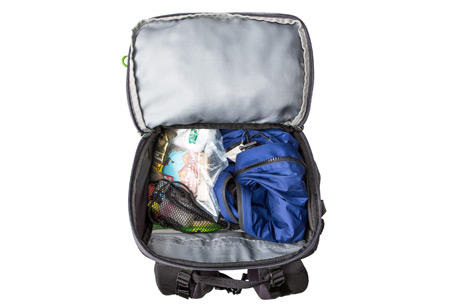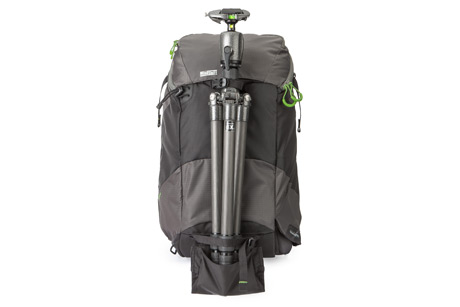 If you need to carry a tripod with you, the back of the bag provides attachment straps for it. Those straps are hidden by default in a pocket closed with velcro. If you prefer, you can buy separately the Tripod Suspension Kit ($47.50). The Rain Cover ($19.99) is also sold separately.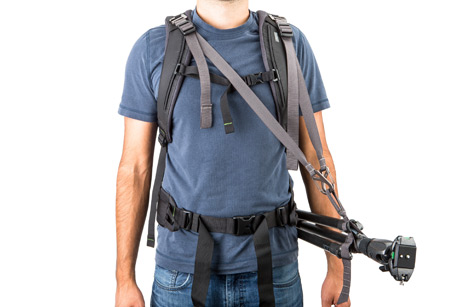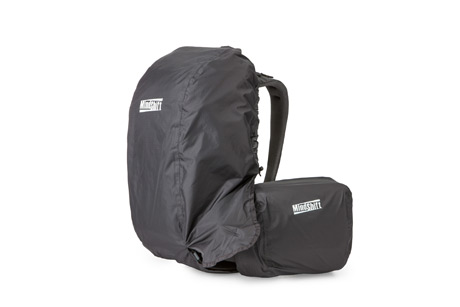 This is a well built backpack. It is small and lightweight, but probably too small for the type of camera I use these days. Considering it is a backpack specialized for outdoor activities, I would have liked the rain cover included. I have a few Lowepro bags that have the rain cover in a pocket hidden at the bottom of the bag with velcro for convenience. If you like to hike and bring your camera and a few extras with you, including a good quantity of water, this backpack is what you're looking for.
MyMac Review Rating: 8 out of 10