Bluedio M2 Stereo Bluetooth Wireless In-Ear Sports Running Headphones Black
Bluedio
Price: $15.89 (US), £12.95 (UK)
It would be easy to dismiss a set of headphones costing less than $20 as basic, even if those headphones feature Bluetooth connectivity. The Bluedio Melody M2 Bluetooth headphones set aside that notion, providing great functionality at a great price in the form of a competent set of headphones that equal those white buds from the fruity based company.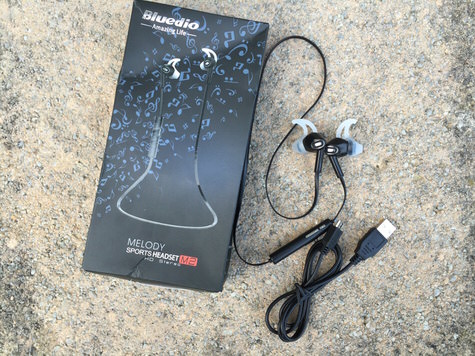 The Bluedio M2 headphones weigh in at 16 grams, slightly heavier than Apple's standard offering at 12 grams, reflecting their solid construction. Although the earbuds are a little bulbous this can be overlooked in terms of their performance. The control unit looks bulky yet, surprisingly, it doesn't get in the way whilst running, and the substantial feeling flat cable connecting the two earbuds feels does a fine job of preventing cable tangling without transmitting cable noise.
In a week of testing the shiny plastic has has shown no issues at all whilst serving as my daily driving companions, standing up well to the daily rigours of commuting and being slung around in a car. The only minor concern is the cap for covering the USB port, which is attached through only a small connector and appears prone to breaking free.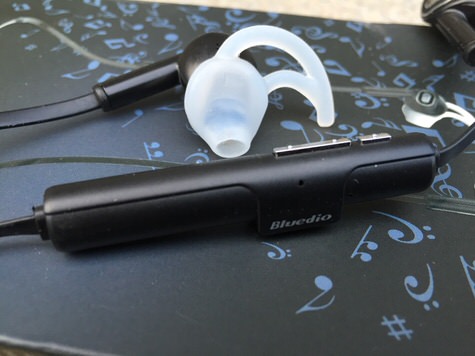 Setup and pairing were straightforward with no codes to be entered. Just press the power button, wait for a moment and that's it. The volume can be adjusted through a volume rocker but I'd have appreciated something bigger for greater precision controls and certainly more space between the volume up and the operational/on-off control. More than once I've managed to turn off the headphones instead of adjusting the volume, or even worse changed language inadvertently! The language can be adjusted by holding the volume up and power buttons simultaneously if required.
Rather surprisingly given the price, voice notifications are built into the Bluedio M2 but can lead to some frustrations. Pressing and holding power to initiate Siri gives you a verbal announcement of "voice dialling" which can sometimes overrun the standard Siri initiation tone due to the inevitable Bluetooth lag. Voice notifications also provide a verbal cue when the minimum or maximum levels of volume are set and provide a reminder every 15 seconds when the power is low, which can be rather annoying!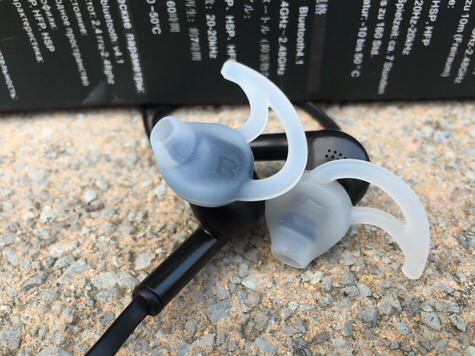 In comparison to other in-ear headphones at an equivalent price point that have a disappointing mono sound with poor sound reproduction, Bluedio's provide pleasing stereo audio with some excellent sound reproduction. To give some reference to sound quality I've compared them to the most obvious headphones on the market, those from Apple, and the Bluedio M2 headphones hold their own. Both share the same frequency response of 20 Hz-20 kHz and similar impedance.
Stereo is split well between the two speakers with sound separation being clear and concise. The bass at the bottom doesn't stray into the midranges of vocals, guitars, etc., and has enough weight to let you know it's there without being overpowering. Midrange sounds such as guitars and vocals come across cleanly but Bluetooth compression does expose hissing at the top end. This is most notable on heavily compressed podcasts where the "esses" are clearly evident.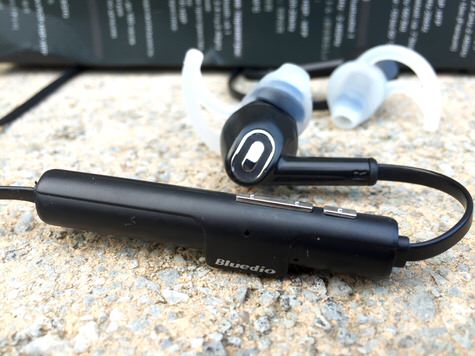 Despite Bluetooth compression the sound is well rounded overall. Testing the headphones with busy tracks such as The Trooper (Iron Maiden), Bluedio more than competently kept up. Cranking the volume up a touch, the speakers are more active with more sound being revealed; I'd not be surprised if a period of breaking in was needed for these headphones. There is enough warmth and detail to hear the guitar wailings of Hendrix in Voodoo Child Slight Return and the performance is very much on par with wired units in the same price bracket.
These things are LOUD. At the minimum settings the volume is equivalent to just below half that observed when using an iPhone and Apple headphones whereas at maximum settings there is a definite risk of ear damage and passenger annoyance. Throughout the review process I've been listening to music rather than noticing the quality of the sound and that's a big plus point.
The sound quality effects of Bluetooth compression are most noticeable during phone calls. During the testing (with an iPhone 6 that doesn't support AptX), the call quality is equivalent to that observed when then connection drops back from 3G to 2G — not the end of the world but distracting until you get used to it. The lucky recipients of my calls noticed that the call quality was okay; not that inferior to a wired connection, but a touch more distant and with more ambient noise.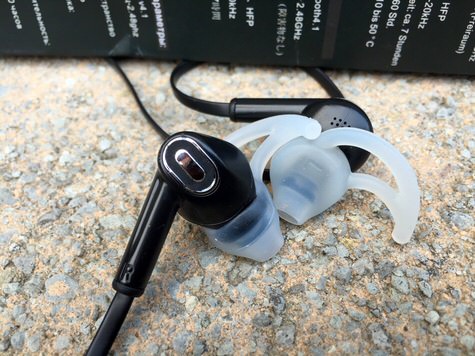 The sports fittings of the Bluedio M2 really do keep the earbuds in place, so they cannot be removed accidentally and three difference sizes are included. Whilst not feeling intrusive, the grip provided by the ear pieces is evident, and I've had these in my ears for three hours without discomfort.
These headphones really come into their own whilst out running and cycling. The relief of no cable either snagging, rubbing or being tucked under my shirt makes it all worth the while. Once the user becomes accustomed to button positions, and with the buttons requiring a sensible amount of pressure to operate, the headphones can be easily manipulated on the move. I had been worried about bounce and tug from the control unit whilst out running, but the good news is that after a four mile run I didn't notice it even once. Absolute bliss.
Bluedio M2 Specifications
Unfortunately Bluedio.com is a Chinese website so it's a case of relying on Google Translate + Amazon + retail packaging to get the specifications.
Bluetooth version: V4.1+EDR
Supported profiles: A2DP, AVRCP, HSP, HFP
Drive: Φ 10mm
Speaker impedance: 16Ω SPL: 110dB THD: <0.1%
Frequency response: 20Hz-20KHz
Operating distance: up to 10m
Talk time: about 7hrs
Music time: about 7hrs
Standby time: about 220hrs
Fully charged time: about 2hrs
Headset size: 35.8×30×29.5mm
Package size: 101×47×200mm
Headset weight: 16g
In the box: Bluedio M2 headset 1pc Charging cable 1pc Ear buds 3pc(S,M,L) Ear tips 1pc User manual 1pc
Pros:
Great fit and comfort.
Good construction, quality and durability
Sound quality on a par with Apple's wired offerings
Unbeatable price
Cons:
Ambient background noise in windy conditions
Lack of active noise cancelling
No United Kingdom website or support
Ambiguous manual
I can't help to be impressed by the Bluedio M2 headphones. The performance obtained at the price point and comfort really does make these a no brainer. No, they aren't comparable to the expensive big brand headphones, with their big prices, but as a set of competent wireless headphones with Apple comparable sound these come highly recommended.
MyMac Review rating is 9 out of 10.