Drive Genius 4
Prosoft Engineering
Price: $99 U.S.
Drive Genius 4 (DG4) is the latest version of Prosoft Engineering's popular utility designed to fine tune your Mac and head-off technical catastrophes. If you've used an earlier version, you'll find a new and improved user interface and someadditional features.

The two most noticeable changes are that all of DG4's utilities are now on one page so you no longer need to scroll between screens to find what you need; and the application now has a BootWell Drive that enables the user to create or purchase a bootable flash drive. This is particularly valuable when your system goes belly up and you need to troubleshoot the cause. Boot from the BootWell Drive and you'll have access to all of DG4's troubleshooting features. If you buy the BootWell flash drive, it will set you back $15 but save you hours of aggravation. See Nemo's prior discussion of BootWell here.
When you open DG4, you'll see a column of icons on the left labeled System Overview, DrivePulse, and then an icon for each attached drive and the Drive Genius BootWell. When you click on any of those icons, the services you can perform on each drive will be listed on the right. The features available include Secure Erase, Clone, Fix Permissions, Rebuild, Repair, Consistency Check, Physical Check, Active Files, Instant Drive Pulse, Speed, Icon Genius, Find Large Files, Find Duplicates, Defragment, and BootWell.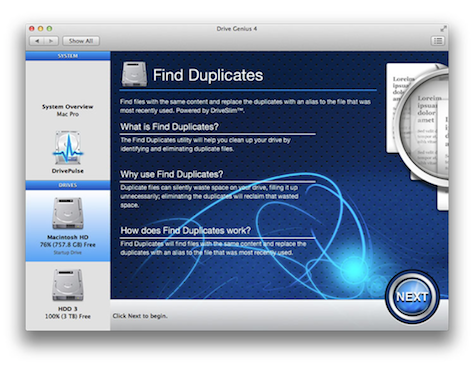 The Find Duplicates found thousands of duplicated files on my hard drive and you'll likely find the same, but exercise some caution in what you delete. While DG4 is pretty much idiot proof, it's not perfect. When I eliminated duplicated files, it removed the cache that contained all my Chrome web browser shortcut icons. I didn't realize how much I relied on those icons until they were gone and replaced with generic document icons. If this happens to you, delete the Favicons file in the designated location. In OS X, this means go to /Users/your_username/Library/Application Support/Google/Chrome/Default/. It also deleted my iCloud preference pane from System Preferences.
Reboot Chrome and a new icon cache will be created with your familiar shortcuts back the way they were. Delete your System Preferences cache from your library and the preferences pane will return. I found this annoying.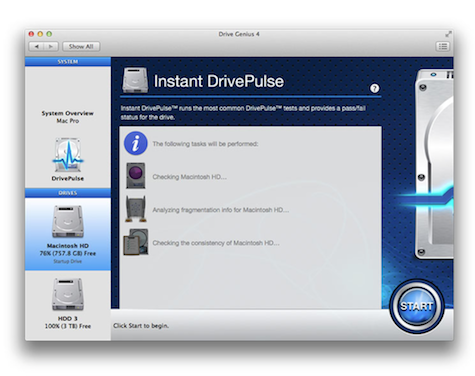 DG4 can help you avoid imminent problems via its Drive Pulse App, which usually sits in the menu bar monitoring the health of your hard drive. The app is useful but can be perplexing. If you click on the Drive Pulse icon, it will list each of your attached drives, but if you click on any of them, it will always tell you that Physical Check is pending. Doesn't matter if you just ran Physical Check from the main application window, in Drive Pulse; it is eternally pending. What's that supposed to mean?
The best way to learn DG4 is to experiment with its various features. By and large, DG4 will prevent you from doing anything that will get you into trouble. After using DG4, I noticed a slight improvement in my MacPro's performance. I also managed to free up a pile of space that was used by duplicate files.
MyMac review rating is 7 out of 10