NuGuard Laptop Snap On Colour Covers 
By: Newertech
Price: Newertech $17.99 – $39.99 US
Internet pricing $12.50 – $20.00 US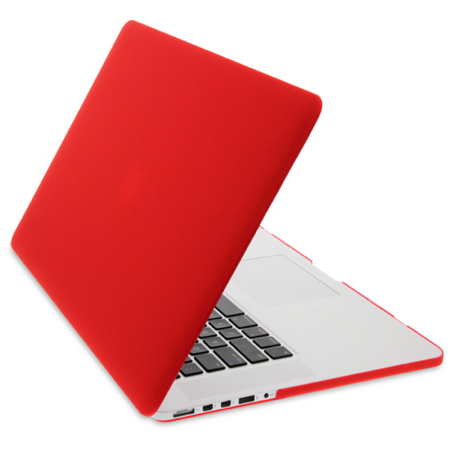 Newertech NuGuard Laptop Snap On Colour Covers two part snap on covers. These are available for MacBook Airs and MacBook Pro Retina models. They come in a range of 11 colours plus clear and the United States Flag.
A separate but compatible keyboard cover is also available but only for users with a 78 key US layout.
For this review I asked my wife to choose a colour as it was her MacBook Air that would be wearing it. She chose the red one you see in the photos.
The NuGuard snap on cover comes in two parts, one for the lid and one for the base. Installing it was indeed a snap. You simply clip the pieces on as per the instructions and you are done. When ours arrived the rubberised feet were not in the correct places on the base. My wife repositioned them before I could take a picture. I will come back to the feet later.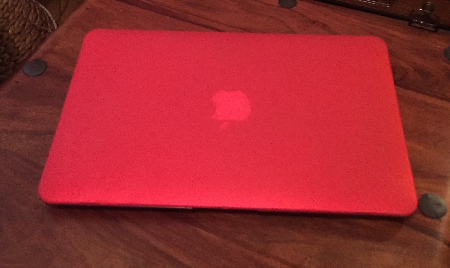 The case is made of a polycarbonate type material. Newertech don't actually say what it is. The case has what they describe as a soft touch surface. This is a sort of satin feeling finish, with a slightly frosted effect on the outer surface that is quite pleasant to the touch and helps provide a certain level of grip. On the downside, it does seem to make it prone to collecting greasy finger marks.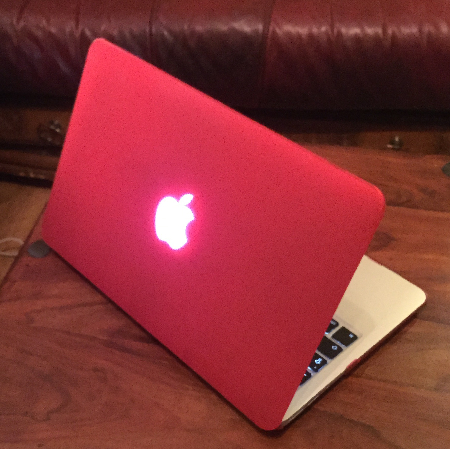 This protective cover adds very little bulk or weight to the Air and provides a good level of protection from scuffs and scratches. The base part is fully ventilated so it does not impede the airflow of the laptop and the cutouts for the ports did not cause any problems with any items we wanted to plug in to the MacBook Air.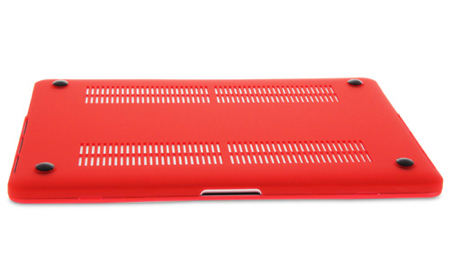 The product is fitted with some stuck on dome feet and unfortunately these proved to be be its Achilles heel! There are little circular depressions on the underside of the case that the rubber dome feet sit in, but they are not deep enough, nor have they any sort of retaining ring to hold the feet in place. Over time the feet consistently moved and had to be repositioned, even though my wife doesn't do much toting the laptop about in a bag or case. Mostly she just uses her laptop around the house. Eventually we resorted to removing the feet, cleaning them and then glueing them back in place. However, even this did not provide a permanent fix.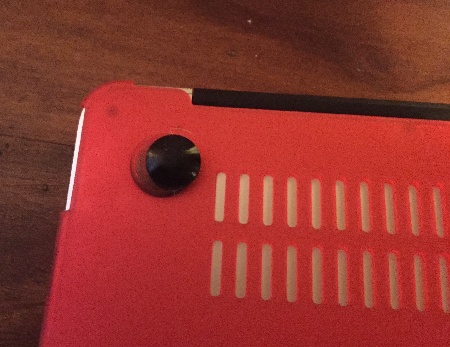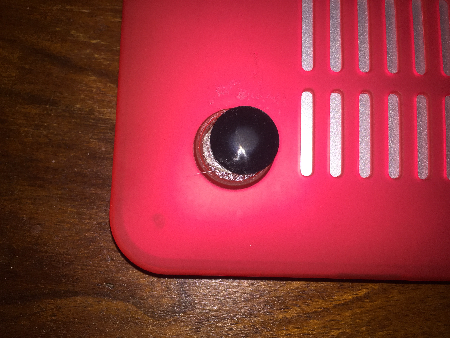 Overall
The NuGuard snap on cover brings the sort of protection many of us like for our iPhones and iPads to the MacBook Air and MacBook Pro Retina. It is a good cover that attaches snugly and firmly; so firmly that removing it can be a trifle tricky, particularly the lid part. I had to resort to a soft spudger to help get the lid cover off the MacBook Air. As a case the NuGuard does provide a good level of scratch and scuff protection. However in the end the rubber feet let this product down; if they were attached in a manner that stopped them persistently moving I would have rated this laptop cover higher.
I give the Newertech NuGuard Laptop Snap On Colour Covers a MyMac.com review rating of 6 out of 10.