mBase for iMac
Manufacturer: Rain Design
MSRP: $69.90 ($59.50 for 21.5" iMac)
27" version
21.5" version
mBase is a rock-solid, two-inch stand that is exactly the shape of the iMac's foot. There is an mBase available for both iMac sizes. The sandblasted and anodized aluminum finish matches the iMac and looks like an accessory by Apple. As a bonus, I find that raising my iMac this way puts it at a surprisingly comfortable viewing/working height.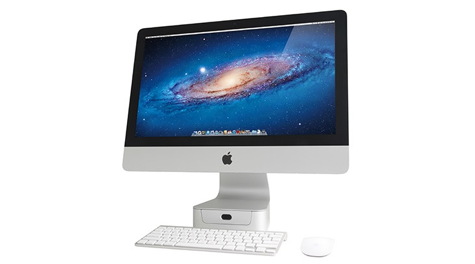 The Rain Design catalog is not large, but every product they make is designed to precisely match and accessorize Apple products. There are very few manufacturers that succeed in engineering their products with Apple's design aesthetic in mind. Rain Design gets it. mBase is an excellent example.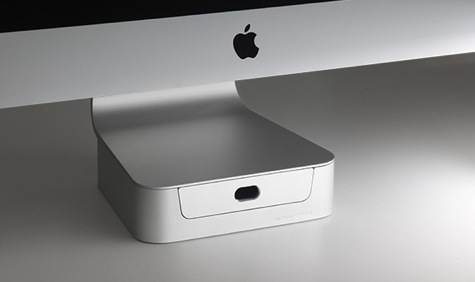 There is a convenient drawer in the base that slides out smoothly. It is big enough for writing instruments, a stylus, a remote, or the usual desk clutter that is better kept out-of-sight. Rain Design considered the drawer's possible uses carefully. There is an opening in the back of the mBase so that an iPhone or hard drive cable will pass through. There are vent holes along the back for air circulation. I use a USB-powered portable hard drive for Time Machine backups and it fits in the drawer with room to spare.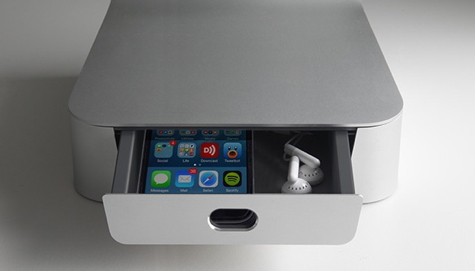 The drawer measures 4-1/4" (118mm) x 7-1/16" (18cm) x 7/8" (28mm). The shallow 7/8" depth could easily be deeper but this seems to be a conscious design decision by Rain. It allows the drawer to slide out above the keyboard. My dual-drive WD Passport Pro would fit easily if it weren't for the shallowness of the drawer.
mBase becomes part of your iMac demonstrating how well Rain Design integrates carefully considered design into their products.
MyMac Review rating is 9 out of 10.