PUMP HD Sportbuds Waterproof/Bluetooth Headphones
Company: BlueAnt
Price: $129.95 MSRP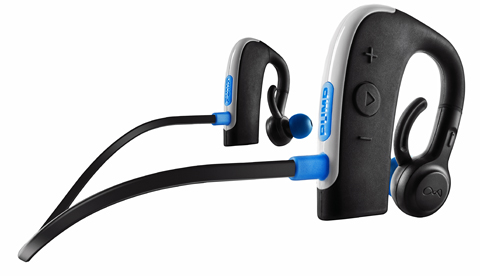 I have been running and working out for many years now and since the advent of portable electronic devices, the one pet peeve that I've had is that I have never really found a set of headphones that will work properly once I've started to sweat during the workout. Apple's earbuds or any major brand in-ear headphones always seem to have the same issue; sooner or later my sweat will cause one side or the other of the in-ear headphone to stop working properly until I've dried it out. So when BlueAnt said that they had a waterproof bluetooth headphone, I knew that I had to give them a try.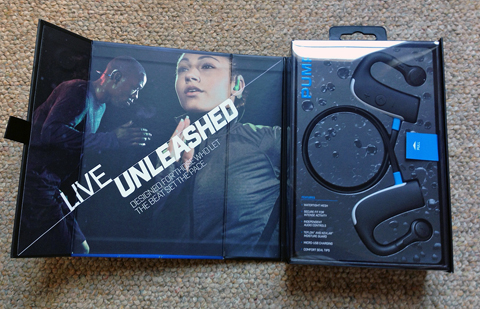 Opening up the box that the headphones come in, one will be surprised at what you will find. The headphones sit in a tray that showcases their design and simplicity. On the right side of the tray is a blue tab with the word Pull on it. When you do so, underneath the tray you will find a Micro USB cable for charging the headphones, two different size stabilizers that will lock the PUMP unit in place in the event that you are engaging in extreme activity that would normally cause in-ear headphones to pop out. Also included in box are four small, two medium and four large size gel seal tips that are designed to block out ambient noise.  BlueAnt has also included two medium sized comply premium awareness tips. Realistically these tips are made out of lighter airy foam that  still allows you to hear background noise, especially vehicles coming up behind you as you are running. So based upon what you are doing and where you are doing it, BlueAnt has tried to cover the bases yet still allow you to enjoy your music and still be safe while doing so. I found that I was more comfortable using the seal tips that came already on the PUMP HD than switching to a smaller size.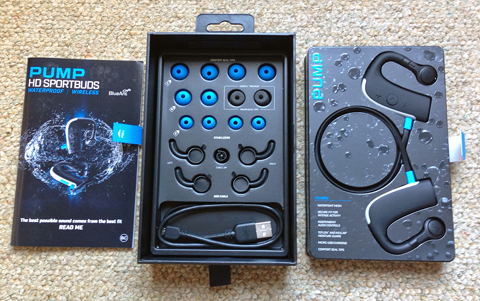 Designed with a behind the ear focus for the major part of the headphones and connected by a cord, BlueAnt has placed all of the controls (On/Off/Play, volume Up/Down and Bluetooth pairing by use of the On/Off/Play button) on the right side earpiece. The charge port is located on the bottom of the left earpiece and can be made water resistant by just ensuring that the port cover is closed and secure, stopping any water from entering the unit. The right side earpiece also contains the microphone that is part of the unit.
My first task after I charged up the headphones using the supplied micro USB cable that only took about two hours was to pair the headphones with my iPhone. Simple as one, two, three; depress and hold the on/off button on the headphones until you see the indicator light flashing white and then under Settings-Bluetooth on your iPhone/iPad or Mac, select BlueAnt Pump and you will be connected. Once that was done, I tried out the headphones by making a phone call to a friend that I hadn't talked with in a few months and spending an hour or so catching up on what was happening in our lives. During the course of the conversation, the volume stayed level with only a couple of times that the connection seemed to drop a little bit but that can easily be blamed on the telephone service provider. If you look at a picture of the headphones, the first thought is that the headphones look to be a bit too large to fit comfortably on one's ears and not be a pain when working out, running or just wearing them paired with your iPhone or Mac to listen to your music. The first thing that I found out is that surprisingly that is not true at all.
Once you get the hang of placing the headphones on without the aid of a mirror to make sure you're doing it right, you are ready to go. First recommendation, set the volume control on whatever you are going to listen to lower than what you normal have it set for. Remember, these are in-ear headphones and with the seal tips you are directing the sound directly into your ear canal and if you have the volume set too high, you are going to be in a world of hurt. So get used to checking the volume level before you start to listen to the music.
I have been using the PUMP HD headphones while I'm working out, running, exercising, sit ups/crunches, push ups or whatever. It is so nice not having a cable running to my ears constantly getting in my way while I'm working out, particularly when I'm running. Included in the box is a cable zip that allows you, if you have a smaller sized head, to cinch up the cable that runs between the left and right ears so that it's not a hindrance that can get caught on something. With the controls on the right earpiece, I did find that with my big fingers, I had a tendency to not get the volume up or down correct until I became used to the headphones. What I took to doing was to utilize the volume control buttons on my iPhone to better control the volume. You can skip forward through your music by holding the + sign for two seconds or skip backwards by holding the – sign for two seconds. To utilize the PUMP HD headphones with your phone, to answer a call you click on the Play button, to end the call you do the same. To reject a call you double click on the Play button. I had no issues at all in using the PUMP HD in conjunction with my iPhone. Anyone I spoke with said that I was coming through loud and clear. I did enjoy using the ability to double click on the Play button and tell my iPhone to call whomever I wanted to speak with. Technology at its best. Utilizing the PUMP HD while watching a movie on my iPad or Mac, very nice and totally enjoyable.
A really nice feature of the headphones being waterproof is that once you've begun to use them on a regular basis, cleanup is as simple as holding them under running water to remove any built up sweat or dirt that may have accumulated during your work out. Just make sure that you have the charging port closed and secure when you do so. I did try utilizing the PUMP HD while I was mowing, no joy on that. The noise of the mower completely overwhelmed the music. These headphones are not noise canceling. Something to remember for those thinking of wearing these while swimming… Bluetooth does not work under water so neither will the headphones. Maybe if you had your head out of the water and the phone/iPad on dry land you may find them usable in that case.
The headphones do provide great bass but you won't have any control to increase treble or mid-range sound, so be prepared. Using the headphones with either my Mac Mini or my MacBook Pro was great, again no cable holding me back from moving around. While in the house and using a Mac, BlueTooth was limited to the immediate area and into the next room but not down the hall and around the corner. Using the PUMP HD with my iPhone, fantastic. Placing the iPhone down and walking away, I had continuous music up to 70 plus feet from the iPhone. I have used other BlueTooth headphones/speakers and found that 30 feet was about the best that they could do. I wear glasses and had no problem at all with the headphones interfering with my wearing the glasses or the other way around.
Besides what comes in the box with the headphones, the PUMP HD is set up for BlueTooth 3.0, requires a charging time of 1-2 hours (mine has been running about an hour and 45 minutes to totally charge), standby time is up to two weeks and music play time is up to 8 hours. I have found that I have been running a bit over 8 hours of music time before I have to recharge the headphones. Weighing in at 1.1 ounce, you will not feel the PUMP HD as a burden when you are working out.
I know that there are those that will look at the manufacturers' suggested retail price and have to consider all things. I will tell you that if you do a search for BlueAnt PUMP HD, you will find them available for less than $100. For what the PUMP HD is intended to be used for, I found them to fit the bill much better than a lot of other cabled in-ear headphones that I have tried. For those of you who may be hard on the gel tips, stabilizers or micro USB cables, you can purchase additional ones at either the BlueAnt website through Amazon or by going directly to Amazon.
All in all, I give the BlueAnt PUMP HD Sportbuds Wireless Bluetooth Waterproof Headphones a My Mac rating of 9 out of a possible 10.