Universal VersaStand
Model: FDM-UNIV-VSDS
Manufacturer: Ergotech
MSRP: $29.95
Universal VersaStand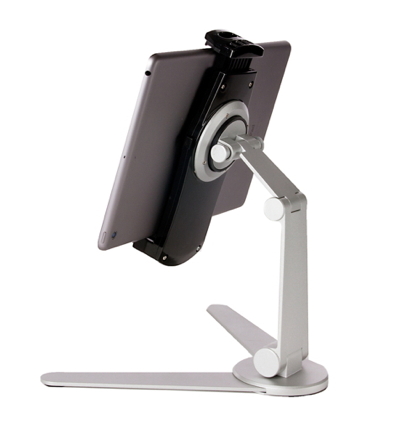 Much has been written about the iPad being a content consumption device and not so much for creating content. With the right stand, however, your iPad can become a real workstation. Ergotech has recently released VersaStand. It positions your iPad so that a Bluetooth keyboard will sit comfortably beneath it.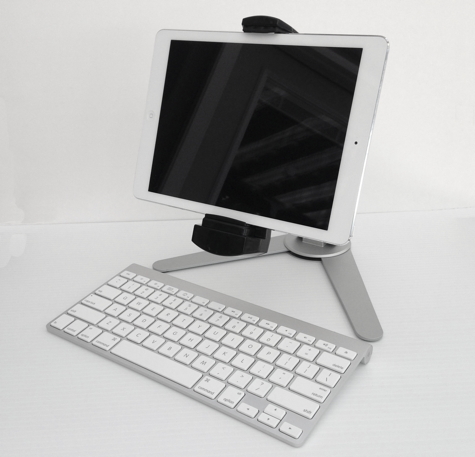 How's this for turning an iPad into a mini laptop? I use Apple's Bluetooth keyboard with the VersaStand but any Bluetooth keyboard will work. The VersaStand has three articulated joints so that your iPad can be positioned at the most comfortable angle for your particular desk and chair height. The universal mount swivels so that rotating between portrait and landscape modes is effortless.
The rubber jaws on the universal mount hold a tablet securely. If you have a slim case on your tablet, it need not be removed while using the Universal VersaStand. I have an iPad Air and an iPad Mini. The Universal Mount is easily adjusted to hold either.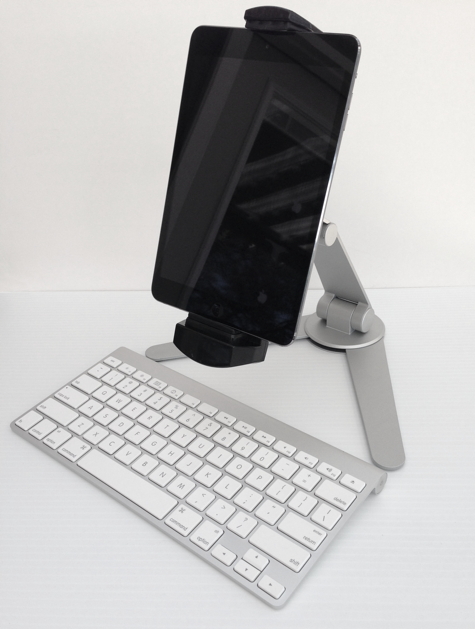 There are two parts to the Universal VersaStand. The stand itself is carefully finished aluminum that is shipped in a soft, drawstring carry bag. The stand folds down to a tidy size that is packable. The Universal Mount is plastic with a circular plate on the back that clamps onto the stand magnetically and is locked with side-mounted clips. When the iPad is in place, it is very securely held. I'm surprised that the metal stand is protected in a drawstring bag while the plastic mount is shipped without protection. I switched the two to keep the mount from getting scratched.
The reasonably priced VersaStand is not limited to use with a keyboard. It's great for presentations, viewing videos, and product demos. If you write extensively or otherwise use your iPad for work, you'll like the VersaStand. It easily transforms your iPad and a Bluetooth keyboard into a portable, comfortable workstation.
MyMac Review rating is 9 out of 10.
Note: The VersaStand above is one of two configurations available. The second version (FDM-IPAD-VSDS) includes a fitted hard case for the iPad 2, 3, and 4. The price for both versions is the same, $29.95.