Over-ear Headphones by Share Brands – available in five colors
Share Brands
Price: $65
Share Brands headphones are cushioned, comfortable, and stylish. Sound is decent, but quality drops off at the lower end of the spectrum. Adequate for non-audiophiles and listeners not fussy about superior bass and crisp highs, these headphones come with a 5.7 foot cable and standard 3.5mm plug. They can be used with any iOS device or desktop computer. There's an inline control button on the cable that allows users to switch between music and phone calls when a call comes in.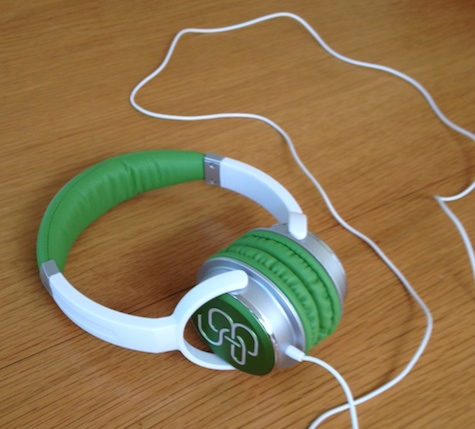 Share headphones come in green, blue, pink, red, yellow, and orange, each color representing a different social cause. When you buy these phones, Share Brands says it donates 25 percent of the sales price to one of several causes, including green for the environment, pink for women and children's health, and orange for education.
Considering the sound quality, these socially-conscious headphones are over-priced. When I buy headphones all I care about is sound quality and comfort. Superior headphones can be obtained for less money with careful shopping plus pre-purchase research and listening tests.
My wife is using these Sharephones. Her listening demands are less rigorous than mine. She enjoys the comfy feel and appearance.
MyMac Review Rating is 7 out of 10.