iBN26 Bluetooth Wireless Stereo Speaker with Speakerphone and USB Charging
Available in white with wood top or all black. Review unit is the white + wood, and is attractive.
iHome Audio
Price:$80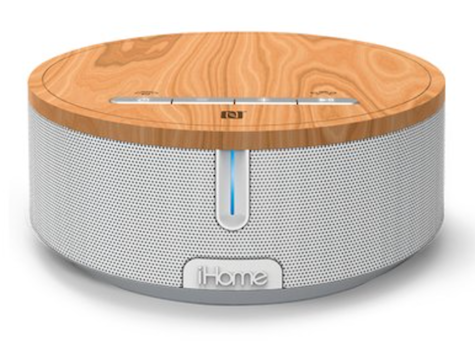 This versatile, small, round, powerful speaker does it all. Room-filling music delivery is crisp and distortion-free. Midrange and treble performance are very good. Bass is minimal, but is acceptable.
iBN26's design is attractive and compact, with easy-access top deck music controls. A comprehensive printed manual is included, with instructions that users quickly will memorize. The rear USB charging port is handy, as is the speakerphone feature (see below).
A very short 3.5mm audio cable is provided for situations if Bluetooth is not possible. Remember to unplug this cable when using Bluetooth, because the AUX cable overrides wireless audio.
Bluetooth connectivity with iOS equipment is efficient. iBN26 has a powerful, robust, and stable Bluetooth connection, with clear line of sight audio at over a 45 foot (15 meter) distance. This is the best signal distance MyMac has tested.
Bluetooth iPhone audio is a different story. I called Curt Blanchard, and his wife answered. "You sound pretty awful, John," she said, "like you are at the bottom of a deep barrel." Most purchasers of iHome Audio's iBN26 will use it primarily for music listening, not home office telephony.
iBN26 passes the "Turn it down, John! It's too #%&* loud" test from Mrs. Nemo. At full volume, this speaker plays beyond the comfort level of room conversation. At minimum volume, audio clarity retains its integrity.
For listeners who don't demand booming bass or stellar Bluetooth iPhone quality, MyMac recommends this quality speaker. It will make a fine gift during the current grads-and-dads season, plus any additional season or occasion.
MyMac Review Rating is a strong 7 out of 10.