FaceFilter3 Pro - The Ultimate Photo Beauty Kit
For Mac OS X 10.7 above
Company Reallusion
 Price $79.95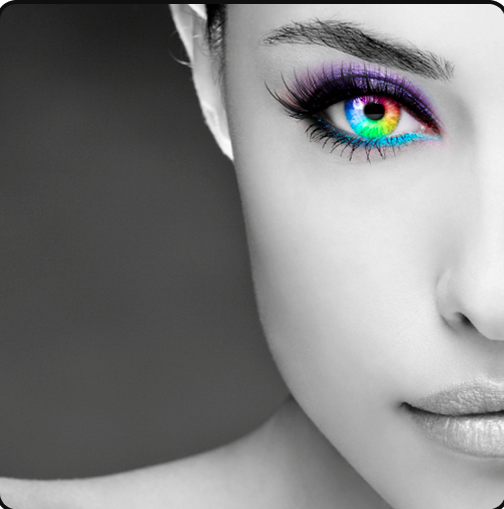 FaceFilter3 Pro is a photo retouching toolkit that allows you to enhance your portraits utilizing a multi-layer makeup system. The software package has tools for skin color tone adjustment, skin smoothing, and blemish removal. It also includes hundreds of templates for one-click make up applications.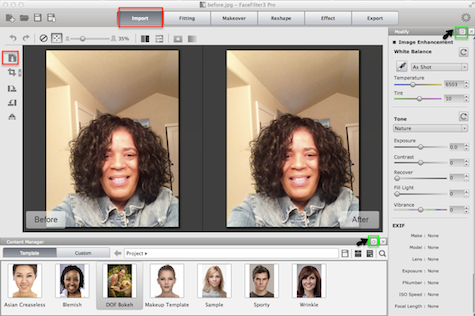 The dock-able user interface allows you to customize your work environment. This feature is enabled by clicking on the dock icon. You can then arrange the Modify and Content Manager panels for your convenience. The Content Manager provides one-click access to templates for facial makeovers and reshaping as well as post photo effects. The Modify panel can be used to apply detail photo adjustments such as white balance and tone enhancements. There are menu tabs that can be used to step through the FaceFilter3 Pro photo enhancing process, making the user interface as friendly as a handshake.

Fitting
After importing an image into FaceFilter3 Pro, a detailed face fitting step allows you to frame the face and align the orientation of the head. You then select fitting points for the eyes, brows, nose, mouth, and face contours for easy makeup editing. This step defines the facial areas that you will be able to enhance with makeup, reshape, or apply photo effects.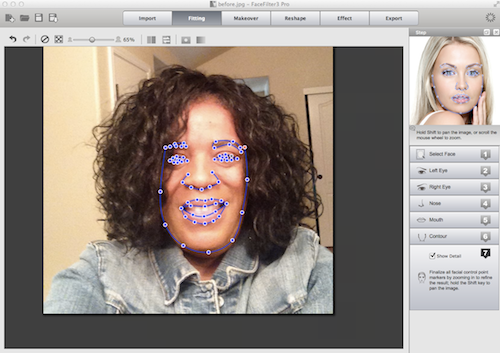 Makeup
There are over 400 visual templates, designed by makeup professionals. You can also design custom templates for future use. Up to 20 layers of masking allows you to achieve realistic photo enhancements. The Makeover process has three categories, skin foundation, facial makeup, and eye makeup. The skin foundation category is used for skin refinements, de-oiling of skin, and eye bag reduction. The facial makeup category allows facial highlight and contour, blushes, lips, and teeth enhancements. The eye make up category can be used to make up eyebrows and lashes. Eyeliner and eye shadows can also be applied in this category, as well as adjustments to eye size and color.
Reshape
The reshape category allows you to change the facial width and proportion. If you need a fuller or thinner face, this is the how you will easily make adjustments.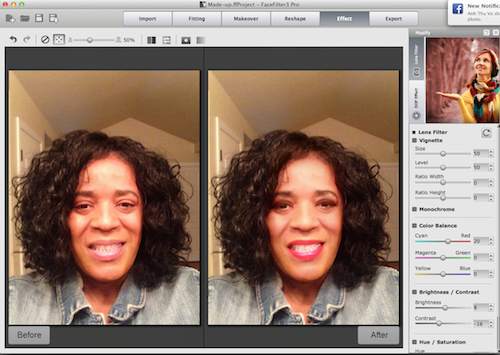 Effect
Photo effects available include smart color correction with scene-based photo tone presets such as backlight, smart portrait, and landscape. Instant corrections is provided for over and under exposed images. Face-centric exposure settings provide auto face detection and brightening. White balance adjustment to fix color flaws, as well as, temperature and tint sliders are available to warm or cool down a photo. It also has a one-click color correction feature with scenario-based presets such as daylight, cloudy and flash.
FaceFilter3 Pro integrates with the native Mac OS Image I/O Framework giving professional camera users the ability to import RAW images and providing loss-less image enhancement with up to 6000×6000 pixels resolution. The product also supports DNG format import and allows conversion of any RAW image into DNG files without quality loss.
FaceFilter3 Pro is an excellent portrait enhancement software package with one major flaw. There is no plugin available for advanced photo enhancement products like Photoshop, Aperture, and Lightroom. Integration with professional photo editing software will make this product a must have for professional photographers as well as makeup professionals.
.MyMac Review Rating is 7 out of 10.