Korus Wireless Speakers
Manufacturer: Korus
MSRP: V600 – $449.00, V400 – $349.00
Korus Speakers
There was a time, before iPods, when we would put a CD in our big home stereo, sit down, relax, and listen to music. What a concept—listening to music, out in the open. That has mostly gone away. We listen to music with earphones, in our cars, at the gym, in the background, whenever time permits. We lead busy lives without enough time to relax.

A small but growing revolution is taking place. Premium powered wireless speaker systems are appearing that enable listening to top quality music reproduction wirelessly without fiddling with your home entertainment system. This is accomplished via a new breed of sound system that doesn't involve Bluetooth, Airplay, NFC, or Wi-Fi.

The Korus V600 and V400 receive audio via tiny SKAA transmitter dongles that Korus calls batons. These plug into your iPhone, iPad, Mac, or PC. An Android version is in the works. The three styles of batons that are packaged with the Korus accept the new Lightning, older 30-pin, or USB plugs. This SKAA technology provides 480kbps support and 40ms latency. It is capable of transmitting very high quality audio up to 60 feet (20 meters). Take that, Bluetooth.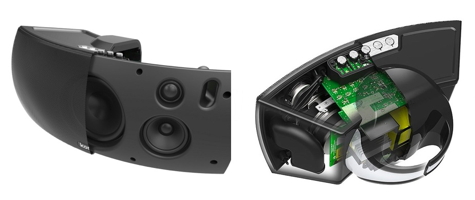 The sound quality is exceptional. The bass is strong and solid and the tweeters are aimed outward, expanding the sound-stage. According to Korus, the frequency response ranges from 125Hz to 20kHz. Volume can be cranked even to uncomfortable levels without distortion. Rock music rocks while symphonic music contains the delicate subtleties you would expect from a good CD. Vocals are incredibly clear; Regina Spektor, Lyle Lovett, and Melody Gardot all sound as if they are in the room with you.
Setup is surprisingly easy. No pairing or configuring required. Plug in and turn on your Korus, insert the baton into your iDevice and start playing your music. The baton and the Korus unit mate so that in the future they recognize each other. If you have an additional unit, those also mate. You can download a free app that will control the individual volume levels of each unit in your home – up to four of them. As a bonus, there is no lag among multiple units playing simultaneously.
On the top of the Korus unit there are five buttons. The first button is On/Off, the second cycles through the batons you use to transmit music to the speaker, third is Mute, and the last two are volume Up/Down. The latter three buttons duplicate the controls on your iDevice but are necessary if you connect an audio source directly to the speaker. There are only two physical connections on the Korus: the power cord and a 3.5mm audio-in socket for wired media players.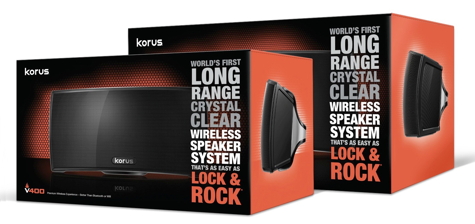 The V600 is rather big: 17in x 9in x 7in (44cm x 23cm x 18cm) and quite heavy at 11 lbs. (5kg). This unit can optionally take six D Cell batteries that will power the speaker for an astonishing 90 hours. The V600's little brother, the V400, is smaller: 11in x 5-1/2in x 6in (28cm x 14cm x 16cm) and weighs 4.4 lbs. (2kg). I find it odd that the small, more portable V400 does not take batteries; it must be plugged in for power. The overall sound quality of the V400, while still very good, can't quite compete with the V600's beefier, more powerful output.
One small annoyance. The batons will only fit into naked iDevices. They are not long enough to fit through a case. I bought a Lightning plug extender online (at Amazon US) for about $6.00 that provides enough additional length to overcome this.
Korus speakers play whatever audio comes from your iDevice: music, podcasts, movie soundtracks (with no latency), even system Notification sounds. The same is true when the USB baton is plugged into your Mac or PC. A fun party trick is passing-the-baton to others in your group so they can share their favorite tunes with everyone. Additional batons are available from Korus; they are $50.00 each.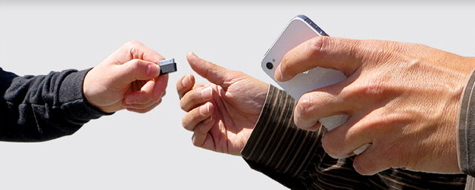 I have lusted after the Sonos home system for ages but the cost has always stopped me. The new Korus speakers provide similar capabilities, fabulous sound quality, and while not inexpensive, are comparatively more affordable.
MyMac Review rating is an enthusiastic 9 out of 10.