Kanex SimpleDock
Company: Kanex
Price: $119.95 USD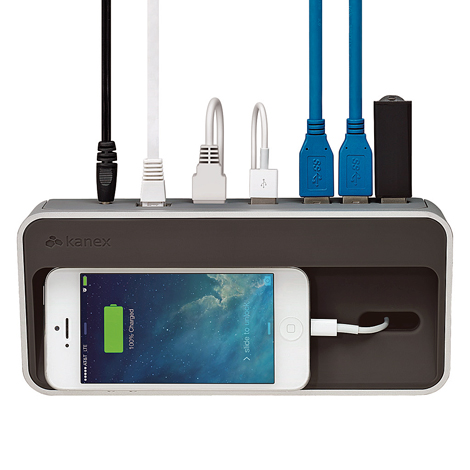 Nowadays most Mac users are looking to make their life run more smoothly and faster when they are working with their computers. Thankfully Apple finally decided to provide users with USB 3.0 ports which PC users had been enjoying for some time. When you are using a MacBook however, you are limited to just two ports. Most users can quickly utilize both ports with peripherals or as charging ports for their iPhones or whatever else.
Into the fray comes Kanex with their SimpleDock 3-port USB hub that also includes a gigabit ethernet port and the capability of being a charging station for your iPhone or iPad or other electronic equipment. Constructed of zinc and black plastic, the SimpleDock is a design match for your MacBook Pro or any Mac with the aluminum body construction. The SimpleDock provides the user with three USB 3.0 ports, a dedicated 10W charging port that you can use with your iPhone or iPad, a USB input to connect to your Mac's USB port and the Gigabit Ethernet port. The unit itself weighs a bit over a pound and with the bottom of the unit composed of a rubbery feel material, the unit will not slide anywhere. It will stay put exactly where you have placed it.

Setup of the unit is simple and easy to do. Using the provided power adaptor, you plug the cable into the back of the SimpleDock, connect the unit to your Mac via the provided USB cable and you now have a USB 3.0 hub. Of course, that is provided that your Mac has USB 3.0 ports. If not, the hub is still good as it will work with USB 1.1 and 2.0 ports on your Mac. If you intend to utilize the Gigabit Ethernet port capability of the hub, you will need to download the Gigabit Ethernet driver from the download section of the Kanex website. I will advise those Mac users who do so to verify that you are installing the correct version of the driver as the download provides 2 separate drivers; one is for Mac OS 10.6 to 10.8 while the other is for Mac OS 10.9. The download page also provides drivers for Windows 7 and 8, plus Linux users. I will tell you that the printed instructions included with the unit are bare boned and only provide a very brief glimpse of what to do with no detailed information whatsoever. If you are new to Macs and peripherals, you may be left searching for answers.
I really came to appreciate the charging capability of the unit as I normally charge my iPhone/iPad in my bedroom overnight while I'm sleeping since I like to keep the phone near me. With this unit, I can now charge both when I need to while sitting at my desk working but keeping the units readily available for use. The ability to keep the iPhone next to my Mac makes it easier to utilize as the USB cable is directly below the unit and your iPhone can be pulled up and away from the unit making it easier to unplug the iPhone. I also did not have any issues in syncing my iPhone and iPad with my MacBook and backing up both of them while I continue to work. I plugged in a USB keyboard, charged up a set of Bluetooth headphones and even my iPod; no issues at all.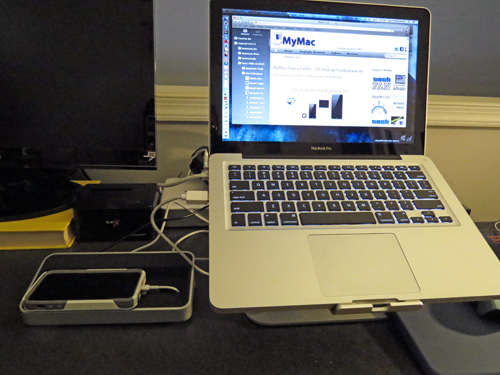 The Gigabit Ethernet adapter portion of the unit now allows the USB port that you've plugged the SimpleDock into to serve as a 10/100/1000Base-T Ethernet port. It allows you a bit more flexibility if you have a MacBook Air in that if you do have Ethernet connectivity you can plug in your Ethernet cable to the SimpleDock and your MacBook Air will now be able to use the "hard-wired" capability versus the Wi-Fi normalcy of the MacBook Air. I had unplugged my Ethernet cable from my MacBook Pro, plugged it into the SimpleDock and continued to function as if nothing had changed. There was no slowdown of my connection to the Internet, downloads continued to be as quick as before.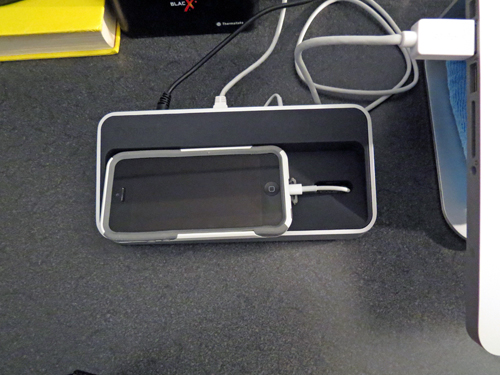 Now the question folks will be asking the most is concerning the price of the unit. Let's review what you will be getting if you do purchase a SimpleDock. First, the unit will match perfectly, appearance-wise, with your MacBook, your Mac Mini or even your older Mac Pro. Instead of having only two USB 3.0 ports on your MacBook, you will now have a total of five. If you're a MacBook Air user, and you do have Ethernet capability, you simply plug the Ethernet cable into the SimpleDock and you are hard wired rather then Wi-Fi'ing it. You also can now charge your iPhone or iPad right next to your Mac. This in an all-in-1 unit versus having to purchase a USB 3.0 hub, a Gigabit Ethernet adapter and having to utilize another USB port to charge up your phone or tablet. Really worth considering what you are getting for the price. You will need to utilize your own USB cables to plug into the SimpleDock as none are provided with the unit but realistically that shouldn't be a problem for anyone.
System requirements:
Mac OS X Mavericks 10.9, Mountain Lion 10.8, Lion 10.7 and Snow Leopard 10.6
Windows 8, 7, Vista 32/64 bit, XP
In The Box:
SimpleDock
USB 3 Micro type B to type A (1 m)
5V 4A Universal Power Adapter with US/EU/AU/UK prongs
User Guide
All in all, based upon my use and its capabilities, I give the Kanex SimpleDock unit a My Mac rating of 8 out of a possible 10.