Musemini DBoom speaker
Manufacturer: Musemini
MSRP: $129.99
Musemini DBoom
Wireless Bluetooth speakers have proliferated to the point where they have become an entire category unto themselves. There are literally hundreds of styles available currently. They vary widely in price and quality. Let's look at one that sounds terrific and is priced accordingly—Musemini's new DBoom.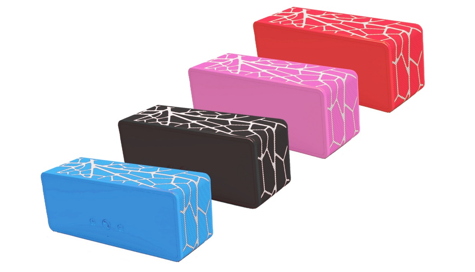 At seven inches wide, the DBoom is midway between a pocketable and a tabletop size speaker. The room-filling sound quality, however, is much bigger than either. The larger physical size allows Musemini to include a pair of high quality drivers and passive sub-woofers that really put the boom in DBoom. The unit has a huge dynamic range with six watts of stereo power from two upward-firing speakers. Volume levels can reach an astonishing, distortion-free 95db. The upper and lower ends of the sound spectrum stay evenly balanced from soft volume levels all the way up to seriously loud ones.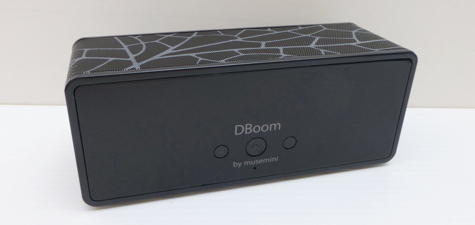 Bluetooth pairing is a snap. Turn on the unit (and your iPhone) and a fairly loud voice-prompt says, "Pairing…". Soon afterward, it reports, "Pairing complete!" The voice-prompts can be a little annoying as DBoom also announces, "Power On!" and "Power Off!" each time you use the device.
DBoom is equipped with a USB charging cable and another cable for connecting the unit to other devices with 3.5mm connectors. There are both Audio In and Audio Out plugs on the back of the unit. DBoom includes NFC (Near Field Communication) pairing connectivity for devices that incorporate this new technology. The rechargeable battery provides about twelve hours of use.
DBoom's outstanding feature is that the powerful 2600mAH lithium-ion battery is replaceable through a compartment in the unit's base. Replacement batteries are readily available for a few dollars each. This means that you can bring along an extra battery or two to a party or campsite and enjoy nearly unlimited off-the-grid music.
Musemini has partnered with a skin design firm that will be providing a range of colorful, graphic skins that can be applied to the front and back of the DBoom. Most of these appear to be for a youngish crowd: skateboards, Hello Kitty, major league sports, surfing, anime, video game characters, or even your own custom design. At $130 plus the skins ($8.00 – $10.00 per set), a DBoom may well be above the price range of many in this age group, whether the unit is personalized or not.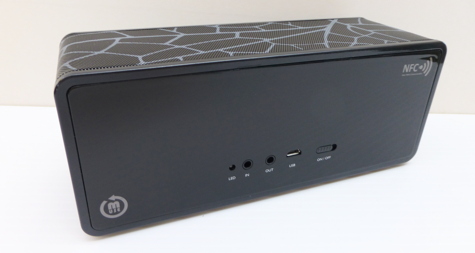 As with many Bluetooth speakers, the DBoom has a good quality, built-in noise canceling microphone that mutes the music so that incoming phone calls can be answered. This feature also permits the unit to be used for conference calls from a group.
There are a few negatives: The surface of the DBoom is a mirror-finish, high gloss lacquer that makes it a fingerprint magnet. The On/Off switch is flush with the back surface and sliding it requires a strong fingernail. As mentioned above, the loud voice-prompts can be intrusive.
These minor quibbles are quickly forgotten as soon as the music starts playing. The sound is crystal clear and commanding.
MyMac Review rating is 8 out of 10.