I-Sight Dual Ear Light
Manufacturer: RadTech
MSRP: $14.95
I-Sight Dual
RadTech's new Personal Illuminator slides comfortably over your ear and contains two very bright lens-focused LEDs for use in the dark: white for general purpose work and green to maintain your night-vision. This model is called the I-Sight Dual. A single light version is also available.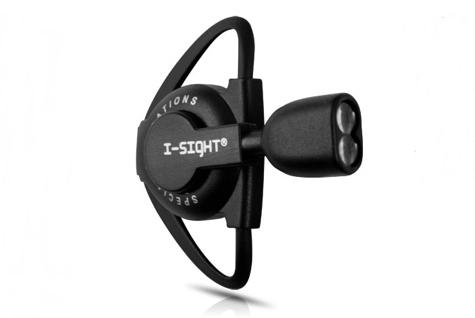 Since the I-Sight Dual is on your ear, it turns as your head does. The arm on which the LEDs are mounted is adjustable so that the beam can be aimed at your work or your book. The unit weighs only 18 grams; you almost forget that it's there. The beam projects a circle of light about ten inches in diameter from eighteen inches away.
The LEDs are powered by a pair of lithium CR2032 coin cells resulting in an impressive run-time of about 36 hours.
The uses for this light are many. Its biggest advantage, other than allowing you to see in the dark, is that the I-Sight Dual leaves both hands free. It can be worn on either ear with or without eyeglasses. The earpiece doesn't interfere with caps, hats, or headsets. Reading books or a Kindle at night works well, but consider some of the other possibilities: camping, power outages, task lighting, or emergency situations. When night-vision needs to be maintained the green light works well for photography, astronomy, and even aviation.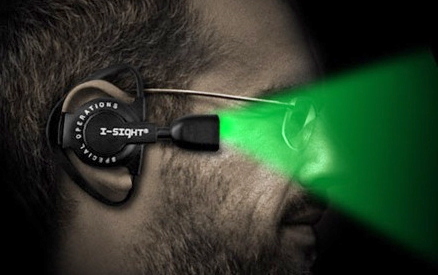 You'll look like a Special Ops character from Minority Report (or a geek) while wearing this. Your friends may wise-crack, but they will also appreciate what you are able to see and do.
Up and down adjustment is easy because of the rotating arm but I had a little trouble getting the beam to focus on my book (left and right-wise). Eventually I was able to overcome the aiming issue reasonably well.
The price of this light is very affordable. You and your partner can each have one for reading in bed without interference. Ever changed a tire in the dark? Having an I-Sight Dual in your glove box makes real sense. The light is even and bright and because of the LEDs, it will last a very long time before the batteries need replacement.
MyMac Review rating is 8 out of 10.