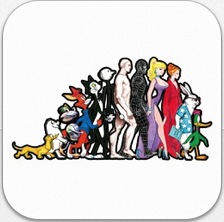 The Animator's Survival Kit
Company: Faber and Faber
Price: $34.99 in the App Store
For as long as I can remember I have been amazed by animation. Growing up I would read any animation book I could find, watch every Disney movie released in theaters. I even did an animation themed independent study in college where I made my own animated cartoon (by hand-no computers).
As a teacher, I love teaching animation to my students and creating animated movies with them. Where am I going with this? Well, there is a new app in the App Store that is based on a book called The Animator's Survival Kit, by Richard Williams, and any serious student of animation should have this on their iPad.
The book is a basically a course in animation. It primarily deals with traditional 2D animation, but you need to know this to be able to animate. When I say it is a course, I mean it is a course. It is packed with 17 chapters. Many of these chapters are taken right from the book itself. Not only are you taught how to animate, but the book also covers the history of animation. In fact, the app is a digital book.
So why not make an eBook instead of an app? Well, that is where being an app separates this from an eBook. Scattered throughout the book are a bunch of videos. These videos not only include introductions to chapters by the author, Richard Williams, but they also include interactive learning videos.
These are where the app shines. There are videos that demonstrate an animation technique and then by pressing a button in the video you can see the animation with onion skinning turned on (onion skinning lets you see all of the previous drawings). Some of the videos allow you to speed up and slow down the animation so you can see the drawings step by step. These interactive videos are a fantastic learning tool.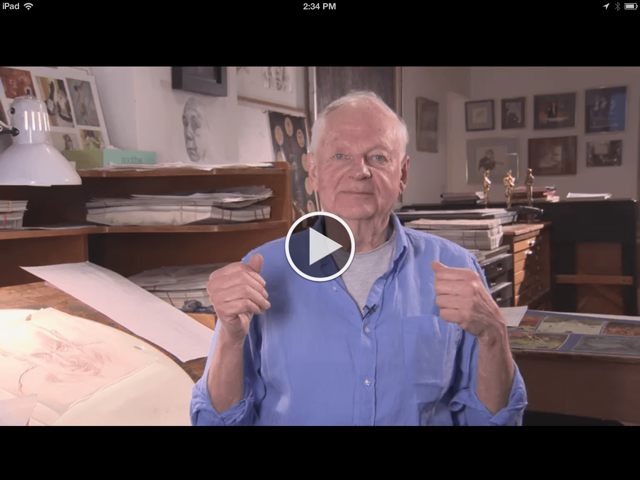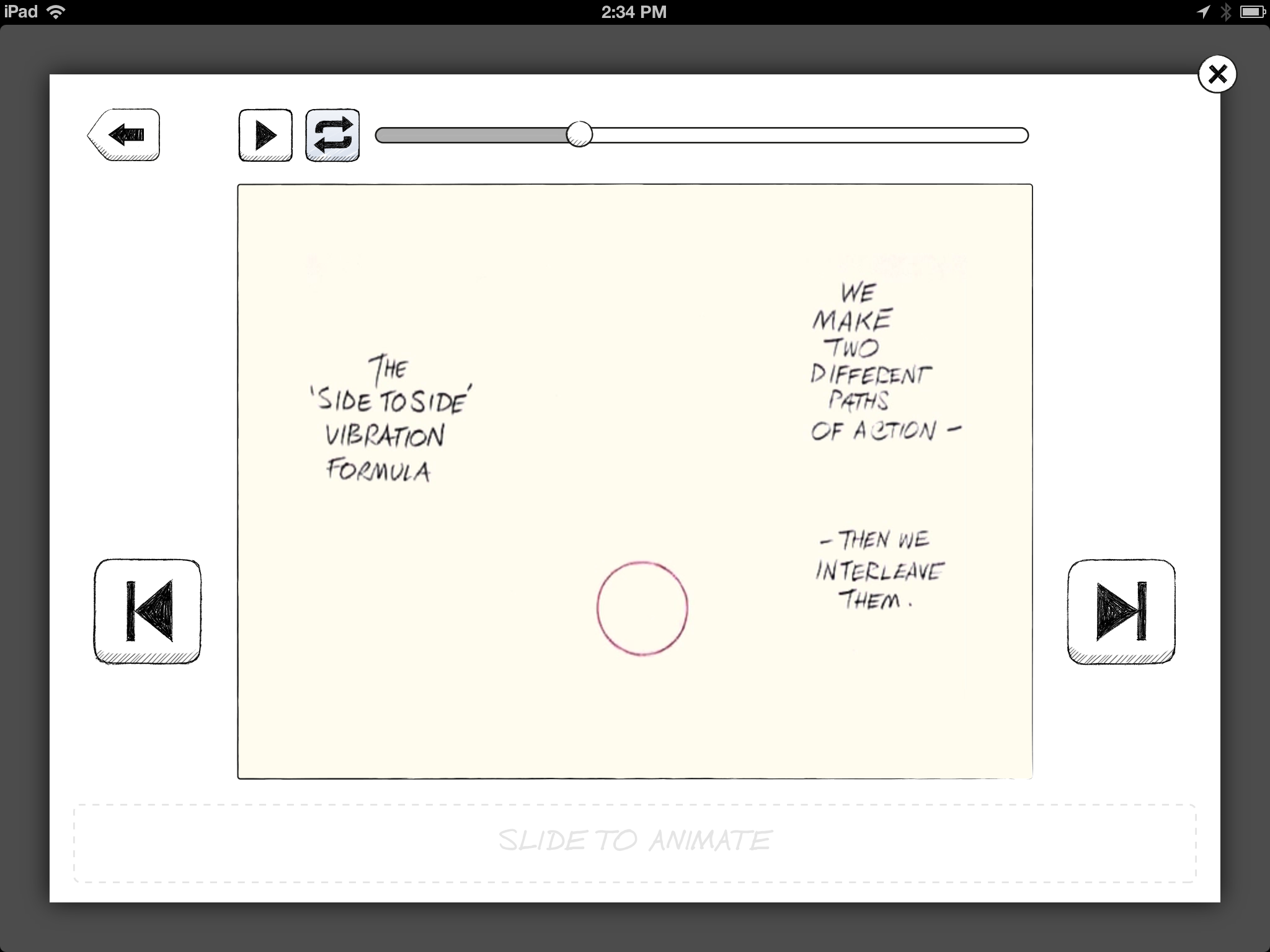 The book itself is easy to read and understand. It is fully illustrated, as you would expect from a book on animation. It is also easy to use. The table of contents run down the left side of the screen with a preview of the section chosen on the right. You can also access the videos through a pull down menu. There is also a nice navigator at the bottom of the book to help you move throughout different chapters very easily.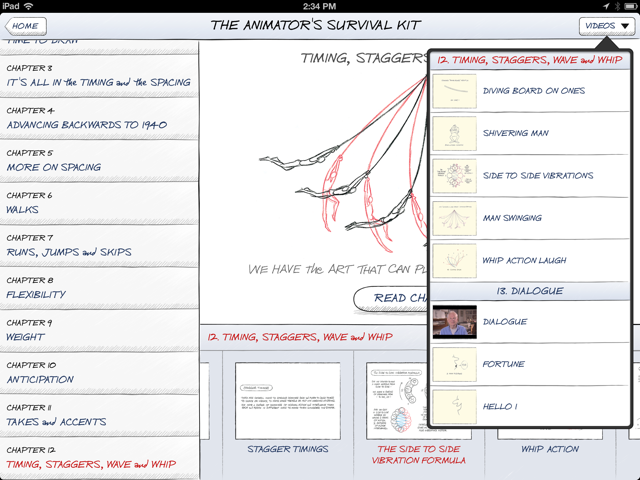 From app's website on what the app contains:
"•the complete 'Expanded Edition' of 'The Animator's Survival Kit'
over 100 animated examples from 'The Animator's Survival Kit Animated' DVD box set, scrubbable frame-by-frame
'onion-skinning' functionality on selected animated examples, showing previous and following frames live
previously unreleased animations by Richard Williams, including a 9-minute film, 'Circus Drawings'
new pieces-to-camera from Richard Williams to put the app in context
Overall, this is a fantastic app for any fan or student of animation techniques and history. It is a little pricey at $34.99, but it is worth every penny. You are getting the entire printed version of the book and more. The app is beautifully made and well done. I highly recommend checking it out.
The only issue, if you want to call it one, is that there is very little, if any, mention of modern day computer animation. I understand that the book is an adaptation of an older book, but if you are going to make an iPad app and modernize the book, I think a little attention (even if just a mention in a new chapter) of computer animation is important.
There is a free two chapter version of the app available to try it out before buying too.
MyMac.com rating 9 out of 10