Magicstick Powerbank 2800
Model number: PS-PR-1A
Manufacturer: Powerocks
MSRP: $49.95
Magicstick
Ever been on a long plane trip and reluctantly felt you had to turn off your iDevice to conserve your battery? There are several iPhone cases with built-in batteries available but they are expensive and add bulk to your phone. Powerocks now offers an attractive alternative: Magicstick.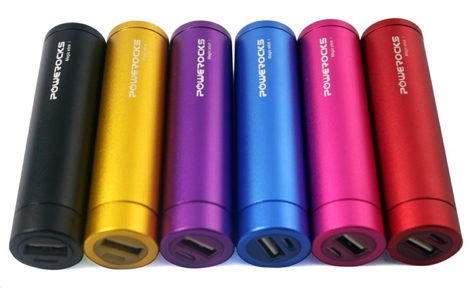 Magicstick is a rechargeable lithium-ion battery about the size and heft of a roll of pennies. (80g) At only 3.5″ in length, it's small enough for pocket or purse and will power almost any 5V/1A portable device including phones, e-readers, and cameras. Magicstick is sleekly anodized in a choice of six colors. It charges via an included USB to micro-USB cable that can be used with any of the plentiful 5V/0.55A chargers. From a totally uncharged state, it takes 4 to 5 hours to fully charge its 2800mAh capacity.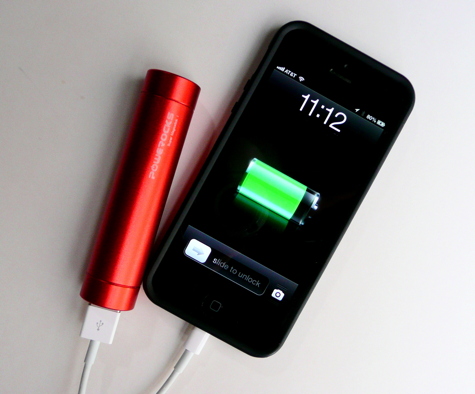 The Magicstick will power devices from Apple, Nokia, Samsung, LG, Blackberry, and many others. In my testing, charging an "empty" iPhone 5 with a fully charged Magicstick took 45 minutes to reach a 50% charge and two hours to reach full capacity. You can always plug a Magicstick into your phone and continue to use it to extend your working time.
I tried the same test with an iPad 3 and Magicstick only brought the iPad up to 17% before it exhausted its stored charge (1 hour and 20 minutes). Be forewarned that Magicstick really isn't up to the task of fully charging an iPad. Note that the current version is 2800mAh; a lower capacity 2600mHa model was previously produced and still may be available at some retailers.
If you occasionally run out of battery power on small mobile devices, having a Magicstick in your bag can be very reassuring. You'd be making a mistake by not bringing one along on a trip.
MyMac Review rating is 8 out of 10.