Captain Picard Mimobot — Boldly Goes Where No Flash Drive Has Gone Before!
Company:Â Mimoco
Capacity: 8 GB-64 GB
Compatible with: USB 2.0
Requires: OSX 10.83
Price: $24.95-66.99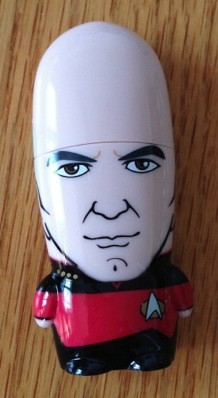 ARE YOU KIDDING ME??? A Jean-Luc Picard USB stick?! How can you go wrong?
And you really can't. The Captain Picard MIMOBOT 8 GB USB 2.0 Flash Drive available for this review is a wonderful little flash drive that you can use to store and move data files just like any other USB stick.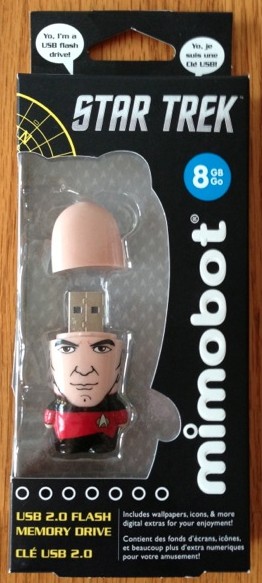 What sets this little beauty apart is that it's JEAN-LUC PICARD!!!
That, and there are lots of bonus items included. Things like old Hallmark TV commercials, cast interviews, trailers, comics, and desktop wallpapers, icons, and avatars. While some are flash-based, they are worth the time to look and take advantage of them.
The only downside is that the Captain must go face-down into the USB port, at least on my MacBook Pro, and he must fly solo as the stick is wide enough to bump into other USB connectors But there is the reassuring flashing light on the back of his boots to let you know that the device is functioning. And be prepared for a special communication when ejecting.
This is certainly not the cheapest flash drive you can buy, but if you're a Star Trek fan, the bonus items make it worth while.
MyMac.com Review Rating: 9 out of 10