SnuggBuds SB-X Ear Buds
Company: SnuggBuds
Price: $39.95
Works with: any device that accepts a 3.5mm audio jack
When I went to Macworld 2013 I didn't have a shopping list. I didn't need anything. Once I got there, I remembered that I could use a new pair of earbuds. I stopped at the SnuggBuds booth to find out if their product would suit my needs.
I was greeted by Marivic Schaefer, Vice President of Sales & Operations for SnuggBuds. I defy you to find anyone who believes in her product more than Marivic! After she explained how the different earbud models worked and let me listen for myself, I was still unsure about buying. "You'll be back!" she told me confidently.
At the end of the day I went back.
I bought the SnuggBuds Fusion for use with my iPhone. Marivic gave me a pair of SnuggBuds SB-X earbuds for review.
The biggest complaint about earbuds is that they're always falling out. When you're participating in sports or exercise, the last thing you want to worry about is runaway earbuds. The SB-X earbuds stay put. Simply place them in the ears, then give a slight twist. The suction in the ear canal keeps the SB-X earbuds in place.
I've found with previous earbuds that the first sign of needing a new pair is the cord cracking near the jack input. SnuggBuds has solved this problem in two ways: first, the 3.5mm jack is set on a 90 degree angle, so there isn't as much pressure on the jack. Second, the cord is made of fabric, not plastic, so bending and twisting has no effect on it.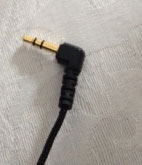 Another benefit of the fabric cord is that it doesn't tangle. A pet peeve of mine is spending time detangling earbuds when all I want to do is start using them. The SB-X earbuds are ready to use within seconds of taking them out of a case or pouch.
If you need earbuds for video chatting or conferencing, I recommend using over-the-ear headphones as opposed to earbuds. I used the SB-X earbuds to record an episode of 3 Geeky Ladies. Since the earbuds were in my ear canal, I couldn't hear how loudly or softly I was speaking, and constantly heard my own voice reverberating in my head. Not an ideal situation, and not the fault of the SB-X earbuds, but something I thought should be brought to everyone's attention nonetheless.
I've listened to podcasts and all types of music from classical to rock with the SB-X earbuds, and I'm happy to report all genres sounded great. I especially like them at the gym. With other earbuds I could hear all the conversations going on around me, which was quite distracting when I was trying to listen to podcasts. Now, with the SB-X earbuds I barely hear dull noise around me and I can focus on what's playing on my iPhone.
After using the SB-X earbuds for over a month, I'm happy to say there's a lot to love about them. They're comfortable, have good sound quality, and seem durable. The cord clip is a nice touch, and is perfect to keep the cord out of the way when I'm lifting weights at the gym. But more importantly, the earbuds stay in. And isn't that the primary reason we use earbuds?
MyMac.com Review Rating: 9 out of 10