NoteBook for iPad
Company: Circus Ponies
Version: 3.1.6
Requires: iOS 4.2 or later
Price: $29.99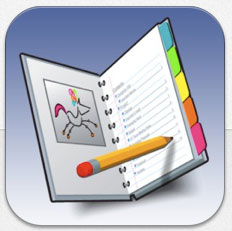 Notebook and note taking apps are a dime a dozen in the iTunes App Store. I've downloaded a bunch, and deleted most. I have always heard wonderful things about Circus Ponies Notebook for Mac; in fact, there are a few podcasters who rave about the software. When I had the opportunity to review NoteBook for iPad I was expecting great things. Did NoteBook for iPad meet my expectations?
NoteBook was exclusively a Mac app, until late 2010 when Circus Ponies released a version for the iPad. Both versions sync wirelessly through Dropbox, keeping all notebooks current, but I'll be focusing on NoteBook for iPad.
NoteBook for iPad looks like, well, a notebook. Except it's more than just a simple notebook that holds text. You can add PDFs, voice annotations, and photos. Change the font, text color and alignment, and paper style and background color. Add more pages as needed, or create a brand new notebook. Draw diagrams with the shape ruler, include keywords and stickers in the margins, place a sticky note on the page. The amount of customization is incredible.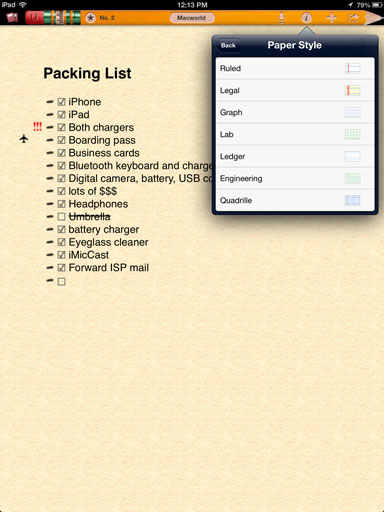 However, with that customization comes a bit of a learning curve. Included with NoteBook for iPad is the NoteBook User Guide, which I highly recommend you read if you have no prior experience with NoteBook. I read and re-read the Guide, and still had to refer back to it frequently when I created my own notebook. Certain features gave me trouble; for example, rotating my iPad to landscape mode and changing the relative size of the two pages worked great in the User Guide but not in my notebook.
It's also a little tricky cutting or deleting an item from a page. I found that more often than not I had to continuously click the Undo button to get the offending item off the page. Not an ideal solution, especially if I wanted to keep whatever I added after the item I wanted deleted. Possibly user error, but not likely.
This is not to say that NoteBook for iPad is more trouble than it's worth. On the contrary, once you get the hang of it it's a pretty powerful application. It's rather amazing how Circus Ponies packed so many features into such a small space. Everything you need is found in the Pencil Bar. The Pencil Bar takes up little real estate on the iPad screen, but contains everything you'll need via drop down menus.

I used NoteBook for iPad to prepare for my trip to Macworld in January. I created a packing list, a daily schedule, a list of contacts, and appointment details. I also included PDFs of my hotel reservation and Macworld media credential confirmation, as well as a map from the train stop to the hotel. Clicking once on an attachment gives the option of opening it full size within NoteBook for iPad. Clicking twice opens a list of available apps on your iPad that can read the attachment.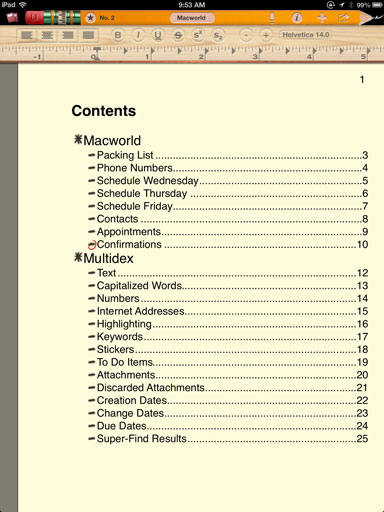 A unique feature of NoteBook for iPad is the Multidex. The Multidex is a group of pages at the end of the notebook that indexes all the note's attributes. In other words, you can search for a note by word, date, capitalized word, attachment, due date—any element of the note. For example, you have a note that includes information on an upcoming project but you don't remember what page it's on. Simply look for the project name on the Text page to find which notes contain it. Or search by the Due Date. Multidex brings search to the next level.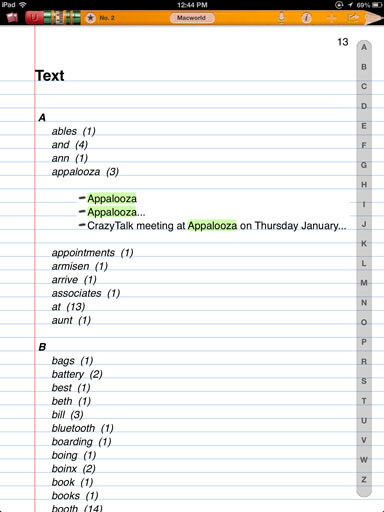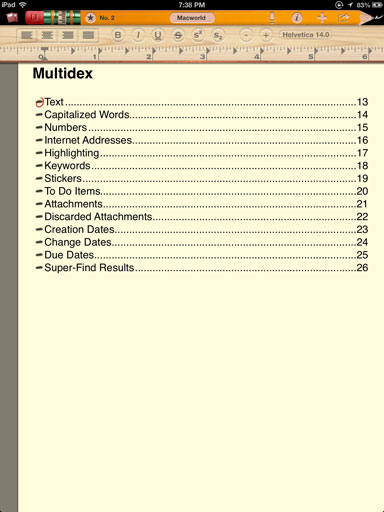 NoteBook for iPad offers multiple ways to share anything from the notebook, or even the notebook itself. Clicking on the Share button on the far right of the Pencil drops down the Export menu. Choose from Emailing the selection or page, Export as PDF, or Print.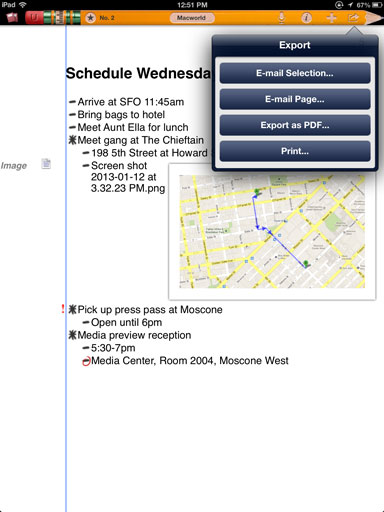 A great way to get a feel for NoteBook for iPad is to watch the video tour, created by Don McAllister from Screencasts Online, on the Circus Ponies web site. If you already use NoteBook for Mac, be aware that not all features were brought over to the iPad app. It's best to look at the Circus Ponies web site for more information.
It's impossible to write about everything NoteBook for iPad has to offer. It's a feature-rich note taking app that's not limited to students. However, I strongly suggest you take time to learn how NoteBook for iPad works well before you need it. You'll thank me later.
While NoteBook for iPad does have a few quirks, it's a worthwhile investment for someone who needs more than just the note app that comes with iOS. Circus Ponies is constantly updating and tweaking features; NoteBook for iPad has been updated nineteen times since its release, the last one while I was writing this review. $30 is a lot to spend for any app, but if you're in the market for a feature-rich note taking app that's highly customizable, take a look at NoteBook for iPad.
MyMac.com Review Rating: 7 out of 10. Could be an 8 when selecting text becomes easier and more bugs are squashed.