iPad in Education for Dummies
Author: Sam Gliksman
Publisher: Wiley
Price: $24.99 for softcover book, $16.99 for Ebook
416 pages
ISBN: 978-1-1183-7538-9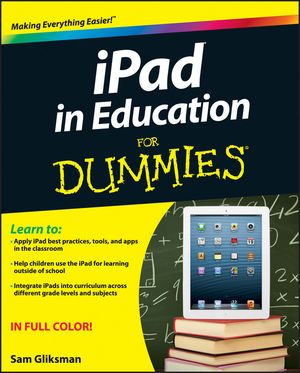 Elisa's note: Today's guest reviewer is my son, Shane Pacelli. Shane is a certified 1st-6th grade teacher, currently running the computer lab at a local elementary school.
iPad in Education for Dummies by Sam Gliksman is a must read for any teacher that has, or plans on having a classroom full of iPads. Gliksman breaks up the book into seven parts, with several chapters within each part. Within each chapter, he has numerous subtitles, step-by-step directions on how to use a certain app, and many pictures showing you what the app looks like. The book is set up so that you don't have to read each chapter sequentially. Look at the table of contents, find a subject you are interested in, and read about the numerous apps that the author describes how to use in great detail.
Part I: Meeting the Educational iPad
If you just bought your iPad and do not know how to use it, this part is a must read. Part I explains in great detail all of the buttons on the iPad and what they all mean. Chapter three discusses how to set up your iPad for an entire school. If you are the head of a technology department, read chapter three. Teachers can skip this chapter and move on to Part II.
Part II: Finding and Using Apps
This part is also for new iPad users. If you know how to set up email, use Safari, take pictures and videos, and find and download applications, then once again you can fast forward to the next part of the book.
Part III: Finding and Organizing Educational Content
Gliksman covers how to use Google, plus how to save websites, files, and how to use different note apps. At this point in the book, I was getting upset because it had nothing to do with how to use iPads in education. If you are looking for the meat and potatoes of the book, the first three parts will only give you the just okay tasting appetizer. Part IV and beyond is where the book really takes off.
Part IV: Exploring Applications for Digital Reading and Writing
The author discusses many great reading apps that can be used on the iPad for everyone in your classroom. Kobo is a great app that allows students to discuss books like a book club. Instead, it's called social reading. You can discuss books with many readers all over the world through your iPad. This can be a very useful tool in the classroom. Several other apps that are covered in great detail in this part are Annotate, Notability, Book Creator, iBooks, and Scribble Press. In this part, the author talks about science apps like, SPARKvue and PASCO Probes. The last chapter in Part IV covers assistive technology that is built into the iPad, as well as applications that you can download for specific students. These tools are essential to a wide variety of students with special needs.
Part V: Expressing Yourself With Media
The abundance of excellent educational apps continues in this section. There's a Sock Puppet app, which is good for the younger students. He also talks about a comic creator, plus how to create and use videos effectively in the classroom, and also iMovie, Podcasts, and Screencasts. If you want to create a movie or podcast to show to parents or anyone in the community, you have to read the chapters in Part V.
Part VI: The iPad Classroom
iPads aren't meant for printing, however they do have printing capabilities. This part clearly lays out how you can hook up your classroom printer to your iPad, or download a printing app to complete the task. Do you want to know how to create and present a Keynote presentation from your iPad? Look no further than chapter 21 in Part VI. The clear, step-by-step directions listed in this chapter will have you wanting to create a presentation right away. The final chapter in Part VI discusses how to project your iPad using a projector. It also discusses the application Jot! which will allow you to start and share a whiteboard to your class while you write on your iPad.
Part VII: The Part of Tens
You have now come to the seventh and final part of the book. The author finishes things off by briefly talking about 10 more must have apps for your educational toolkit. In the final chapter, he talks about Ten keys to successful iPad implementation."

Appendix
In the Appendix section, there are a handful of lesson plans listed by teachers who have used certain apps with their iPads in the classroom. It is a great way to end a magnificent book for educators.
Overall, iPad in Education for Dummies is an excellent book for teachers. Throughout the book, the author writes about Determining your objectives before you download an app. He also talks about reading reviews from customers who have the app. He recommends downloading the lite (free) version of that app if you can before buying the full version. Laying out your objectives before you download any applications will help you determine whether or not it will be useful to your students. In this book, Gliksman discusses the beneficial ways to use the apps assuming every student has an iPad. Unfortunately, in tough economic times, it is hard for districts to have a 1:1 iPad to student ratio. One thing the author does not write about when discussing the apps is the price. I am guessing this is because prices of apps tend to fluctuate over time.
As an aspiring teacher, this book makes me want to have a classroom full of iPads the moment I walk through the door. I highly recommend iPad in Education for Dummies to any teacher who might have the opportunity to have a classroom full of students and iPads.
MyMac.com Review Rating: 8 out of 10