Fujitsu ScanSnap iX500 Desktop Scanner for PC and Mac
Company:Â Fujitsu
Price: $495.00
I have been a fan of Fujitsu scanners since my first ScanSnap, the S500 model. It was my workhorse scanner for over four years. After giving it away with my old laptop with plans to purchase another ScanSnap, I began using the flat bed scanner of my multi-function printer. It worked after much trial and error but wasn't as simple as my ScanSnap. It lacked the OCR software and ABBY FineReader which converted scanned documents into editable and searchable formats. Needless to say I was excited to review the Fujitsu ScanSnap iX500 Scanner.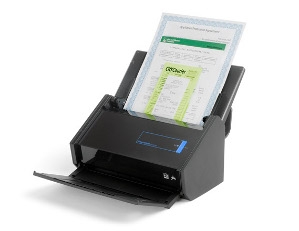 The Fujitsu ScanSnap iX500 is the sixth generation of the ScanSnap. The iX500 has an enhanced feeding system capable of double-sided scanning up to 25 pages per minute. Typically increasing pages per minute for scanners under $1000 leads to multi-feed, two or more pages simultaneously passing through the scanner. The ScanSnap iX500 has incorporated the superior advanced paper feeding systems of their more expensive professional grade scanners, utilizing Separation Roller technology to minimize jams and multi-feed.
The ScanSnap  iX500 has an ultrasonic sensor that can be switched on to avoid losing images. This interface eliminates intentional multi-feed that can occur when taping a receipt to an expense report by alerting you but allowing you to continue the scan as intended.
In the past ScanSnap models were essentially dumb devices with most of the intelligence handled at the driver level. The iX500 has a built-in dual-core CPU-mounted GI processor that performs intelligent image processing to create great looking images faster with more sophisticated connectivity. The processor handles automatic corrections and image output, supports WiFi, WiFi Protected Setup (WPS) wireless LAN (IEE802.11b/g/n), and USB 3.0.
After initial setup the computer can be bypassed, allowing scanning to Android and IOS devices via a mobile app. As with previous models, the iX500 retains the simple easy to use one button touch direct to PDF. Now it is capable of creating a searchable PDF at the same speed of a standard PDF.  Productivity software such as business card software, and ABBYY FineReader are available for the PC and Mac. In addition, cloud scanning is allowed to Evernote, Google Docs, Salesforce, SugarSync, and Sharepoint on the PC.
With all the advance features of the Fujitsu iX500, it is still the simplest scanner I have ever used. The ScanSnap has now moved back into my workflow where it belongs.
MyMac Review Rating is 9 out of 10.