Guest review by José Merino
Glooko Logbook and Meter Sync Cable
Price: $39.95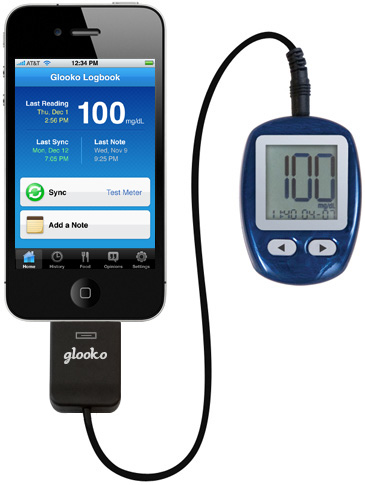 Keep your sweet spot under control with Glooko
If you don't have a relative or someone close to you with diabetes, let me paint a picture for you.
Diabetes kills more than 230,000 people annually out of more than 28 million Americans living with the disease, according to the American Diabetes Association. That is an alarming 8.3% of the US population. Minorities are disproportionately affected. To make things worse, seven million Americans have diabetes and don't know it yet.
Also known as the "silent killer," diabetes can lead to other severe health complications like stroke, kidney failure, amputation, and blindness. All this because of genetics, bad eating habits, sedentary lifestyle, and the cheap readily-available junk food.
Glooko Logbook and Cable
There are millions of people regularly keeping track of their blood glucose level. To do that they use a small diagnostic device called glucometer. Put a drop of blood in it and it returns an accurate reading of your glucose level so you know how much to eat or how much insulin you have to use to keep your glucose in your blood at a normal level.
This is where Glooko comes to play. With the development of a cable that allows your iPhone to "talk" to your glucometer through the 2.5 mm audio jack adapter, Glooko enables you to keep track of your glucose readings and log them on a free iPhone (iOS) app so you can spot trends by recording highs and lows on your blood's glucose level. You can find the app on the iTunes store under Glooko Logbook.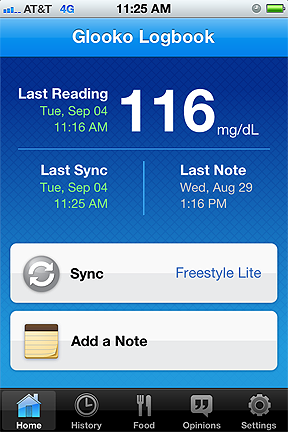 The interface of Glooko Logbook is very intuitive and easy to use compared to some other logbook applications of its kind. What separates Glooko Logbook from the competition is that with the click of a button you can synchronize the readings of your glucometer instead of having to input the numbers in by hand.
After syncing the data you can add notes to each individual entry, a very important feature because diet and exercise affect your glucose levels almost immediately. Keeping notes of what you ate is simple: Just search the type of food you want to log and Glooko Logbook will give you the caloric and nutritional value of your entry.
Sharing data
This is a great feature that allows you to export and email the collected data on a .CVS file that you can open in Excel or Numbers and keep for your records or share with your doctor before your appointment so he can have a good idea of how are you are keeping diabetes controlled.
I lost two of my grandparents and my father (at age 59) of renal failure, one of the many complications that develop from not taking care of your diabetes properly. That and having a long history of diabetes in my family makes me a little paranoid. For the last few months, Glooko has allowed me to learn how my body reacts to food and exercise so I can make better decisions in regards to my health. I wish my dad had this technology available to him when he was my age.
iOS but no Android 
This year another manufacturer introduced a glucometer that connects directly to the 30-pin connector of the iPhone, but we all know the downfall of using a proprietary connector, especially now with the rumor of the iPhone 5 coming out with a smaller port.
Having to carry a cable and the 2.5 mm adapter may be annoying to some, but if you have one of the compatible glucometers (see below) you don't have to spend another $100 for one. Instead you just have to pay $39.99 for the Glooko Cable and download the free application.
At this time the Glooko app is only for iOS devices. According to their website they are developing the Android version, but they have no definite release date yet.
Glucometers compatible with Glooko Cable and Logbook are: Bayer's Breeze 2, Bayer's Contour, FreeStyle Freedom Lite, FreeStyle Lite, OneTouch Ultra 2, OneTouch UltraLink, and OneTouch UltraMini.
ACCU-CHEK glucometers require the new Glooko IR Adapter  ($14.99) not reviewed here. Devices that work with the IR Adapter are: ACCU-CHEK Aviva, ACCU-CHEK Aviva Nano, ACCU-CHEK Compact Plus, and ACCU-CHEK Nano.
Glooko Cable and Logbook is compatible with iPhone 4S, iPhone 4, iPhone 3GS, and iPod touch (3rd and 4th generation) running in iOS 4.3 or later.
My Mac Review Rating is 9 out of 10.