Satechi AudioCube Bluetooth Speaker
Model: ST-69BTS
MSRP: $44.99
Satechi AudioCube Speaker
The Satechi AudioCube is a nicely styled 3″ x 3″ x 3″ box with small stereo speakers built into each side. It will pair with many Bluetooth audio devices including iPhones, iPads, and properly equipped computers. There is an input jack on the back of the unit for connecting to other audio sources via the included cable.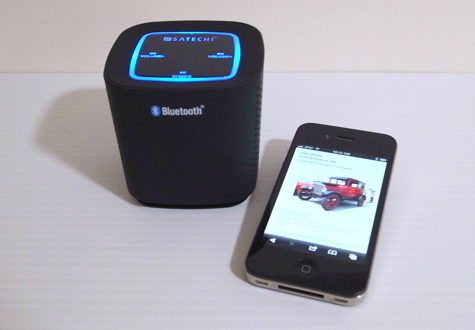 The unit is powered by a rechargeable lithium-ion battery which yields up to six hours of use. A micro-USB to USB cable is included for charging from a computer or external power source. Initial charging takes about three hours.
Rechargeable devices are gentler on the environment, but if you are away from a power source and run out of charge, you're out of luck. Replaceable batteries can be exchanged whenever they run down but are not environmentally responsible. Satechi chose to use a rechargeable battery in the AudioCube.
The sound quality is about as good as can be expected from a three-inch cube. It has small left and right speakers but even with two, the sonic range is pretty narrow—weak lows and a constrained mid-range. However, the AudioCube is certainly listenable. If you enjoy audiobooks or podcasts the unit is especially capable.
Satechi made an effort to minimize the controls on the top of the AudioCube. The Volume up button also skips ahead to the next track and the Volume down button goes back one track depending on how long the button is pressed. Unfortunately, using the same button for these two functions frequently results in unintentional errors.
The Satechi AudioCube is a fun, little auxiliary speaker but, at this price it really should sound better.
MyMac Review rating: 7 out of 10.